Bodh Gaya
Bodh Gaya in Bihar
Located on the bank of river Niranjana (Modern Falgu), Bodh Gaya in the state of Bihar comes lauded as the most important site of Buddhist pilgrimage in the world. Bodh Gaya's claim to fame lies in being the place where The Buddha is said to have attained Enlightenment at the age of 35, an event considered to have taken place some 2,500 years ago.
Legend has it that after Siddhartha Gautama as the Buddha was known before he got enlightenment renounced the worldly possessions that were his right as a prince. After spending six years living as an ascetic, realization downed on him that asceticism was not the right path to enlightenment. On reaching Bodh Gaya - Gautama sat beneath a peepul tree, vowing not to move until he had attained enlightenment. After sitting "through the three watches of the night", overcoming distracting ideas, instinctive desires, and temptations, one fine morning on the eighth day of his meditation, he realised supreme enlightenment.
Bodh Gaya or Uruvela, as it was known during Buddha's times, is located 13 km away from the city of Gaya which, in itself, is a major pilgrimage centre for the Hindus who come here to observe propitiating rites for departed souls and ancestors.
Places of interest
The Bodhi Tree (The Tree of Wisdom)
One fine morning of Vaisakha Purnima at the age of 35, he attained Enlightenment at Bodh Gaya under the Bodhi tree (Tree of Wisdom) in Bihar. Asoka's daughter Sanghamitta had carried to Sri Lanka the southern branch of the original Bodhi tree and planted in Anuradhapura.
The Buddha, also known as Sakyamuni or Thathagata, was born in 563 B. C. on the Vaihsakha Purnima day in the royal grove at Lumbini, near Kapilavastu, capital of the Sakyan republic, where his father Suddhodana was at the time ruling.
At birth the Buddha stood upright, took seven strides, and spoke: "This is my last birth-henceforth there is no more birth for me." His mother, Mahamaya, died seven days after the birth. So the child, named Siddhartha, was brought up by his stepmother Gautami. Gautama as a child led a sheltered life and was given every kind of luxury. He was married at the age of 16 to Yasodhara, his cousin and the beautiful daughter of a neighboring chieftain whom he won at a contest where he defeated all the contenders including his envious cousin Devadatta. Gautama enjoyed family life for thirteen years and had a son Rahula.
The Bodhi Tree of Bodh Gaya
Since one of the soothsayers had prophesied that Siddhartha is destined to be a Universal teacher, his father Suddhodana made every effort to keep Siddhartha virtually a prisoner in the palace. However, Siddhartha got out by stealth. The four signs he saw outside made a deep impression on him. He is said to have seen an aged man, completely decrepit and ugly and then a sick man who was covered with boils and shivering.
Thirdly he saw a corpse; being carried to the cremation ground: all of which deeply depressed him because they showed that there is nothing but sorrow and suffering in the world and death comes to all of us, Finally he saw a religious beggar, clad in a simple yellow robe, an ascetic who devoted himself to religion. This man looked to be quite composed and serene and was inwardly joyful. This sort of life appealed to him. And therefore, he left his palace at night at the age of 29, to seek mental peace in the homeless life of an ascetic. Before leaving the palace, the Buddha went to the room of his son Rahul where his wife Yasodhara was sleeping with one of his hands on the head of the child.
He silently left the palace since he feared that her awakening will prove to be an obstacle to his going away. This event is known as "Great Going Forth" (Mahabhiniskramana) in the Buddhist phraseology.
For full six years Gautama sought the solution to the world's ills. He learnt the technique of ecstatic mediation (samapatti) from Alara Kalama. During the period, he searched, scrutinized and examined in detail the prevalent schools of thought. One fine morning of Vaisakha Purnima at the age of 35, he attained Enlightenment at Bodh Gaya under the bodhi tree (Tree of Wisdom) in Bihar.
The Buddha delivered his first sermon at Sarnath (Isipatana) near Varanasi before the five ascetics who had been earlier his colleagues. Thereafter for forty five years the Buddha went about the country, from town to town, from village to village, disseminating spiritual illumination for the benefit of the suffering of humanity. He attained the final blowing out (mahaparinirvana) at Kushinara in the Kushinagar district of Uttar Pradesh) in 483 BC at the age of 80. The last words of the Buddha were: "All composite things decay. Strive diligently!"
Mahabodhi Temple
The main temple of Bodh Gaya, Mahabodhi Temple is a prime attraction. One of the oldest temples in India, its main tower probably dates back to as early as sixth century AD. Set on a high plinth, the 170 feet UNESCO listed shrine is a large pyramid of brickworks. With its basement of 48 square feet, the sacred edifice is topped by Chatras, symbolizing the sovereignty of religion.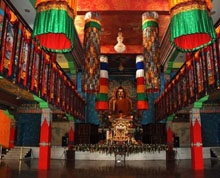 Tergar Monastery
Temples and Monasteries
The Indosan Nipponji Temple, Tergar Monastery, Bhutanese Monastery and Tibetan Karma Temple are the famous monasteries and temples in Bodh Gaya.
The 25m high Great Buddha statue and archeological museum are other attractions of Bodh Gaya.
Side trips
Barabar Caves and Nagarjuni Hills
25 km north of Gaya and 41 km from Bodhgaya are located the famous archeological sites of the Barabar and Nagarjuni Hills which are home to seven rock-cut caves. These cave dwellings dating back to the Mauryan period and two of them were dedicated by the Greatest Mauryan emperor Ashoka to the monks of Ajivikas sect. The Ajivika sect enjoyed patronage of Ashoka and his successor Dasharatha who is also credited with the dedication of Gopi and Vapiya-ka-Kubha caves in the Nagarjuni Hills to the Ajivikas.
Gaya
Located 13 km. from Bodhgaya, Gaya is a very sacred place for Hindus who come here to offer oblation for salvation of their ancestors. Located on the bank of the Falgu river, the temple of Vishnupad is a revered shrine in Gaya.
Nalanda
103 km from Bodhgaya is an archaeological site containing the remains of the famous Buddhist monastery and university of Nalanda, an important centre of learning in the 5th century AD. It was as a result of mission led by Buddhist monk Padmasambhava from this monastery that Buddhism was established in Tibet. The glory of the university has been described in glowing terms by the famous Chinese traveler Hiuen-Tsang who came to India during the rule of Harshvardhan and studied at Nalanda.
Gaya Railway Station
How to reach Bodh Gaya
How to Reach Bodh Gaya by Air: Patna airport is the nearest airport and is 97 km away from Bodh Gaya.
How to Reach Bodh Gaya By Rail: Gaya, 13 km away from Bodh Gaya, is a major railway station connected with all the main places in India
How to Reach Bodh Gaya By Road: Bodh Gaya is well connected by road with different places in India. Some of the cities and places connected with Bodh Gaya by road are Varanasi (250 km), Jamshedpur (350 km) , Allahabad (375 km), Kolkata (489 km) and Kanpur (570 km).
Where to stay in Bodh Gaya
Rahul Guest House, Taj Darbar, Hotel Tathagat International, Hotel Embassy, Hotel Tokyo Vihar, Bodh Gaya Regency Hotel, Hotel Lumbini International, Hotel Bodh Vilas, Hotel Bodhgaya Gautam, Rama Guest House, Hotel Mahamaya, Shashi International, Tara Guest House, Lucky Guest House, Suma Guest House, Hotel Delta International, Hotel Kanako International, Hotel R K Pa, lace, Hotel Sujata, Sakura House, Rainbow Guest House are some of the hotels in and around Bodh Gaya.
Bihar Assembly Election
|
Bihar Assembly Election Schedule
|
Bihar Assembly Election News
|
Bihar Election Results
Bihar History
|
Bihar Geography
|
Bihar Culture
|
Bihari Wedding Culture
|
Current Scenario of Bihar
|
Bihar Economy
|
Temples in Bihar
|
Bihar Tourism
|
Bihar Education
|
Bihar Business
|
Bihar Employment
|
Bihar Industrial Scenario
|
Bihar Infrastructure
|
Bihar Lifestyle
|
Bihar Traffic
|
NGO in Bihar
|
Tourist Places in Patna
|
Assembly Results in Bihar
|
Bihar Flood Pictures
|
Bihar Map
Bodh Gaya