Quality of life in Bihar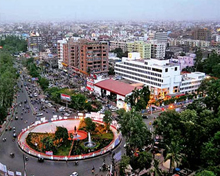 Ever since, the current dispensation of JD (U) alliance led by Chief Minister Nitish Kumar took charge of the administration after a thumping win in 2005 assembly polls, a whole range of things have changed for better to the Bihari people.
From being a laggard in the growth story due to a combination of corruption, social decay, lawlessness and maladministration Bihar has turned around as the fastest growing state (over 10% GSDP rate in the last 7 years). This was made possible with the visionary zeal of its CM Nitish Kumar who had unleashed a series of tough measures including Acts and legislations to usher in orderliness in a society known for its anarchy and crime-related violence.
In a way Bihar was a helpless state during the colonial era when the regressive land tenure system and migrant labour policy left it with a trail of socio-economic misery. After Independence, the successive Congress rule at the Centre neglected the state with its CM not really caring to launch development projects. The freight equalisation policy of the Centre forced Bihar to miss the development bus.
Poverty ratio
In 2005, 54% of Bihar's population was below the poverty line (BPL) which declined to 33% in 2011-12 according to a Planning Commission report, a reduction of 20% in just five years shows that the benefits of economic progress are being evenly shared in the state.
A sense of quiet confidence is palpable at the power corridors as the government cracks the whip on corrupt officials, rebuilds public institutions and reinstates the supremacy of law and order once again.
Law and order front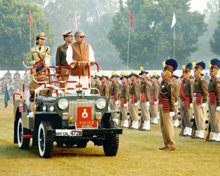 The government has undertaken steps to establish the rule of law in the state through police reforms, speedy trials of criminals, strengthening jail administration and special drive against economic offenders.
The legislation of the Bihar Police Act, 2007 aims at promoting human rights and redefines the role of police in public administration.
Nitish Kumar regime in a special drive recruited over 7,000 ex-servicemen to expand the policing capacity across the districts to improve the law and order situation. Also, the government is holding regular recruitment drives in order to correct the public-police ratio.
A 'speedy trials' mechanism is in vogue for improving the conviction rates in pending cases. In the last eight years, through speedy trials, courts have convicted nearly one lakh criminals in Bihar.
The administration of jails in Bihar has been tightened to plug loopholes that enables anti-socials and criminals to escape from the clutches of law.
Police teams have been formed to nab the frequent economic offenders who had bled the government of its revenue and further leakage of development funds. And the steps are being taken to confiscate all their illegal wealth.
Big jump in public outlays
The growth rate was 11% from 2007 to 2012 during which period the per capita income of Bihar grew at 9.44% as against all India average of 6.46%. This feat was made possible due to massive public outlays and ushering in a favourable situation for local entrepreneurs willing to exert themselves for improving the quality of life.
A number of innovative policies created a healthy interface between the public and the government like the Right to Public Service Act 2011 to cut down on red tape in the bureaucracy.
Moreover, a programme was kicked off that aims to make top officials and the ruling elite aware of the kinds of problems being faced by the common man.
A policy of zero tolerance to corruption is being followed along with the innovative use of technology to improve transparency and accountability in the political system.
Social sectors: Health and education
Bihar has got the lowest gross enrolment ratio (GER) of 9% in the country despite the government's efforts to improve the growth indicators in primary and higher education. The state lags far behind in setting up technical institutions as a result of which students migrate to other states even for higher education.
The allocation for the social sectors has risen from Rs 14,309 crore in 2009-10 to Rs 28,253 crore in 2013-14 and is projected to increase by Rs 19,000 crore in 20214-15.
The share of capital outlay in social services sector, however, declined in this period, from 7.8% in 2009-10 to 6.6% in 2013-14.
On the health front, public outlay is being increased to expand capacity and also deliver quality of medical services to rural people at their doorstep. More investment in public hospitals and dispensaries is made to service patients and render quality care in rural Bihar.
Growth Clusters in Bihar
For holistic growth, the government is investing in support systems required for integrated development of an area, institutions and enterprises.
The concept of growth clusters is being given due weightage in the 12th Five Year Plan (2012-2017) covering areas like township, civil amenities, technology, connectivity, energy, institutions that develop human resources, financial institutions and markets.
Mission Manav Vikas
During the 12 Plan Period, emphasis is being given to track major indicators pertaining to human development for the state to achieve key milestones like Millennium Development Goals and National Development Goals.
A comprehensive guidelines to set goals and finalise growth indicators are being formulated that can be monitored regularly.
Bihar Assembly Election
|
Bihar Assembly Election Schedule
|
Bihar Assembly Election News
|
Bihar Election Results
Bihar History
|
Bihar Geography
|
Bihar Culture
|
Bihari Wedding Culture
|
Current Scenario of Bihar
|
Bihar Economy
|
Temples in Bihar
|
Bihar Tourism
|
Bihar Education
|
Bihar Business
|
Bihar Employment
|
Bihar Industrial Scenario
|
Bihar Infrastructure
|
Bihar Lifestyle
|
Bihar Traffic
|
NGO in Bihar
|
Tourist Places in Patna
|
Assembly Results in Bihar
|
Bihar Flood Pictures
|
Bihar Map
Bodh Gaya