About Patna
Patna - reclaiming its glorious past
An ancient city that has kept pace with modern times, Patna is once again on an upward curve with progressive changes taking place in its political, economic and social landscape assuring people of a new paradigm in peaceful, healthy and prosperous life.
The capital of Bihar has a glorious past with a recorded history of over 2,000 years and a city whose administrative power once controlled a vast arc of the subcontinent from Afghanistan to Bengal in the East, from Kashmir in the North to Deccan in the South.
This seat of ancient civilisation witnessed the golden period in Indian history during the reign of Mauryan and Gupta dynasties (from 500 BCE to 711 CE) in which period culture, fine arts and architecture flourished.
At present, Patna is one of the fastest emerging cities of India with a harmonious blend of hoary tradition and modern trends of a pluralistic society.
Distinct advantage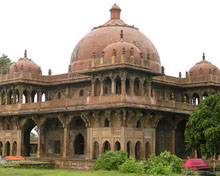 Being the capital of Bihar for more than hundred years (capital since 1913), the city enjoys a distinctive advantage over other capitals of Indian union with a good connectivity through roads, railways and airways that links the rest of the country with the eastern and north-eastern regions.
Patna is a world-renowned tourist centre and a much acclaimed gateway for Buddhism, Jainism and Sufism circuits which connect Vaishali, Pavapuri, Nalanda, Rajgir, Bodh Gaya, Maner Sharif and other heritage places.
Traditionally, the city has been a transit route for global traders and in the modern India, this happening spot is one of the biggest markets for clothes, fruits, vegetables, traditional edibles and luxury goods.
Of late, the mushrooming of trendy malls and multiplexes has opening a new opportunity for traders who are skilled at marketing a range of merchandise of daily use catering to all sections of the population.
Tourist hub of Patna
Funtasia Island water park inaugurated in November 2012 on the city outskirts attract a large number of domestic and foreign tourists who experience a range of water cum adventure sports on its premises.
The city offers diverse choice to avid travellers and sightseers in form of historical, religious, cultural and modern tourist places that contain a treasure trove of information for those interested.
Patna has limited but good number of hotels to accommodate the tourists. With a population of 1.7 million, the people are of diverse religious and ethnic backgrounds living together to chart out a common destiny for them.
Grand festivals
It is community life with a riot of festivals throughout the year that add charm to societal cohesiveness that is seen in Patna and other parts of Bihar.
The biggest festival Chhath is celebrated with great fanfare and devotion in Patna with river Ganges flowing since millennia giving the city an aura of religiosity.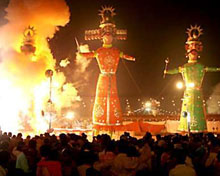 Reflecting a melting pot of cultures, other festivals being celebrated in Patna are Diwali, Dussehra, Holi, Muharram, Eid and Guru Nanak Jayanti, thus making it a centre of religious harmony.
Moreover, the myriad fairs and exhibitions are a common feature here during festive seasons which extend from the first week of October till mid-March that culminate with Holi.
Patna can be termed as the most secular city as people of all communities live in good understanding and they come together to celebrate festivals.
As a multi-religious centre, people belonging to Buddhism, Sikhism, Jainism and Islam visit Patna before going ahead to other destinations of choice in districts of Bihar.
The presence of heritage sites, monuments and civilisational hotspots across Bihar makes its capital a must visit for travel buffs keen to know the sub continental history.
Hot seat for education
If Nalanda is known as the most ancient place for higher education in the world, then Patna is trying to do 'catch-up' and re-establish the pre-eminence of the state has the hot seat for knowledge.
Thousands of students arrive from the districts and neighbouring states to do higher studies in some of the prestigious universities in Patna.
Some of the top institutions offer quality education with boarding facilities even as schools affiliated to both Central and state boards maintain good score in pass percentages.
The students from Bihar are known for scoring top ranks in competitive exams like Civil Services, medical and engineering with hard work and thus bring laurels to the state.
Super 30, an educational training centre started under the banner of Ramanujan School of Mathematics, prepares the students from poor families for the IIT-JEE exams free of cost, and has received global acclaim for its noteworthy work.
The recently set up top institutions like IIT, NIFT, BIT (Extension) and AIIMS have given Patna a cutting edge in terms of providing a sound higher education of global standards to its people.
Expanding city limits
The western zone of Patna is replete with architectural buildings from the British colonial era, while new areas of modern affluence are developing in other parts of the city.
Kankarbagh on the outskirts has developed into one of the biggest colonies even as the rates of growth in peripheral areas of the city have literally expanded Patna in all directions.
Once completed the J P Ganga Path, a sort of marine drive overlooking the river Ganges, will add a new centre of attraction for visitors.
This broad high-speed 21.5 km-corridor will connect Digha to Didarganj and expected to be completed by 2017, the year marked for great celebration of 350th birth anniversary of Guru Gobind Singh at Har Mandir Takht.
On other front, a detailed project report (DPR) and a feasibility survey are on for Patna Metro Rail and the work is expected to start by the second half of 2014.
A slew of infrastructure projects
Roads, flyovers and sparkling buildings are being constructed at a frenetic pace in Patna giving it a new structural elegance.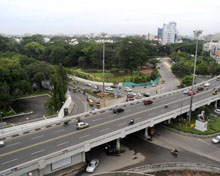 The city is witnessing many new infrastructural projects throughout its length and breadth even as flyovers are being built over the congested and traffic prone areas in order to ease the movement of vehicles which would make commuting easy in the near future.
Moreover, the work on a number of grand projects like an international convention centre, Bihar museum, and centenary building of Patna high court have started with a time-bou completion on cards.
Name fame holds value
Patna sits on the ruins of ancient Pataliputra and has much scope for heritage tourism.
It may be noted that in the past the city kept changing its name even as it came under the regimes of mighty empires.
The Sanskrit literature refers it by names like Pataligrama, Patalipur, Pushpapur, Kusumpur, Kusumvati, Palibothra, Pataliputra and Azimabad.
When Lord Buddha was stayed in Patna in 6th Century BCE, he noticed a fort being constructed by King Ajatshatru (491-461 BCE) of Rajgriha for defending the Magadha kingdom against the Lichchavis Republic of Vaishali.
King Udayabhadra, successor to Ajatshatru, was much impressed by the fort and its strategic location and shifted Magadha's capital from Rajgriha to Pataliputra in the mid-5th century BCE.
Since then for over 1,000 years Pataliputra was the capital of mighty empires of Nanda, Maurya, Sunga and Gupta dynasties.
Even today the mighty ruins of Kumhrar, the statue of Didarganj Yakshi, Golghar, Har Mandir Takht, Agam Kuan and Khuda Baksh National Library get thousands of tourists throughout the year given their historical importance.
Patna is a city of contrast where its glorious past mingles seamlessly with the present and the river Ganges flows silently in a way assuring its people that nothing will be done to disturb this oasis of peace and prosperity.
While there is all-round development that is contagious in a way, the city has retained its unique old-world charm that continues to mesmerise visitors who throng Patna for a variety of reasons.
Bihar Assembly Election
|
Bihar Assembly Election Schedule
|
Bihar Assembly Election News
|
Bihar Election Results
Bihar History
|
Bihar Geography
|
Bihar Culture
|
Bihari Wedding Culture
|
Current Scenario of Bihar
|
Bihar Economy
|
Temples in Bihar
|
Bihar Tourism
|
Bihar Education
|
Bihar Business
|
Bihar Employment
|
Bihar Industrial Scenario
|
Bihar Infrastructure
|
Bihar Lifestyle
|
Bihar Traffic
|
NGO in Bihar
|
Tourist Places in Patna
|
Assembly Results in Bihar
|
Bihar Flood Pictures
|
Bihar Map
Bodh Gaya