Andhrapradesh Economy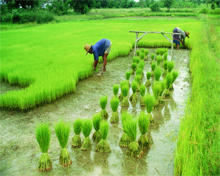 While agriculture is the main occupation of majority of its population (70%), the focus areas for pushing the economic growth have been food processing, financial services, IT sector, power generation, textiles and tourism.
The gross state domestic product (GSDP) for the year 2013-14 (provisional estimates) is Rs 2.50 lakh crore at constant (2004-05) prices, a growth of 6.08% from Rs 2.35 lakh crore in 2012-13 (first revised estimates).
The corresponding growth in agriculture is 6.94%, industry 2.16% and services grew faster at 7.25%.
As per the provisional estimates of 2013-14, the per capita income (PCI) of Andhra Pradesh at current prices increased to Rs 85,797 from Rs 76,041 in 2012-13, thus recording a growth of 12.8%. The per capita income at constant (2004-05) prices, has also gone up from Rs 42,186 in 2012-13 to Rs 44,481 in 2013-14, a growth rate of 5.4%.
12th Five Year Plan Period (2012-17)
In tune with national trends, the socio-economic parameters have shown an upward trajectory across the sectors of Andhra economy.
But despite ambitious targets, the 12th Plan Period had begun on a not so encouraging note as its first year (2012-13) recording a below par growth of 5.58%. Even in the next year too (2013-14), the state witnessed a modest growth of 6.08%.
The government has decided to re-draft the Vision 2020 document that will set new benchmarks for a development paradigm in sync with new circumstances to make the state among the best three performers by 2022.
The chief endeavor of the government will be to make Andhra a developed state measured in terms of citizen's life satisfaction and Happiness Index by 2029 during which period three Finance Commissions would have held office.
Growing fiscal deficit a worry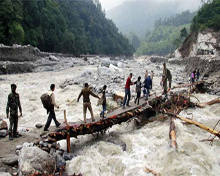 Andhra has a revenue deficit of Rs 7,300 crore and fiscal deficit of Rs 17,584 crore for a budget outlay of Rs 1.13 lakh crore in 2015-16. The fiscal deficit constitutes 3% of GSDP, while revenue deficit 1.24%.
The budget has provided Rs 3,168 crore during the fiscal (2015-16) for the development of new capital Amaravati situated between Guntur and Vijayawada city on the southern banks of Krishna river.
While for the energy sector has been provided Rs 4,360 crore, the roads and buildings sectors have got Rs 2,960 crore. The tourism and culture sectors have been earmarked Rs 330 crore and to boost agriculture, the irrigation schemes will get a sum of Rs 5,258 crore.
Andhra government is making efforts to secure a loan of Rs 2,700 crore from World Bank for reconstructing the Visakhapatnam port city ravaged by Cyclone Hudhud.
The state is expected to have grown by 7.21% (as per advanced estimates) in 2014-15. Given the contribution of agriculture and its allied sectors at 27% of GSDP, the government is toying with the idea of a separate budget for agriculture.
Given its truncated size, Andhra has requested the 14th Finance Commission to provide them a grant of Rs 1 lakh crore for capital construction and Rs 41,253 crore for other critical infrastructure projects. The finance panel has provided only Rs 22,113 crore as revenue deficit grant and Rs 1,823 crore towards disaster management.
Though the total increase in the Budget size in 2015-16 is just 1.1% from the previous year, increase in Plan Budget is 29% (from Rs 26,672 crore to Rs 34,412 crore) and the rise in capital budget is 39% (from Rs 7,069 crore to Rs 9,818 crore) - which are considered a big bonanza given the fiscal constraints.
Shift in growth drivers
There has been a marked shift in the contributions of agriculture, industries and service sectors to the GSDP from combined state to that of the successor Andhra Pradesh.
The agriculture share has increased from 22.96% to 27.59% and the share of industries has reduced from 24.33% to 20.62% in 2014-15.
However, the share of services has marginally changed from 52.72% to 51.79% for the new state of Andhra after Telangana was carved out of it in June 2014.
Once all the growth parameters pick up speed, the per capita Income of Andhra Pradesh which is at Rs 90,517 for 2014-15 is expected to be doubled by 2018-19.
Economic Development Board
As a statutory body for coordination of diverse set of activities for accelerated growth of the state, this board will also mobilise additional resources to invest in long term assets for transformation of the state to be able to compete with others in the Indian Union.
The board will manage investment facilitation fund, project development fund and viability gap fund on behalf of all the departments of the government.