Andhra Tourism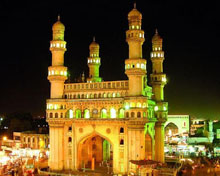 A state blessed with a number of pilgrimage centres and towns, it also has in Visakhapatnam port city a beautiful place on the coastline offering a breathtaking view of Mother Nature that includes hills, valleys, museum and parks.
Having the largest eastern coastline of 972 km in the country, the government has identified 50 beach spots that would be developed as tourist sites with all the necessary facilities and connectivity to attract both foreigners and domestic travellers.
Visakh city and its surroundings have four beach resorts, while nine more spots between Srikakulam and Nellore districts are under various stages of completion with central funding to make them into major attractions for foreign tourists.
Andhra Pradesh Tourism Development Corporation (APTDC) is the official agency that runs a number of hotels, resorts and other facilities, besides operating tour packages to offer unlimited vistas of tourist sites covering heritage, nature, adventure, health and rural landscapes in the state.
It has identified a number of tourism potential spots to be developed in order to boost inflow of both domestic and foreign visitors. Further, APTDC maintains popular resorts, religious shrines and leisure getaways like Tirupati, Horsley hills, Araku valley and scenic places in Vizag, Hyderabad and Srisailam.
A wide range of vehicles including 63 hi-tech coaches, 29 Volvo coaches, 8 air-conditioned hi-tech coaches, 4 semi-slippers, 11 mini vehicles, 1 vintage coach and 10 Quails are being used.
Visakhapatnam
Visakhapatnam is the biggest city of the new Andhra state after the formation of Telangana in June 2014. Now being developed as one of the smartest cities of India, Vizag has a long list of attractions - Kailashgiri Park near the sea, Visakha Museum, Indira Gandhi Zoological Park, INS Kursura submarine museum, the Dolphins Nose and the Lighthouse.
With a deepest port in India, the Navy has made this city has its Eastern Command headquarters. The hill resorts like Araku Valley and Borra Caves are frequented by weekend picnickers for a brief stay and enjoy a salubrious climate over there.
The Yarada and Rishikonda beaches are clean and picturesque offering a huge spectacle of Bay of Bengal on the east.
Vijayawada
Rich in agriculture, this city has been recognised as the Global City of the Future by McKinsey. Having been under the rule of various kingdoms of the south, it has rich cultural mix even as Krishna river flows through the city from the Eastern Ghats.
To the west of the city are jungles of Kondapalli Reserve Forests which have leopards, jackals, wolves and wild boars. A number of temples, monuments and caves witness a steady stream of visitors throughout the year. Some of the happening spots are Undavalli Caves, Mogalarajapuram Caves, Prakasam Barrage, Bhavani Island, Victoria Museum, Kondapalli Fort, Kolleru Lake and Gandhi Hill.
Nellore
Literally means 'paddy place' and thus agriculture is the main occupation of its people here. Pennar river cuts the town into two half and temple architecture speaks volume of its cultural legacy as it came under the influence of Mauryas, Chola, Pallava and Vijayanagar empires among others.
Some of the frequented tourist spots are Udayagiri Fort, Venkatagiri Fort, Nellapattu Bird Sanctuary, Sri Ranganathaswamy Temple, Penchalakona, Jonnawada, Mypad Beach and Pulicat Lake.
Chittoor
Located on the banks of Ponnar river, the city has a number of places for relaxation and joyful living. Most of the visitors come here to frequent places like Horsley Hills, Kaundinya Wildlife Sanctuary, Kalavagunta, Gurramkonda Fort, Nagari Hills, Sri Venkateswara Temple, Mogili and Ramagiri.
Anantapur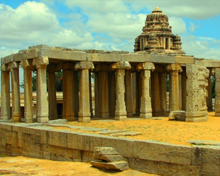 This town borders Karnataka state and has six rivers flowing through the district. It has a number of monuments, hill forts that are tell-tale structure that exemplify the ancient glory of Vijayanagar Empire. Some of the major places are Penukonda, Ravadurg Gooty Fort, Thimmamma Marrimanu, Dharmavaram, Hemavathi, Aluru Kona, Lepakshi and Raidurga Fort.
Kurnool
The rock paintings of Ketavaram point to the existence of human race in this oldest city since the Palaeolithic era. The town is surrounded by the parallel running mountain ranges from north to south. The place is known for sites like Kurnool Fort, Belum Caves, Nallamala Forest, Rollapadu Bird Sanctuary, Adoni Fort, Mahanandi, Kurnool Museum and Mantralayam.
Kadapa
Meaning "Gateway" as the town is located as the entry point to the pilgrim centre of Tirumala Hills. The town saw robust growth after deposits of uranium, a nuclear fuel, was discovered. The Bellum Caves are one of the longest such kind in the Indian subcontinent.
People flock to Kadapa to see Belum Caves, Gandikota Fort, Sidhout Fort, Bhagvan Mahavir Government Museum, Sri Venkateswara Wildlife Sanctuary, Pushpagiri, Ontimitta and Ameen Peer Dargah.
Srikalahasti
The name is derived from the root words for three animals (spider, snake and elephant) which, it is believed, received salvation after worshipping Lord Shiva. Here are the list of temples and popular sites in this locality: Sri Kalahasti Temple, Talakona Waterfalls Veyilingala Kona Waterfalls, Ubbalamadugu Falls, Gudimallam, Sahasra Linga Temple, Bharadwaja Tirtham and Durgambika Temple.
Ongole
Most popular for its small beaches and 17th Century temples, Ongole presents a quaint charm with a pristine beauty of its locales. Must see places are Kothapatnam Beach Vodarevu Beach, Chennakesava Swamy Temple, Kashi Visweswara Swamy Temple, Sri Shirdi Sai Baba Mandir, Tangutur, Chandavaram and Bhairavakona.
Puttaparthi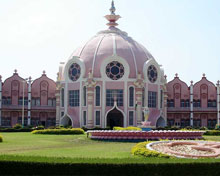 Thousands of foreigners and domestic pilgrims visit this holy place of Satya Sai Baba, the spiritual guru for millions of devotees across the world. Generally people throng places like Sai Kulwant Hall, Chaitanya Jyoti Museum, Sri Sathya Sai Space Theatre, Sri Sathya Sai Hill View Stadium, Gopuram, Anjaneya Hanuman Swamy Temple, Village Mosque and Chitravathi River.
Rajahmundry
Known for its Vedic culture and purportedly founded by the Chalukyas (11th Century), the town is supposed to be the birth place of Telugu language.
River Godavari mends its way through with parks and ghats located all along its banks. And the boat cruise on this river is most sought after fun ride. Here are popular tourist draws: Papi Hills, Kadiyapulanka, Godavari boat travel, Kotilingeswara Temple, Rallabandi Subbarao Government Museum, Pattiseema, Markandeya Temple and Dowleswaram Barrage.
Srikakulam
Positioned at the northeast corner of the state and on the banks of Krishna river, the town has one of the longest coastlines and its various beaches are also worth visiting. Besides, ancient temples and monuments are really worth a visit.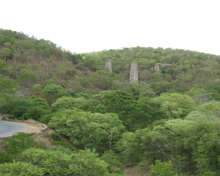 Religious centres
Tirumala Venkateswara Temple at Tirumala hills in Chittoor district is the richest place of worship in terms of donations received and wealth in the world attracting 50,000 to one lakh pilgrims daily.
On special occasions like festivals and Brahmotsavam, the number of footfalls increases to even 5 lakh per day.
It comprises seven peaks, representing the seven heads of Adisesha, thus earning the name Seshachalam.
Mallikarjuna Swamy temple at Srisailam in the Nallamala Hills of Kurnool district is the abode of Lord Mallikarjuna Shiva and is one of the twelve Jyotirlinga shrines in India.
Kanaka Durga Temple on the Indrakeeladri Hill in Vijayawada on the banks of Krishna River gets a large number of pilgrims during Tepotsavam and for a holy dip in the river during the Dusshera festival.
Simhachalam on a hill top, 20 km north of Visakhapatnam, is famous pilgrimage site of national heritage. Simhachalam is said to be the abode of the saviour God Narasimha who rescued young Prahlada from his wicked father and demon king Hiranyakashipu.
Andhra has a dedicated Buddhist circuit having centres at Amaravati, Nagarjuna Konda, Bhattiprolu, Ghantasala, Nelakondapalli, Dhulikatta, Bavikonda, Thotlakonda, Shalihundam, Pavuralakonda, Bojjannakonda (Sankaram), Phanigiri and Kolanpaka. Most of these places have relics, monuments or archaeological sites related to Buddhism.
Tourism income potential
Hit by financial crunch, the state government has drawn up a number of projects to increase the revenue from tourism sector from the present 14% to 18%
The fund-starved state government, which at present gets 14 per cent of its revenue through the tourism sector, plans to increase the share to 18 per cent in the next 10 years.
Developing new tour packages, beach resorts, historical sites and green hubs are on the top of tourism department's agenda. Also, creating a tourist hub out of Bhavani island in Vijayawada is under consideration.