Quality of life in Andhra Pradesh
As most of the livelihood is either based on agriculture, medium or small scale enterprises, the lifestyle is pretty much laid back here. This is a state where rural areas dominate much of its land mass and hence the government is committed to invest more in social parameters like health and education to uplift the living conditions of villagers.
7 missions – 5 campaigns – 5 grids
In order to fast track growth, the government has launched a novel 7+5+5 mission mode which will usher in qualitative change in the lifestyle of Telugu people, especially the poor and backward.
The seven missions are primary sector, social empowerment, knowledge and skill development, urban growth, industry sector, infrastructure and service sector.
The government is utilising the technical expertise of global organisations like International Crops Research Institute for Semi-Arid Tropics (ICRISAT) and Tata Institute of Social Sciences (TISS) in drafting the mission strategies
Five campaigns: Pedarikam Pai Gelupu, Polam Pilustondi, Badi Pilustondi, Neeru Chettu and Swacha Andhra with an aim to realise the objectives envisaged under the seven missions.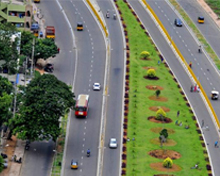 Five grids: Government has a vision of connecting each household to the basic amenities by establishing five grids for water, road, power, natural gas and fibre optic.
A compilation of mandal domestic product has been taken up for micro planning and this exercise was successfully piloted in East Godavari and Anantapur districts. Smart village, smart ward
Equality of life and fulfilment of cherished goals are meant to be achieved through smart village and smart ward programme which aims at creating model pockets of excellence in Andhra state.
The grand programme is focusing on 20 non-negotiable indicators of human progress through holistic development of all gram panchayats and municipal wards in well-etched out time frame. As rural areas are much more than cities and towns in Andhra, the smart village initiatives are set to give a major push to the quality of lifestyle among rural folks.
Health sector budget up
The budget allocation under the healthcare sector has been increased from 3.92% of the total plan outlay (2014-15) to 5.97% in 2015-16 with broad objectives to ensure safe motherhood, access to primary and referral healthcare and reduce IMR and MMR to attain Millennium Development Goals (MDG).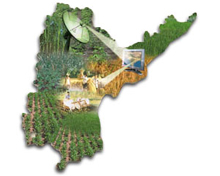 This investment hike in social sector, particularly health and education, is expected to improve human development indicators resulting in state pitch forking into the top ranks at the national level.
Plenty of resources in Andhra Pradesh
While rice is grown in plenty across districts, major rivers Krishna and Godavari and other minor rivers provide a rich soil for farmers to grow a variety of crops, thus making agriculture a profitable vocation in this state.
A clean air, rich soil and acres of virgin land waiting to be tapped for cultivation are positive aspects that making living in Andhra a joyful experience without any major urban woes as in other parts of the country.