Current scenario of Andhra
Hit by cash crunch and mounting revenue deficit, the truncated state of Andhra is further suffering from the poor allocation of funds from the Centre after the devastation caused by Hudhud Cyclone in Visakhapatnam and surrounding areas.
Hudhud cyclone caused a loss of Rs 21,908 crore including damage worth Rs 6,136 crore to private industries in the port city.
The revenue generation was roughly put at Rs 32,000 crore (2014-15) including a VAT of Rs 20,800 crore.
Chief Minister Chandrababu Naidu has lamented that he has to stop all development-related projects as it was even difficult to pay salaries to government staff due to financial crisis in Andhra.
The budget deficit estimated at Rs 15,500 crore (in January 2015) has already crossed Rs 20,000 crore in February.
After the accounts were divided between the two states following the formation of new state Telangana, the latter had surplus revenue of Rs 3,555 crore (2014-15), while Andhra with a reduced size had a revenue deficit of Rs 15,691 crore.
In August 2014, when the maiden budget after the split was presented, a plan outlay of Rs 1.11 lakh (capital expenditure) crore was made pointing to its deep crisis over fiscal debt.
An amount of Rs 5,791 crore was provided as plan outlay for building infrastructure from scratch for a new Andhra including for the development of new capital city named Amaravati.
New capital needs Rs 4 lakh crore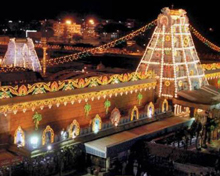 During an interaction with members of the 14th Finance Commission in Tirupathi (September 2014), Chandrababu Naidu recalled the Centre's earlier promises of special status to Andhra, a financial package for seven districts to tide over fiscal crisis and special incentives to boost industry.
Naidu pointed out Rs 4 lakh crore would be needed to build the new capital Amaravati to be located on the southern banks of Krishna river between Guntur and Vijayawada city and establish an effective communication network from the capital and the districts.
However, the finance panel may give a special grant of Rs 1 lakh crore during the next 5 years for building a modern capital. They were also requested for a one-time special grant for Rs 41,253.74 crore to create an eco-system for growth and ushering in job opportunities, besides improving the quality of public services through better governance.
Chalking out growth strategy
The seven priority sectors for action are primary education, urban development, agriculture, industry, services, social sector and skill training.
In the connectivity segment, five grids of water, road, power, gas and fibre (telecom) will be key areas for setting up infrastructure required to push industrial growth.
On another front, the government will launch sustained campaigns to take farmers back to the fields, personal hygiene, water conservation, poverty alleviation and schemes to minimise school dropouts.
It is felt that the state requires a huge financial support from the Centre to overcome the disequilibrium created by the bifurcation and to restart the growth engine.
At present, there are wide gaps in a number of growth and social sectors that could not be addressed due to budgetary constraints after the bifurcation of the state.
Rollout GST swiftly
The Centre was urged to implement the goods and services tax without delay and fully compensate the state in the initial years as it would be suffering from revenue loss on this account.
On the funding for natural calamities like floods and cyclones, the Centre was requested to increase its funding from the present 75% to 90% and also increase the total funding by 15% each year.