Employment Level in Andhra
Following the bifurcation of state with the creation of Telangana in June 2014, the new Andhra is beset with a number of challenges on the employment front.
While revenue yielding districts have gone with Telangana, both Rayalaseema and coastal Andhra together having 13 districts in all are yet to pick up industrial activity even as agriculture related businesses are the main occupation of the people here.
Like any other state, people in Andhra districts look for government jobs. But the irony is that the new government of Chandrababu Naidu has to begin from scratch with very little infrastructure at its disposal for they are yet to build their own capital and other facilities to kick start the functioning of the administrative system.
Skill training for youths
Several initiatives have already been taken at the degree education like upgrading training to students in Jawahar Knowledge Centres which provide employment related skills in 120 government colleges.
All the SC and ST students get free training at these knowledge centres. In 2014-15, about 17,123 students were trained and 3,817 of them were placed in reputed companies from 13 districts of Andhra Pradesh.
Under Mahatma Gandhi National Rural Employment Guarantee Scheme (MGNREGS), 8 lakh households were provided 100 days wage employment and an amount of Rs 3,417 crore is spent.
Special thrust is given on the setting up and enhancing the production capacities of micro, small and medium enterprises with huge employment potential. In order to create hassle-free environment for the investors, the government is effectively implementing a single window clearance system and arranging various industrial clearances within 21 days.
Manufacturing zone – integrated township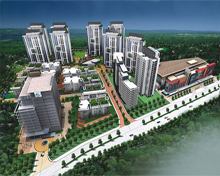 A National Investment and Manufacturing Zones (NIMZ) spread over 5,000-6,000 hectares in Chittoor district has been given an in-principle sanction by the Central government.
Once fully developed as an industrial township with modern infrastructure, efficient land use pattern, eco-friendly energy supply and social eco-systems like health, education and connectivity in place, apart from skill development units, NIMZ is expected to attract an investment of Rs 30,000 crore having an employment potential of 3 lakh people.
Software sector
It is a known fact that Hyderabad and its surrounding townships have attracted foreign capital and big corporate in setting up IT projects of large-scale dimensions. But the new Andhra minus Hyderabad has a daunting task to set up the basic infrastructure required for the software industry.
However, the state has so far attracted IT firms with a proposed investment of Rs 4,311 crore with a projected employment for 25,110 skilled professionals.
Low employability skills
According to an estimate, more than one crore youth from Andhra in the age group of 15-35 will enter the job market each year for the next 15 years or so.
But the majority of the job seekers will have low employability skills as they lack both soft and technical skills.
Studies done by Confederation of Indian Industry (CII) showed that by 2015, manufacturing and service sector activities like pharmaceuticals, bio-technology, construction, textiles, healthcare, tourism and retail management, among others, will require at least 70-80 lakh workers in Andhra Pradesh alone – of which 30-35 lakh will be in the unskilled category and the rest in skilled vocations.
The prospect of a large labour force with poor employability skills and at the same time industries facing shortage of skilled labour will give rise to social instability in the state.
Rajiv Yuva Kiranalu scheme
RYK programme is conceived by Andhra government to inculcate specific job skills among the unemployed youth and place them at the appropriate levels in the industry. At least 15 lakh youths are expected to be employed in the private industry by 2015-end after getting trained at RYK centres.
Expanding industry – key to more jobs
Suffering from a financial crunch, the Andhra government has done the right thing to woo investors, especially Japanese and Chinese, to set up factories which are key to multiply jobs across different sectors of the economy.
But issues like land, fiscal incentives and easing the process of doing business in Andhra will have to be sorted out at the earliest to set up clusters of manufacturing zones across the districts which will ensure gainful employment to large number of rural youths in the state.