Andhra Pradesh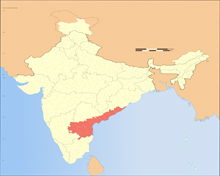 Andhra Pradesh is among one of the best states in India.
Covering a total land mass of 1.60 lakh sq km in the south-eastern part of the country, Andhra Pradesh is the eight largest state and tenth largest in terms of population (4.9 crore as per 2011 census).
This is the first state in Independent India to be carved out purely on the basis of linguistic affinity. On 2 June 2014, the north-western region of Andhra was bifurcated to form a new state of Telangana.
Hyderabad will remain the capital of both Andhra and Telangana states for a period of time not more than 10 years, according to the Andhra Pradesh Reorganisation Act, 2014. Meanwhile, Andhra chief minister N. Chandrababu Naidu has chosen a river front area between Vijayawada and Guntur city as the future capital of the state.
Called Amaravati, this new capital is located on the southern banks of Krishna river (will form Andhra Pradesh Capital Region soon) and is being developed with all infrastructure set ups and basic amenities to accommodate the secretariat, the legislative buildings and the working class.
Andhra Pradesh Infrastructure
Having a long coastline of 972 km, the second longest after Gujarat, its Visakhapatnam port is one of the major ports playing a critical role in the economic growth of Andhra.
Besides, the government has announced the setting up of a new Greenfield airport at Bogapuram, near Visakh and plans to upgrade the existing ones in Tirupati, Vijayawada and Rajahmundry.
No-frills airports are also coming up at Nagarjuna Sagar, Guntur district and Donakonda in Prakasam district. While plans are afoot to develop regional airports in Kuppam (Chittoor), Dagadarthi (Nellore) and Orvakallu (Kurnool).
With Telangana in the northwest, Chhattisgarh in the north, Odisha in the northeast, Karnataka to the west and Tamil Nadu covering its south, Andhra faces Bay of Bengal - a vast expanse of sea body - to the east.
Yanam, a small enclave of 30 sq km and a district of Puducherry, is located south of Kakinada in the Godavari delta to the northeast of the state.
There are two distinct regions - coastal Andhra and Rayalaseema - comprising 13 districts in all. Out of which, 9 districts are in coastal Andhra and 4 in Rayalaseema.
Visakhapatnam is the biggest town and a commercial hub with a GDP of $26 billion followed by Vijayawada with a GDP of $3 billion in 2010 that is expected to reach $17 billion by 2025.
There are a total of 28 cities with a population of one lakh and above in the state as per 2011 Census, while Visakhapatnam and Vijayawada have 20 lakh plus population each.
Infrastructure
The state is set to invest 32,500 core on infrastructure in next four years. 92 percent of the habitants are accessible by pucca road. Besides road links the state has laid a 23, 000 km long optical fiber chain as well. Andhra improved air connectivity with 11 airports. There are four major ports in the state. I has completed 26 of 52 projects sanctioned under JNNURM.
Economy
The 975 km coastal Vishakhapatnam - Chennai industrial corridor is set to increase economic potential of the state. Andhra Pradesh is the largest producer and exporter of fish and aquaculture products.