Temples in Andhra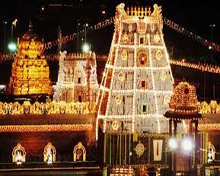 The importance of Lord Venkateswara hill temple at Tirumala in Chittoor district to Hindus all over the world has to be experienced first by visiting this Lord's abode to understand the its critical role in guiding the destinies of millions of Indians and NRIs alike.
With Tirumala hill temple tucked inside Rayalaseema region, the state of Andhra not only gets maximum number of pilgrim tourists in India, but most of its tourism income flows from the generous spend of devotees who throng this holy place throughout the year.
Tirumala Hills of Lord Venkateswara
Situated at 853 metres above sea level and spread over 27 sq km in area, Lord Venkateshwara temple occupies a small portion of one of the seven majestic hills called Seshachalam (a reserve forest range) in Chittoor district. This hill temple is the richest in terms of donations it receive and the wealth it possesses.
On an average, the temple gets 50,000 to one lakh pilgrims per day. But on special occasions like festivals and Brahmotsavam, the number of pilgrims touches 5 lakh per day, thus making it the most visited place of worship in the world.
With an annual income of $2.5 billion mostly as offerings from devotees, besides jewellery and gold, the hill temple is managed by Tirumala Tirupathi Devasthanam (TTD) in coordination with Andhra Tourism that has set up a number of boarding facilities for pilgrims on the hills.
Simhachalam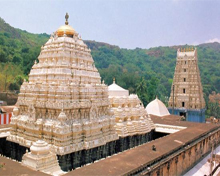 This abode of Lord Varaha Narasimha is located in Visakhapatnam and the temple sports both Odisha (main sanctum and inner precincts) and Dravidian (at the entrance) styles of architecture. The main deity Narasimha has millions of worshippers in north and south India.
Srisailam
A part of Trlinga Desam, Lord Shiva in Kurnool is worshipped as Mallikarjuna with his consort Goddess Parvathi as Bhramaramba and this is also one of the acclaimed Jyothirlingams found across India.
This is the only place in the country being designated as one of the 18 Shaktipithas as well as one of the 12 sites of rare Jyothirlingams which attracts hordes of Shaivite devotees. A massive hydro-electric dam is in place near Krishna river close to the temple whose sanctum sanctorum is covered with gold.
Kanipakam
Here the idol of Lord Swayambu Vinayaka in Chittoor district on the banks of Bahuda river is said to have emerged from a well and is still growing in size, according to belief. The swayambhu idol of Varasiddhi Vinayaka at Kanipakam is considered to be the "up-holder of truth".
People solve their civil disputes by taking a dip in the temple tank and taking oath before the Lord Vinayaka who as divine arbitrator is supposed to uphold the truth.
Ahobilam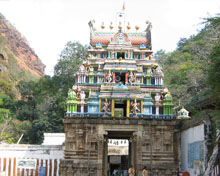 Also known as Ahobalam, this temple at Allagadda mandal of Kurnool district has Lord Narasimha as its presiding deity.
According to the legend, Lord Narasimha blessed Prahlada and killed the demon king Hiranyakashipu at this site which has a complex set of nine temples. There are two main temple houses called lower Ahobilam and upper Ahobilam.
Muramalla
Lord Veereswaraswamy and Goddess Bhadrakali are located at Muramalla village, a panchayat in the Polavaram Mandal of East Godavari district.
It is believed that if a person who is not married visits the temple just for once, he or she will get a suitable alliance at the earliest.
Similarly, childless couples also pray at this temple so that they may be blessed with an issue.
Vijayawada
The second largest city in the state has Goddess Kanaka Durga at Malleswara temple whose sanctum is covered with gold.
Annavaram
Located in East Godavari district, this holy shrine is the abode of Lord Satyadeva or Satyanarayana Swamy.
Bhadrachalam
Lord Seeta Ramachandra Swamy in a majestic pose gives darshan at this temple on the banks of river Godavari in Khammam district.
Arasavalli
Here sun god is worshipped as Surya Deva and rituals are conducted every day. The temple is located near Srikakulam.
Sri Kurmam
A temple dedicated to Sri Kurmanatha, the second avatar of Lord Vishnu. The word Kurmam means tortoise. There is also a Yoganandha Narasimhan temple in front of Sri Kurmam temple in Srikakulam.
Mangalagiri
A temple town between Vijayawada and Guntur boasts of Lord Narasimha whose idol is offered prayers in the form of panakam or jaggery water.
Mantralayam
A holy place Vrindavana (celestial garden) of Guru Raghavendra Swami, a Madhwa saint and follower of Sri Madhwacharya, is the main attraction at this religious town.
Sri Mukhalingam
Once the capital of Eastern Ganga kings of Kalinga (Odisha), this is a popular pilgrimage centre in Andhra Pradesh. The temple was built by Kamarnava II in 8th Century of Eastern Ganga dynasty on the banks of river Vamsadhara.
Mahanandi
A temple town in Kurnool housing Lord Siva, famous for its pushkarini (water pond) where water comes out of Nandi's mouth throughout the year.
Kotappakonda
Situated on a hill in Guntur district, Lord Shiva is worshipped especially during Mahashivaratri as lakhs of pilgrims throng here.
Amaravati
Lord Amareswara temple is dedicated to Lord Shiva and is one of the famous Pancharamas.
Amaravati was the site of a great Buddhist Stupa built in pre-Mauryan times. It was also the capital of Satavahanas, the first great Andhra kings who ruled from the 2nd century BCE to the 3rd century CE, after the downfall of Maurya empire.
Bhimavaram
It a major pilgrimage centre in Andhra Pradesh, as it is home to Somaramam (moon god), one of the five great Pancharama Kshetras. Built by Chalukya king Bhima I, the place is located in West Godavari district.
Srikakulam village
A small village on the banks of Krishna river in Krishna district has Andhra Maha Vishnu temple constructed by King Krishnadevaraya of Vijayanagar empire.
Jonnawada
Sri Mallikarjuna Swamy and Kamakshiamma temple was constructed in 1150. The Goddess Kamakshi is an incarnation of Shakti.
A Sri Chakram was installed by Sri Jagadguru Adhi Sankaracharya at this temple on the banks of Pennar river, 12 km from Nellore.
Achanta
Famous Rameswara Swamy Temple is in Achanta, West Godavari. The Lingam in this temple is Swayambhoo lingam (self-formed).
This is also known as "Achannuteswarudu" means the linga is in the form of female breast.
Sri Mogileeswara Temple
The temple is located at a small village in Chittoor district known as Mogili which is by the side of NH4, 10 km far from Palamaneru. Lord Siva and his consort Goddess Parvathi are the main deities here. A hill Devara Konda, 3 km away from the temple, is the abode of Parvathi.
Mounagiri Abhaya Hanuman
36 feet high monolithic Abhaya Hanuman temple on NH-7 towards Bangalore in Ananthapuram district. As the temple is located on a hill top if offers a scenic view and is a must visit for Hanuman devotees at least once in their lifetime.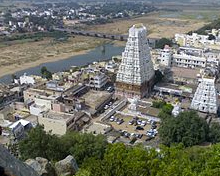 Sri Lakshmi Narasimha Swamy Temple
Located at Antarvedi of Sakhinetipalle mandal in the East Godavari district, the temple site is the place where a tributary of Godavari river called Vashista merges with the Bay of Bengal in the east.
Srikalahasti temple
Located in Chittoor district, Sri Kalahasti temple has Lord Shiva as its presiding deity, one of the Pancha bhootha lingams. Known as Dakshina Kailasam, the temple is popular for hosting a number of special rituals to ward of dosams arising out of planetary movements.