Traffic in Andhra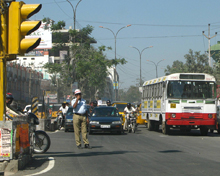 To bring down fatal accidents on the road, Andhra has introduced a vigilance machinery consisting of special teams from both the transport and police departments.
The new road safety bill of the Central government has called for tough penalties including imprisonment for certain type of traffic violations.
On an average, 6,000 people are killed in road mishaps across the state each year, one of the highest fatality rates in India as per the official data available from 2009 to 2014.
As many as 30,000 mishaps occur every year on state roads, out of which one-fifth are fatal. What is more worrying is that in a sample survey done in March 2015, it was found that 60% of drivers in rural belt do not have driving licence and the state has nearly 1,050 vulnerable spots that are prone to fatal accidents.
Most of the accidents have occurred due to the negligence of drivers for which the government is taking steps to curb it and hefty fines are being levied on those who violate road norms and provisions of Motor Vehicle Act.
Vigilance machinery
The proposed vigilance machinery will usher in safe roads for both the public and motorists. While 78% of accidents are due to drivers' fault, it is found that 21.5% of accidents are because of issues like bad roads, inclement weather and fitness of the vehicles.
If one takes 2009 for road accident study in Andhra, there was a mishap for every 6.02 km and every 169.3 minutes.
Ten people had lost their lives every 10 hours, while 40 were injured during the same period in 2009.
In 2014, there was one road incident for every 6.33 km and 161 minutes. Nine people had died and 34 injured every 10 hours.
While towns and cities account for 39.91% of all road accidents, 60% of such incidents take place in villages.
In case of injuries, urban areas account for 33.35% while rural areas 66.65%. Officials said 32.21% of fatal road accidents occurred in towns and 67.79% in villages.
Further, a detailed study on human fault in road accidents reveals that 15% of mishaps are due to driver's negligence, 7% because of drunken driving, 34% is the result of overloading, 40% due to over speeding and 4% of road incidents are due to protruding elements out of the vehicles.
Creating awareness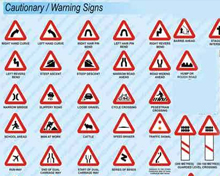 State-level NGOs have joined hands with transport and police departments to kick off a number of campaigns to create awareness on road safety among the motorists and general public alike.
Through rallies by school students, exhibitions and active monitoring at traffic junctions, the volunteers advise the public on the need to commute safely on roads. Besides, various issues that lead to mishaps like drunken driving, over speeding and unfit vehicles are also explained in a simple manner by the NGO members to the public to bring down road violations.