Infrastructure of Andhra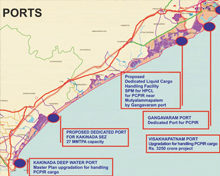 A well-developed road and rail networks and a major port in Visakhapatnam handling a variety of heavy cargoes have positioned the state in a favourable location for speedier industrial progress.
Major and minor ports
Having a largest eastern coastline of 975 coast line, the state is dotted with seaports of varying dimensions. While Visakh for all purposes serves as the major gateway for import and export trade, there are notified 14 non-major ports -- out of which six are being development under the PPP mode.
In addition to the existing non‐major ports, the government would also be developing 14 minor ports under PPP mode which include Bhavanapadu and Kalingapatnam in Srikakulam district and Narsapur in West Godavari district.
Airports in Andhra Pradesh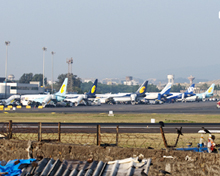 Visakh is the only city having international air connectivity in Andhra, while there are five other domestic terminals at Vijayawada, Rajahmundry, Tirupati, Cuddapah and Puttaparthi.
There is a proposal for the development of Greenfield airport at Bhogapuram in Vizianagaram district. Moreover, no-frills airports are being planned at Nagarjuna Sagar (Guntur district) and Donakonda (Prakasam district) which will come up in tandem with regional airports at Kuppam (Chittoor district), Dagadarthi (Nellore) and Orvakallu (Kurnool).
Roads in Andhra Pradesh
One can reach any part of the state through its well-connected roads consisting of national highways, state highways and district roads.
Andhra has an extensive road network of 146,954 km with 42,511 km of state highways, 3,144 km of national highways and 101,484 km of district roads. Andhra Pradesh Road Development Corporation (APRDC) is responsible for the maintenance of these roads.
NH-5 with a network of around 1,000 km in the state is part of Golden Quadrilateral Project undertaken by National Highways Development Project and also forms a part of AH 45 that comes under the mega Asian highway network.
The AP State Road Transport Corporation (APSRTC) operates public bus services in the state plying thousands of vehicles that reach out to nook and corner of the state including remote, small villages.
Pandit Nehru bus station in Vijayawada is the largest bus terminus in the state. Besides APSRTC, there are private services extending round the clock trips to major cities and towns of Andhra Pradesh.
Railways in Andhra Pradesh
Andhra has a railway network of 4,403 km with many express trains and passengers serving the various needs of the population, thereby aiding the economic growth.
Over the decades, Railways have ushered in industrial growth in districts and made the state more visible in the tourist map of India.
One of the highest broad gauge tracks in the world is in Eastern Ghats section from Visakhapatnam to Anantagiri that offers a scenic landscape full of valleys, waterfalls and lush pastures.
Most of Andhra Pradesh comes under South Central Railway (SCR) zone with Vijayawada, Guntur and Guntakal divisions. The north coastal districts of Srikakulam, Vizianagaram and Visakhapatnam districts are under Waltair Railway division of East Coast Railway zone.
Waltair Railway Division under ECoR zone is the fourth largest revenue earning division in India.
Vijayawada railway station is the highest grosser in the SCR zone and one of busiest railway junctions in India. The revenue generated from the railways divisions in the state is mainly due to tourist places of religious importance like Tirupati and Srisailam, apart from freight charges for minerals like iron ore, barites and limestone.
Power sector of Andhra Pradesh
APGENCO is the largest power generating company in the state with installed capacity of 4559.6 MW in which the share of thermal power is 61.63%, followed by that of hydel and wind at the rate of 38.33% and 0.04% respectively. During 2014-15 (up to Jan. 15), the Apgenco stations had a power generation of 19,472 MU
During 2014-15, Apgenco was expected to add a total capacity of 1,650 MW to the state grid with two units of Damodaram Sanjeevaiah thermal project at Krishnapatnam having a supercritical technology and two hydel units of Nagarjuna Sagar Tail pond dam.
Alternative energy of Andhra Pradesh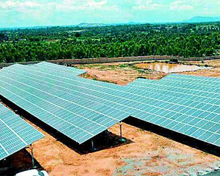 In order to broaden its energy basket, the government has unveiled solar and wind power policies to attract capital and industrial houses.
While 2,500 MW solar parks are being developed in Ananthapuram, Kurnool and Kadapa districts, the government will install 10,000 solar pump sets to facilitate irrigation for the year 2015-16.
LNG terminal proposed
The government has expressed interest in setting up an LNG import terminal on the coast as the demand for natural gas is growing fast.
It may be noted that natural gas is a critical input for sectors like power, fertiliser, refinery, glass and ceramic which employ lakhs of people.
Andhra has requested 14th Finance Commission for a grant of Rs 1 lakh crore for capital construction and Rs 41,253 crore to fill the infrastructure gaps in the short term.