Andhra Pradesh Travel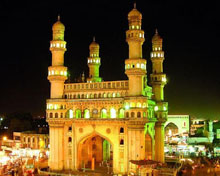 Charminar in Andhra Pradesh
If you're after a truly life-changing experience from your travels, give the southern state of Andhra Pradesh a go! Andhra Pradesh, eighth largest state in India with an area of 160,205 sq. km, is a magnet for travellers.
But what is it that makes Andhra Pradesh a great travel destination? Is it the history stretching back thousands of years.
The excellent beaches? The stunning scenic landscape? The historical cities with their lively plazas? Well, all of these things make the state of Andhra Pradesh a fascinating land to visit; but what makes it great is the warmth and spirit of the people of the state themselves.
You can join the throngs as the Hindu devotees worship in the huge and ornate Temple of Tirupati at the foothills of Tirumala. Other pilgrimage sites in the state are Srisailam, Sri Kalahasthi and Simhachalam and Lepakshi.
If Buddhism is more your thing, take a trip to the numerous Buddhist Sties in Andhra Pradesh. One of the Buddhism's most visited sites, Nagarjunakonda in the state, is named after great Buddhist thinker Nagarjuna, who introduced the religion to Andhra Pradesh in the 2nd century AD.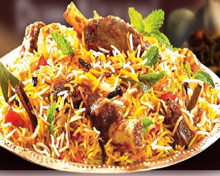 Hyderabad Biryani
When it comes to recharging your batteries, few places do it better than the Andhra coast. Fringed with nearly 970 kilometres of coastline, Andhra Pradesh is home to some of the most stunning beaches in the country, especially at Visakhapatnam.
A day trip from Visakhapatnam will take you to Araku, a beautiful hill station nestled in a thickly forested valley. Not to be missed are the surreal Borra Caves, home to million year old stalactite and stalagmite formations.
Vijayawada is another big city in Andhra Pradesh and is a convenient base for visiting Coringa Wildlife Sanctuary. Rajahmundry is another important city where the Godavari River and Konaseema are accessible for river cruises or just walking along the banks.