Andhra Pradesh Culture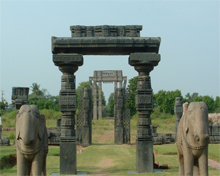 During the 13th Century CE, rulers of Kakatiya dynasty promoted the Telugu language and unified the people with encouragement to a number of fine arts, apart from building majestic temples for Hindu gods and goddesses.
After the exit of Kakatiyas, the mighty Vijayanagar empire ruled till the 16th Century in which rapid advancement in agriculture, commerce and fine arts took place.
Following the Vijayanagar dynasty, the Golconda kings though Muslims promoted Telugus in their courts and due to religious harmony, the community excelled in arts, literature and other forms of public excellence.
Andhra Pradesh Art and Culture
Having influenced by a diverse mix of dynasties since the pre-Christian era, Telugus have a well-structured society divided by castes and community but at the same time they are good are preserving their religious harmony.
In rural areas, the dominant tribes maintain a strong hold on the local custom and lifestyle. Some of the tribal communities like Gadabas, Koyas, Kolamis, Bhagatas, Khonds, Savaras, Nayakpods, Kondadoras, Valmikis, Jatayus, Chenchus, Yanadis, Balasanta and Davaluru have in place their own model code of conduct in everyday life and gram panchayats have a critical say in regulating the lives of these rural folks.
Andhra culture is a colourful amalgamation of various elements found in dynasties like the Chalukyas, the Mughals and its rich art forms like dance and music resonate with their unique heritage that has contributed much to India's most treasured cultural ethos.
The life of Telugus is deeply influenced by art and culture and even their diaspora across the world take pains to preserve their rich heritage in spite of being cut off from their motherland for decades.
Andhra Pradesh Art and Dance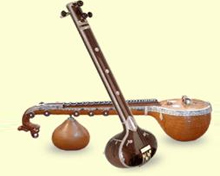 Legendary composer-cum-singers Annamacharya and Tyagaraja gave a resonating sound and grammar to Telugu making it the preferred medium for Carnatic music, while over the centuries this language known for its melodious turns and twists has become the Italian of Eastern civilisation.
Kuchipudi is a refined form of ancient Tamil art Bharatanatyam and the former has dexterous movements and needs agile flexes that come only after rigorous training.
Though Kuchipudi is Andhra's best-known classical dance, other art forms co-existed for centuries like Chenchu, Bhagotam, Kuchipudi, Bhamakalapam, Burrakatha, Veeranatyam, Butta bommalu, Dappu, Tappeta Gullu, Dhimsa and Kolattam.
Harikatha
A form of religious discourse, Harikatha means stories of the Lord and is also known by the name Katha Kalakshepa. In this format of storytelling, the narrator dwells on a religious theme, life of early saints or extracts from Indian epics like Ramayana or Mahabharata.
Harikatha Kalakshepam is very popular in Andhra even now along with its variant Burra Katha due to its religious connotations and mesmerising tone of Haridasus (Katha singers) who go around the countryside signing devotional songs of varying themes.
This is an age-old tradition performed mostly in Dhanurmaasam before Sankranti festival. Ajjada Adibhatla Narayana Dasu with his lyrical stories and hymns has made Harikatha a unique art form in Andhra.
Clothing and Crafts of Andhra Pradesh
Due to their rich ancestry, Telugus are pioneers in the fields of metal ware, carpets, wood and stone carving, silver filigree, brass sculpture and metal sheet forging.
Craftsmanship in Kalamkari, Bidri and Nirmal paintings and dexterous weaves from Pochampalli, Gadwal and Venkatagiri have resulted in worldwide demand of these exquisite products from Andhra region.
Kalamkari is done using a quill and vegetable dye is used for printing on the fabric. While in Bathik print, wax is used for the impression on the fabric. Cherial scroll paintings are done on cloth using earthen colours
Traditional Food of Andhra Pradesh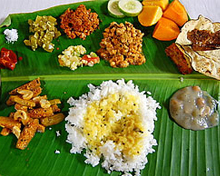 Known for hot and spicy food, a typical Andhra food is a blend of Mughlai items with rice being the staple food.
Telugus consume food along with sambhar, lentils and vegetables. A traditional food is served on a plantain leaf and no meal is finished without pickles, chutneys and masala powders as they form an integral part of their daily intake.
The main food of Andhra Pradesh is tamarind rice (pulihara) with green chillies for adding spice to the main course.
'Gongoora' chutney and 'Pesarattu' of Andhra are famous worldwide. Biriyani is an important part of Andhra cuisine. A spicy recipe made of brinjals known as 'Bagara Baingan' is a notable dish among the Telugu people. Andhra is also known for its chowki dinner.