Tamil Nadu Election 2019
Tamil Nadu is all set to go to polls on April 18, 2019 for the 39 Lok Sabha constituencies. Elections will be taking place in a single phase and the results will be announced on May 23. Political parties should file their nominations between March 19 and March 26. The last date for withdrawal of nominations is March 29.
Along with the Parliamentary elections, the by-polls for the 18 assembly seats out of 21 seats that have been lying vacant for many months now, will also be held on the same day (April 18). Assembly by-elections in three constituencies namely Ottapidaram, Aravakurichi and Tirupparamkundram will not be held due to pending cases in the court.
This election is also called as the acid test for several parties and their leaderships, since Tamil Nadu is facing the first election after the death of 2 top personalities - former Chief Ministers J Jayalalithaa and M Karunanidhi. By-polls are also termed as mini assembly election, since the ruling AIADMK needs to win 4 seats in order survive.
The total strength of the Tamil Nadu Assembly is 234. With the demise of DMK MLA M Karunanidhi and AIADMK MLA AK Bose, the number is reduced to 232 including the speaker.
Tamilnadu Lok Sabha Election Result
Tamilnadu Assembly Election Result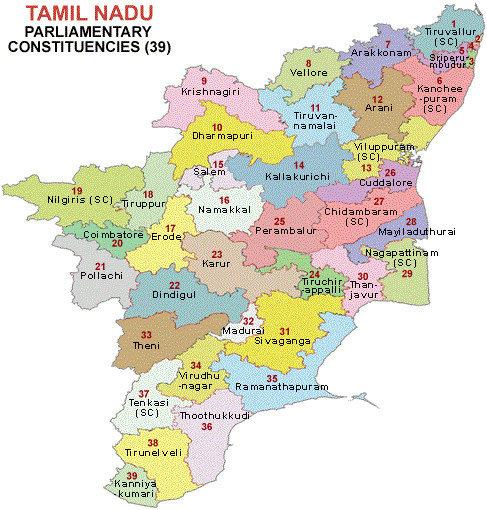 List of 39 Lok Sabha constituencies Scheduled for Election:
| No. of Constituencies | Name of Constituencies |
| --- | --- |
| 1 | Thiruvallur |
| 2 | Chennai North |
| 3 | Chennai South |
| 4 | Chennai Central |
| 5 | Sriperumbudur |
| 6 | Kancheepuram |
| 7 | Arakkonam |
| 8 | Vellore |
| 9 | Krishnagiri |
| 10 | Dharmapuri |
| 11 | Tiruvannamalai |
| 12 | Arani |
| 13 | Villupuram |
| 14 | Kallakurichi |
| 15 | Salem |
| 16 | Namakkal |
| 17 | Erode |
| 18 | Tiruppur |
| 19 | Nilgiris |
| 20 | Coimbatore |
| 21 | Pollachi |
| 22 | Dindigul |
| 23 | Karur |
| 24 | Tiruchirappalli |
| 25 | Perambalur |
| 26 | Cuddalore |
| 27 | Chidambaram |
| 28 | Mayiladuturai |
| 29 | Nagapattinam |
| 30 | Thanjavur |
| 31 | Sivaganga |
| 32 | Madurai |
| 33 | Theni |
| 34 | Virudhunagar |
| 35 | Ramanathapuram |
| 36 | Thoothukudi |
| 37 | Tenkasi |
| 38 | Tirunelveli |
| 39 | Kanyakumari |
List of 18 Assembly constituencies Scheduled for By-Election:
Andhrapradesh Elections
|
Arunachalpradesh Elections
|
Assam Elections
|
Bihar Elections
|
Chattisgarh Elections
|
Delhi Elections
|
Goa Election News
|
Gujarat Election Results
|
Haryana Elections
|
Himachal Pradesh Elections
|
Jammu And Kashmir Elections
|
Jharkhand Elections
|
Karnataka Elections
|
Kerala Elections
|
Madhya Pradesh Elections
|
Maharashtra Elections
|
Manipur Elections
|
Meghalaya Elections
|
Mizoram Elections
|
Nagaland Elections
|
Orissa Elections
|
Pondicherry Elections
|
Punjab Elections
|
Rajasthan Elections
|
Sikkim Elections
|
Tamil Nadu Elections
|
Telangana Elections
|
Tripura Elections
|
Uttarakhand Elections
|
U.P. Elections
|
West Bengal Elections
|
Telangana Elections
|
Andaman and Nicobar Islands Elections
|
Chandigarh Elections
|
Daman and Diu Elections
|
Dadra and Nagar Haveli Elections
|
Lakshadweep Elections
|
Election News