Telangana Election 2019
Situated in the centre-south stretch of the Indian peninsula on the high Deccan Plateau, state of Telangana will be witnessing the Lok Sabha election just months after the assemby polls. The ruling Telangana Rashtra Samiti has won the assembly polls held with a huge win. Elections in Telangana will be held in a single phase on April 11 in all 17 seats, including Hyderabad. The final counting of votes will take place on May 23.
As per the latest reports, Congress party will go alone in the upcoming parliamentary election in Telangana. It will be contesting all the 17 Lok Sabha seats after the failure of the grand alliance experiment in the recent assembly polls. Congress party has won just 19 out of 119 assembly seats. Congress is very desperate to win at least 6 MP seats in the election. The party must re arrange its strategy since it has garnered a vote share of 32.32 %, while TRS has garnered around 47.4 %. votes.
The BJP will be facing tough task ahead as it had won one seat in the recent assembly election. In the 2014 parliamentary electio, it won only one of the 17 Lok Sabha seats in 2014. Key leaders across parties: K. Chandrasekhar Rao, KT Rama Rao, Kavitha and Harish Rao from TRS; S Jayapal Reddy, actor Vijayashanti and Renuka Chowdary from Congress; Asaduddin Owaisi of MIM.


Telangana Lok Sabha Election Result
Telangana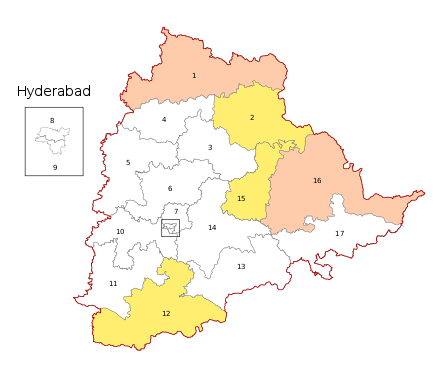 List of Lok Sabha Seats
| No. of Constituencies | Name of Constituencies |
| --- | --- |
| 1 | Adilabad |
| 2 | Peddapalle |
| 3 | Karimnagar |
| 4 | Nizamabad |
| 5 | Zahirabad |
| 6 | Medak |
| 7 | Malkajgiri |
| 8 | Secunderabad |
| 9 | Hyderabad |
| 10 | Chevella |
| 11 | Mahbubnagar |
| 12 | Nagarkurnool |
| 13 | Nalgonda |
| 14 | Bhongir |
| 15 | Warangal |
| 16 | Mahabubabad |
| 17 | Khammam |
Andhrapradesh Elections
|
Arunachalpradesh Elections
|
Assam Elections
|
Bihar Elections
|
Chattisgarh Elections
|
Delhi Elections
|
Goa Election News
|
Gujarat Election Results
|
Haryana Elections
|
Himachal Pradesh Elections
|
Jammu And Kashmir Elections
|
Jharkhand Elections
|
Karnataka Elections
|
Kerala Elections
|
Madhya Pradesh Elections
|
Maharashtra Elections
|
Manipur Elections
|
Meghalaya Elections
|
Mizoram Elections
|
Nagaland Elections
|
Orissa Elections
|
Pondicherry Elections
|
Punjab Elections
|
Rajasthan Elections
|
Sikkim Elections
|
Tamil Nadu Elections
|
Telangana Elections
|
Tripura Elections
|
Uttarakhand Elections
|
U.P. Elections
|
West Bengal Elections
|
Telangana Elections
|
Andaman and Nicobar Islands Elections
|
Chandigarh Elections
|
Daman and Diu Elections
|
Dadra and Nagar Haveli Elections
|
Lakshadweep Elections
|
Election News