Arunachal Pradesh Elections 2019
Arunachal Pradesh is currently ruled by Bharatiya Janata Party (BJP). The ruling party has 48 seats in the 60 member state assembly. National People's Party and Congress have 5 seats each. Two seats are with independent MLAs. Both Lok Sabha and Assembly elections will be held simultaneously in Arunachal Pradesh.
There are two Lok Sabha Constituencies, Arunachal West and Arunachal West. Polls will be held on April 11, 2019 in the state and will be announced on May 23. Political experts feel that the ruling BJP could emerge victorious. Pema Khandu is the current Chief Minister of Arunachal Pradesh will retain his government. Experts also predict that BJP will also win both Lok Sabha Constituencies in the election.
Arunachal Pradesh Lok Sabha Election Result
Arunachal Pradesh Assembly Election Result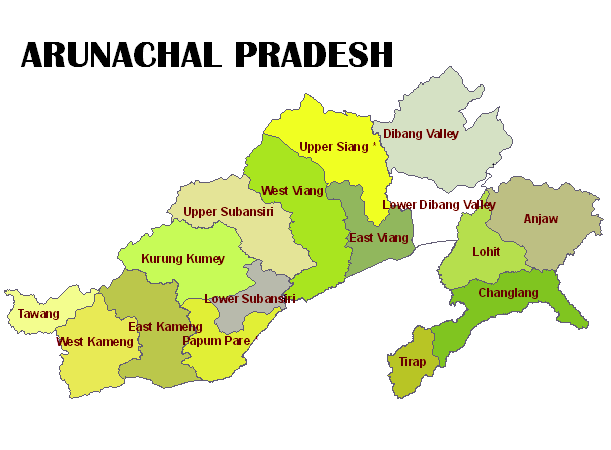 List of Lok Sabha seats
| S.No. | Constituency Name |
| --- | --- |
| 1 | Arunachal West |
| 2 | Arunachal East |
List of Assembly seats
| S.No. | Constituency Name |
| --- | --- |
| 1 | Lumla |
| 2 | Tawang |
| 3 | Mukto |
| 4 | Kalaktang |
| 5 | Thrizino-Buragaon |
| 6 | Bomdila |
| 7 | Bameng |
| 8 | Chayangtajo |
| 9 | Seppa East |
| 10 | Seppa West |
| 11 | Pakke-Kasang |
| 12 | Itanagar |
| 13 | Doimukh |
| 14 | Sagalee |
| 15 | Yachuli |
| 16 | Ziro-Hapoli |
| 17 | Palin |
| 18 | Nyapin |
| 19 | Tali |
| 20 | Koloriang |
| 21 | Nacho |
| 22 | Taliha |
| 23 | Daporijo |
| 24 | Raga |
| 25 | Damporijo |
| 26 | Liromoba |
| 27 | Likabali |
| 28 | Basar |
| 29 | Along West |
| 30 | Along East |
| 31 | Rumgong |
| 32 | Mechuka |
| 33 | Tuting-Yingkiong |
| 34 | Pangin |
| 35 | Nari-Koyu |
| 36 | Pasighat West |
| 37 | Pasighat East |
| 38 | Mebo |
| 39 | Mariyang-Geku |
| 40 | Anini |
| 41 | Dambuk |
| 42 | Roing |
| 43 | Tezu |
| 44 | Hayuliang |
| 45 | Chowkham |
| 46 | Namsai |
| 47 | Lekang |
| 48 | Bordumsa-Diyum |
| 49 | Miao |
| 50 | Nampong |
| 51 | Changlang South |
| 52 | Changlang North |
| 53 | Namsang |
| 54 | Khonsa East |
| 55 | Khonsa West |
| 56 | Borduria-Bagapani |
| 57 | Kanubari |
| 58 | Longding-Pumao |
| 59 | Pongchau-Wakka |
| 60 | Dirang |
Andhrapradesh Elections
|
Arunachalpradesh Elections
|
Assam Elections
|
Bihar Elections
|
Chattisgarh Elections
|
Delhi Elections
|
Goa Election News
|
Gujarat Election Results
|
Haryana Elections
|
Himachal Pradesh Elections
|
Jammu And Kashmir Elections
|
Jharkhand Elections
|
Karnataka Elections
|
Kerala Elections
|
Madhya Pradesh Elections
|
Maharashtra Elections
|
Manipur Elections
|
Meghalaya Elections
|
Mizoram Elections
|
Nagaland Elections
|
Orissa Elections
|
Pondicherry Elections
|
Punjab Elections
|
Rajasthan Elections
|
Sikkim Elections
|
Tamil Nadu Elections
|
Telangana Elections
|
Tripura Elections
|
Uttarakhand Elections
|
U.P. Elections
|
West Bengal Elections
|
Telangana Elections
|
Andaman and Nicobar Islands Elections
|
Chandigarh Elections
|
Daman and Diu Elections
|
Dadra and Nagar Haveli Elections
|
Lakshadweep Elections
|
Election News