Himachala Pradesh Parliament Elections 2017
There are four Lok Sabha constituencies in Himachal Pradesh. Here Shimla is reserved constituency for Schedule caste. In an embarrassment for Himachal Pradesh Chief Minister Virbhadra Singh, his wife and Congress candidate from Mandi Lok Sabha seat Pratibha Singh was Friday defeated by BJP's Ram Swaroop Sharma.
Sharma defeated Pratibha Singh by a margin of 39,796 votes, an election official told.
In the 2013 bypoll, Pratibha Singh won from the seat by a margin of 1,36,724 votes. The seat was vacated by Virbhadra Singh after he assumed charge as chief minister.
Himachal Pradesh Election Results 2015(4):
| Party Name | Results |
| --- | --- |
| BJP | 4 |
| Cong | 0 |
| Others | 0 |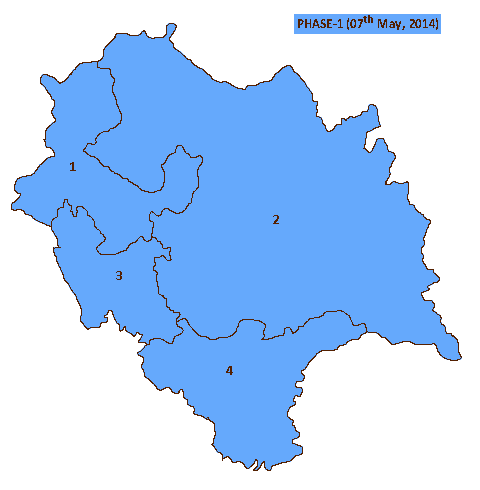 Himachal Pradesh Lok Sabha Constituencies Schedule and Results 2017
| Name of Constituencies | Winner | Party |
| --- | --- | --- |
| Kangra | Shanta Kumar | BJP |
| Mandi | Ram Swaroop Sharma | BJP |
| Hamirpur | Anurag Singh Thakur | BJP |
| Shimla | Virender Kashyap | BJP |
Andhrapradesh Elections
|
Arunachalpradesh Elections
|
Assam Elections
|
Bihar Elections
|
Chattisgarh Elections
|
Delhi Elections
|
Goa Election News
|
Gujarat Election Results
|
Haryana Elections
|
Himachal Pradesh Elections
|
Jammu And Kashmir Elections
|
Jharkhand Elections
|
Karnataka Elections
|
Kerala Elections
|
Madhya Pradesh Elections
|
Maharashtra Elections
|
Manipur Elections
|
Meghalaya Elections
|
Mizoram Elections
|
Nagaland Elections
|
Orissa Elections
|
Pondicherry Elections
|
Punjab Elections
|
Rajasthan Elections
|
Sikkim Elections
|
Tamil Nadu Elections
|
Tripura Elections
|
Uttaranchal Elections
|
Uttarakhand Elections
|
U.P. Elections
|
West Bengal Elections
|
Election News
Parliament Elections News in Himachal Pradesh