Himachal Pradesh Elections 2019
Himachal Pradesh, the home to scenic mountains in the country will be facing the Lok Sabha elections on the 7th phase of the polls on May 19th. The final counting of votes will take place on May 23.
The state has four Parliamentary constituencies- Kangra, Mandi, Hamirpur and Shimla. All of them are held by the ruling BJP. 2017 Assembly Election was won by BJP, garnering 44 seats out of 68 seats. While the Congress was able to pluck 21 seats. But one should not underestimate the power of Congress. Ruling BJP will have to fight the Congress in many areas in order to retain 4 seats.
Himachal Pradesh Lok Sabha Election Result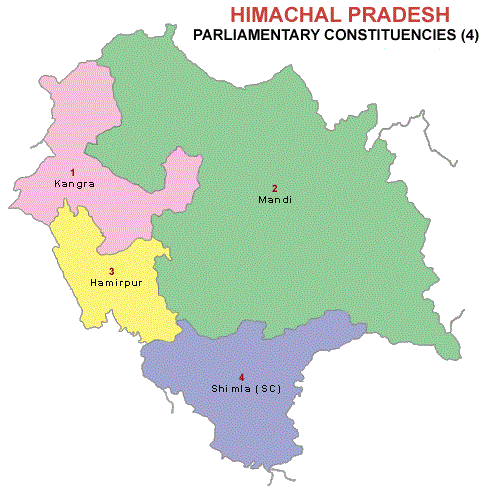 List of Lok Sabha Seats
| No. of Constituencies | Name of Constituencies |
| --- | --- |
| 1 | Kangra |
| 2 | Mandi |
| 3 | Hamirpur |
| 4 | Shimla |
Andhrapradesh Elections
|
Arunachalpradesh Elections
|
Assam Elections
|
Bihar Elections
|
Chattisgarh Elections
|
Delhi Elections
|
Goa Election News
|
Gujarat Election Results
|
Haryana Elections
|
Himachal Pradesh Elections
|
Jammu And Kashmir Elections
|
Jharkhand Elections
|
Karnataka Elections
|
Kerala Elections
|
Madhya Pradesh Elections
|
Maharashtra Elections
|
Manipur Elections
|
Meghalaya Elections
|
Mizoram Elections
|
Nagaland Elections
|
Orissa Elections
|
Pondicherry Elections
|
Punjab Elections
|
Rajasthan Elections
|
Sikkim Elections
|
Tamil Nadu Elections
|
Telangana Elections
|
Tripura Elections
|
Uttarakhand Elections
|
U.P. Elections
|
West Bengal Elections
|
Telangana Elections
|
Andaman and Nicobar Islands Elections
|
Chandigarh Elections
|
Daman and Diu Elections
|
Dadra and Nagar Haveli Elections
|
Lakshadweep Elections
|
Election News