Uttar Pradesh Election 2019
The country's largest populated state - Uttar Pradesh is all set to go to for Lok Sabha Elections in all 7 phases on April 11th, 18th, 23rd , 29th and May 6th, 12th, 19th. The polls for the 80 seats are divided accordingly. First phase (8 seats), second phase (8 seats), third phase (13 seats), fourth phase ( 13 seats), fifth phase (14 seats), sixth phase (14 seats), seventh phase (13 seats). The results will be announced on May 23.
Uttar Pradesh has often plays a crucial role in Lok Sabha Elections through its history. 2019 Lok Sabha election will see a triangular contest where SP-BSP combine will take on BJP and Congress. While Congress is already aware of the result, BJP is expected to give fought fight. Since, the state had given a huge support in 2014 Elections, where it won 71 out of the 80 seats.
Uttar Pradesh Lok Sabha Election Result
Uttar Pradesh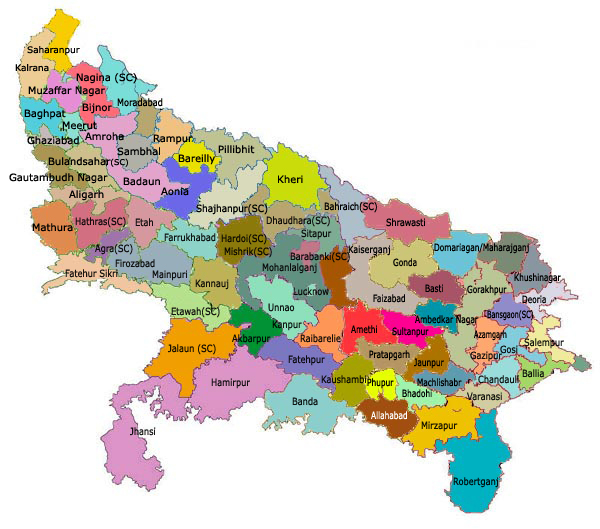 List of Lok Sabha Constituencies
| | |
| --- | --- |
| S.No | Constituency Name |
| 1 | Saharanpur |
| 2 | Kairana |
| 3 | Muzaffarnagar |
| 4 | Bijnor |
| 5 | Nagina |
| 6 | Moradabad |
| 7 | Rampur |
| 8 | Sambhal |
| 9 | Amroha |
| 10 | Meerut |
| 11 | Baghpat |
| 12 | Ghaziabad |
| 13 | Gautam Buddha Nagar |
| 14 | Bulandshahr |
| 15 | Aligarh |
| 16 | Hathras |
| 17 | Mathura |
| 18 | Agra |
| 19 | Fatehpur |
| 20 | Firozabad |
| 21 | Mainpuri |
| 22 | Etah |
| 23 | Badaun |
| 24 | Aonla |
| 25 | Bareilly |
| 26 | Pilibhit |
| 27 | Shahjahanpur |
| 28 | Kheri |
| 29 | Dhaurahra |
| 30 | Sitapur |
| 31 | Hardoi |
| 32 | Misrikh |
| 33 | Unnao |
| 34 | Mohanlalganj |
| 35 | Lucknow |
| 36 | Rae Bareli |
| 37 | Amethi |
| 38 | Sultanpur |
| 39 | Pratapgarh |
| 40 | Farrukhabad |
| 41 | Etawah |
| 42 | Kannauj |
| 43 | Kanpur |
| 44 | Akbarpur |
| 45 | Jalaun |
| 46 | Jhansi |
| 47 | Hamirpur |
| 48 | Banda |
| 49 | Fatehpur Sikri |
| 50 | Kaushambi |
| 51 | Phulpur |
| 52 | Allahabad |
| 53 | Barabanki |
| 54 | Faizabad |
| 55 | Ambedkar Nagar |
| 56 | Bahraich |
| 57 | Kaiserganj |
| 58 | Shravasti |
| 59 | Gonda |
| 60 | Domariyaganj |
| 61 | Basti |
| 62 | Sant Kabir Nagar |
| 63 | Maharajganj |
| 64 | Gorakhpur |
| 65 | Kushi Nagar |
| 66 | Deoria |
| 67 | Bansgaon |
| 68 | Lalganj |
| 69 | Azamgarh |
| 70 | Ghosi |
| 71 | Salempur |
| 72 | Ballia |
| 73 | Jaunpur |
| 74 | Machhlishahr |
| 75 | Ghazipur |
| 76 | Chandauli |
| 77 | Varanasi |
| 78 | Bhadohi |
| 79 | Mirzapur |
| 80 | Robertsganj |
Andhrapradesh Elections
|
Arunachalpradesh Elections
|
Assam Elections
|
Bihar Elections
|
Chattisgarh Elections
|
Delhi Elections
|
Goa Election News
|
Gujarat Election Results
|
Haryana Elections
|
Himachal Pradesh Elections
|
Jammu And Kashmir Elections
|
Jharkhand Elections
|
Karnataka Elections
|
Kerala Elections
|
Madhya Pradesh Elections
|
Maharashtra Elections
|
Manipur Elections
|
Meghalaya Elections
|
Mizoram Elections
|
Nagaland Elections
|
Orissa Elections
|
Pondicherry Elections
|
Punjab Elections
|
Rajasthan Elections
|
Sikkim Elections
|
Tamil Nadu Elections
|
Telangana Elections
|
Tripura Elections
|
Uttarakhand Elections
|
U.P. Elections
|
West Bengal Elections
|
Telangana Elections
|
Andaman and Nicobar Islands Elections
|
Chandigarh Elections
|
Daman and Diu Elections
|
Dadra and Nagar Haveli Elections
|
Lakshadweep Elections
|
Election News