Indian Architecture
Indian Architecture is one of the most enduring works in our country. There are so many monuments that have been built in India over thousandths of years which still stand the test of time and are renowned the world over for their scale and grandeur. Indian architecture, belonging to different periods of history, bears the stamp of respective periods. Architecture progressed and evolved with time continuously assimilating influences and inspirations from others regions of the world. Tracing back to 2000 years Indian monuments reveal subtle details of Hindu, Muslim, Jain, Buddhist, Sikh and Christian styles of architecture where each religion is characterized by their own particular kind of styles coupled with cultural and mythological implications. So much so that monuments even under the same religion develop distinctly different characteristics across the various regions of India. For Ex Temples of South and North India have distinct differences in styling and preferences from one another.
Serious advances in Indian architecture can be attributed to the advent of Buddhism in India during King Ashokas reign around (270- 232). Some magnificent monasteries and Stupas were built during this period.Highlights among them are the Great Sanchi Stupa and the rock cut caves of Ajantha.
Hindu Style of Architecture in India
With the consolidation of Hinduism during the eighth century Hindu style of architecture began to flourish. Some of the most popular among them are the temples of Mahabalipuram and kanchipuram. The brilliant temple of Brihadeshwara built by king Raja Raja Chola in Tanjore is one of Indias most defining landmarks. The temple is known for its huge size and scale of grandeur. Other stellar achievements include the works of the Vijaynagar kingdom one of them which is the popular Meenakshi temple in Madurai.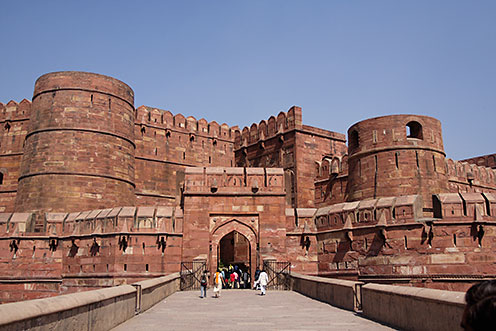 In the North building styles and inspirations where different from the South. In central India, Chandella built a magnificent complex of temples at their capital. The Kajuraho temple which was built around 950- 1030 AD is still very popular tourist attraction where the art is highly admired. These temples show Vaishnavaite, Shaivite and Tantric influences. The temples have many sexual representations which is an indication of how modern our ancestors were in those days. More famous is the Surya temple at Konark built by Narasimha Deva Ganga . And many masterpieces of Indian architecture can be found in Bhubaaneshwar and Puri as well.
Mughal Style of Architecture in India
The Mughal architecture was another important chapter in Indian History. Over the years the mughal dynasty have built some outstanding pieces of work which will be talked about for many more centuries. Mughal emperors like Humayun, Akbar Shah Jahan and Jahangir promoted art and architecture and spent lavishly in building mausoleums, forts, palaces and other landmarks. The concentrated places of Mughal monuments can be located in Lahore, Delhi, Fatehpur Sikri and Agra. Monuments like Jama Masjid is one of the largest mosques in the world while the Red Fort today stands as a symbol of emblematic State power. Buland Darwaza, Humayuns tomb and Akbars tomb are other important landmarks.
The most exquisite among them is the Taj Mahal which features as one of the seven wonders in the world. Built entirely on white marble it was built by Shajahan for his beloved Mumtaz Mehal. The monument took twenty two years in the making and is one of the countries most frequented tourist attraction.
Unlike the Mughals, the British did not contribute much to India's architectural history. Their rule is associated mainly with having built monumental civic buildings like the Victoria Terminus in Bombay, or commemorative exercises typified by the Victoria Memorial in Calcutta. There are some wonderful examples of church architecture, such as St. James's Church in Delhi, but the main contribution of the British happens to be the construction of a new capital in Delhi.
Architecture | Art | Paintings | Modern Indian Paintings | Dr Anis Farooqui Paintings
Famous archaeological buildings in India
Architecture of Delhi
Qutb Minar is world fame and India's tallest minar with 72.5 metres high. It has total 379 stairs and has 14.3 metres base diameter. Qutub Minar was built by Qutub-ud-din Aibak and Iltutmish in 1192. It was included in the World Heritage sites of India by UNESCO.... Read More
Architecture of Maharashtra
Ajanta Caves: These marvellous and beautifully constructed caves are located in Aurangabad district of Maharashtra, India about 30 rock-cut Buddhist cave monuments which date from the 2nd century BCE to about 480 or 650 CE.... Read More
Architecture of Chennai
The archaeological building is also identified as Mamallapuram. It is a historic town in Kancheepuram district in the Indian state of Tamil Nadu. It is around 60 km south from the city of Chennai.... Read More
Architecture of Agra
Fatehpur Sikri was built in the period of Akbar and it was supreme architectural achievement of, his Capital City near Agra. The construction of the walled city began in 1569 A.D. and completed in 1574 A.D.... Read More
Architecture of Odisha
These are a ruined fortification in Khurda District in Odisha, India. It is one of the major and best preserved early momentous fortifications in India. Sisupal garhis... Read More
Architecture of Madhya Pradesh
Khajuraho group of temples are famous for their superb expression of Indian architecture. Khajuraho is a village located in the state of Madhya Pradesh, Chhatarpur District,.. Read More
Architecture of Haryana
This archaeological site is located at the northwest state of Haryana, about 150 kilometers from Delhi, lies the Harappan settlement of Rakhigarhi. Recent excavations have revealed significant urban centre since 5,000 years... Read More
Architecture of Gujarat
Lothal is considered as one of the oldest ancient and organized city in India which is presently located in modern state of Gujarat in India. It was assumed that city was established in 2400 BCE... Read More
Architecture of Kerala
In Kerala Archaeological treasures, Edakkal Caves are the two natural caves existing in a distant location called Edakkal in Wayanad district,... Read More
Architecture of Bihar
These caves are the oldest surviving rock-cut caves in India, mainly from the time of the Maurya Empire (322–185 BCE). The Barabar caves are located in the twin hills of Barabar (four caves) and Nagarjuni (three caves), caves of the 1.6 km distant Nagarjuni Hill sometimes... Read More
Pongal | Makara Sankranthi | Thaipusam | Maha Shivratri | Holi | Ugadi | Ram Navami | Onam | Sri Krishna Jayanti / Janmashtami | Ganesh Chaturthi | Vijayadasami | Durga Puja | Navarathri | Diwali | Rakhi | Eid ul-Fitr | Eid ul-Adha (Bakrid) | Ramadan | Christmas | Good Friday | Easter | Mahavir Jayanti

Bharatanatyam | Kathak | Kathakali | Kuchupudi | Mohiniyattam | Odissi Dance

Carnatic Music | Hindustani

Art in India | Paintings | Architecture | Modern Indian Painting | Dr Anis Farooqui

Durga Puja | Saraswati Puja | Ganesh Puja | Shiva Puja | Kali Puja | Lakshmi Puja | Satyanarayana Puja | Shivaratri Puja | Wedding Puja | Visakha Puja | Guru Puja | Namaz Guide | Ancient India Culture | Culture of Delhi | Culture of Mumbai | Culture of Chennai | Culture of Hyderabad | Culture of Bangalore | Culture of Kolkata | Bihari Wedding | Traditional State Sikkim

Bollywood | Bengali Cinema | Kannad Cinema | Kollywood | Malayalam Cinema | Tollywood | Film Reviews | Indian Film Stars | Hindi Film News