Ramadan Festival in India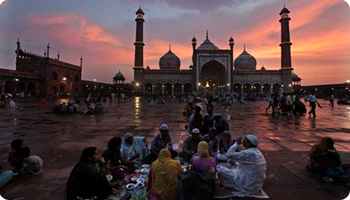 Ramadan is the ninth month of the Islamic lunar calendar. Every day during this month, Muslims around the world spend the daylight hours from Sunrise to Sunset in a complete fast where they are not allowed to even take water or smoke.
Muslims are required to use this month to re-evaluate their lives in light of Islamic values and teachings. They are to make peace with those who have wronged them, strengthen ties with family and friends, do away with all kinds of bad habits and essentially clean up one's life, thoughts and feelings.
During Ramadan, every part of the body shows signs of restraint. The tongue must restrain itself from back-biting and gossip. The eyes must restrain themselves from looking at unlawful and obscene things. The hand must not touch or take anything that does not belong to it. The ears must refrain from listening to idle talk or obscene words. The feet also should refrain from going to sinful places. In such a way, every part of the body observes the fast.
Therefore fasting does not refer to cutting down on the intake of food alone but it is rather about the total commitment of the person's body and soul to the spirit of the fast.
Ramadan Dates in 2015
The month of Ramzan is slated to begin on the 28th or 29th of june 2015. It depends on the sighting of the moon and is announced a night before the actual day of fasting. The Month long fasting ends after 29 or 30 days and cannot exceed 30 days even if the moon has not been seen.
So people look out for the moon on the 29th day to see the moon and if it is not seen they fast the next day and celebrate Eid on the day after.
Fasting Time Table
The fasting time table will vary from city to city as per the sunrise and sunset timings. The best way to get your timings right is to get the little timetable cards distributed free of cost at a mosques near you. The azan is the easiest way to know when to start and break your fast but in these times it may be difficult to hear the sound in cities. Please refer Namaz timings in the link.
Pongal | Makara Sankranthi | Thaipusam | Maha Shivratri | Holi | Ugadi | Ram Navami | Onam | Sri Krishna Jayanti / Janmashtami | Ganesh Chaturthi | Vijayadasami | Durga Puja | Navarathri | Diwali | Rakhi | Eid ul-Fitr | Eid ul-Adha (Bakrid) | Ramadan | Christmas | Good Friday | Easter | Mahavir Jayanti

Bharatanatyam | Kathak | Kathakali | Kuchupudi | Mohiniyattam | Odissi Dance

Carnatic Music | Hindustani

Art in India | Paintings | Architecture | Modern Indian Painting | Dr Anis Farooqui

Durga Puja | Saraswati Puja | Ganesh Puja | Shiva Puja | Kali Puja | Lakshmi Puja | Satyanarayana Puja | Shivaratri Puja | Wedding Puja | Visakha Puja | Guru Puja | Namaz Guide | Ancient India Culture | Culture of Delhi | Culture of Mumbai | Culture of Chennai | Culture of Hyderabad | Culture of Bangalore | Culture of Kolkata | Bihari Wedding | Traditional State Sikkim

Bollywood | Bengali Cinema | Kannad Cinema | Kollywood | Malayalam Cinema | Tollywood | Film Reviews | Indian Film Stars | Hindi Film News