Rakhi Festival in India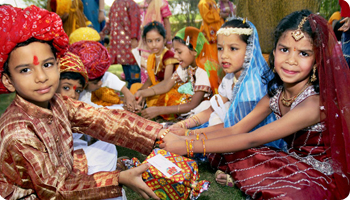 A beautiful festival to celebrate the beautiful relationship that a brother and sister share: that is Rakhi. Feasting, merry making, gifting are the highlights of the day, together with the inherent religious elements.
The celebration starts with prayers, applying Vermillion marks on the brother's forehead, the tying of the Rakhi by the sister. The brother in turn promises protection for his sister and presents a gift to his lovely sister.
Bhaubeej: Popular in Mahrashtra and Goa. On Bhaubeej, sisters pray for their brothers to have long and happy lives by performing the Teeka ceremony. Brothers give their sisters gifts.
Pongal | Makara Sankranthi | Thaipusam | Maha Shivratri | Holi | Ugadi | Ram Navami | Onam | Sri Krishna Jayanti / Janmashtami | Ganesh Chaturthi | Vijayadasami | Durga Puja | Navarathri | Diwali | Rakhi | Eid ul-Fitr | Eid ul-Adha (Bakrid) | Ramadan | Christmas | Good Friday | Easter | Mahavir Jayanti

Bharatanatyam | Kathak | Kathakali | Kuchupudi | Mohiniyattam | Odissi Dance

Carnatic Music | Hindustani

Art in India | Paintings | Architecture | Modern Indian Painting | Dr Anis Farooqui

Durga Puja | Saraswati Puja | Ganesh Puja | Shiva Puja | Kali Puja | Lakshmi Puja | Satyanarayana Puja | Shivaratri Puja | Wedding Puja | Visakha Puja | Guru Puja | Namaz Guide | Ancient India Culture | Culture of Delhi | Culture of Mumbai | Culture of Chennai | Culture of Hyderabad | Culture of Bangalore | Culture of Kolkata | Bihari Wedding | Traditional State Sikkim

Bollywood | Bengali Cinema | Kannad Cinema | Kollywood | Malayalam Cinema | Tollywood | Film Reviews | Indian Film Stars | Hindi Film News