Diwali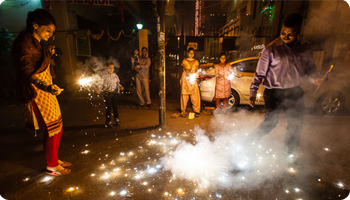 Diwali – Festival of Lights
Diwali is a major Hindu religious festival, known as the festival of lights. Being the most famous festival in India, people celebrate the occasion by lighting lamps in their homes, streets, shops and temples. The festival signifies the victory of good over evil, spans over a period of 5 days, the main day of the festival falls on the new moon of the Karthika month (North Indian Calendar) same as the month of Aippasi (Tamil calendar) which falls between October-November.
How People Celebrate Diwali in India
The day before Diwali, people clean and decorate their homes and offices. On the festive day, people get up early in the morning and after bathing, wear new clothes and light up lamps, both inside and outside their home. Since Diwali is often associated with the positive energy, various Gods and Goddesses are worshipped. In North India, Goddess Lakshmi is the most important deity during the occasion. People performed Lakshmi Puja, Ganesh Puja and Lakshmi-Ganesh Puja on the occasion.
Diwali Celebration in North India
Some Hindus also perform pujas to Lord Rama (Lord Vishnu), since they believe the occasion to celebrate the return of Lord Rama to Ayodhya from exile of 14 years. In South India, Diwali is observed for two days as Naraka Chaturthasi and Deepavali (Diwali). People rise up early in the morning, after taking a bath they make a trip to the local temple along with families to seek the blessings of the God. It is also a great day for children as they celebrate the day by bursting firecrackers. In the states of Telangana and Andhra Pradesh, a large dummy of demon Narakasura loaded with firecrackers are made. Later the dummy will be burst by a person, who is dressed as Lord Krishna is accompanied by Satyabama his consort.
Diwali Celebration in Tamil Nadu
In Tamilnadu, Hindus celebrate by waking up early in the morning, which is followed by an oil bath. After the bath, new clothes are worn as a part of the celebration. Some families also exchange sweets between neighbours, visiting relatives. Apart from bursting of crackers, a home-made medicine known as 'Deepavali Lehyam' is also prepared. The main purpose behind the medicine is to aid the digestive system after a feast.
Diwali Celebration in Odisha and West Bengal
In some parts of Odisha and West Bengal, Hindus worship Goddess Kali instead Goddess Lakshmi. In many parts of North India, many Hindu communities organise elaborate puja for Lord Krishna and large several feasts are offered.
8 Countries That Also Celebrate Diwali
Besides, the festival is also celebrated outside India in countries like Nepal, Fiji, Guyana, Malaysia, Mauritius, Myanmar, Singapore and Srilanka. Not just Hindus, Jains celebrate a festival also called Diwali to celebrate the attainment of Moksha by Mahavira. While, Sikhs celebrate Bandi Chhor Divas to make the release of Guru Hargobind from Mughal Empire, some Buddhists also celebrate Diwali by performing special pujas to Goddess Lakshmi.
Diwali Shopping
Diwali is not just an occasion for sweets and bursting crackers but also marks shopping period in India. People purchase new clothes, home refurbishments, gifts, gold and jewellery.
Pongal | Makara Sankranthi | Thaipusam | Maha Shivratri | Holi | Ugadi | Ram Navami | Onam | Sri Krishna Jayanti / Janmashtami | Ganesh Chaturthi | Vijayadasami | Durga Puja | Navarathri | Diwali | Rakhi | Eid ul-Fitr | Eid ul-Adha (Bakrid) | Ramadan | Christmas | Good Friday | Easter | Mahavir Jayanti

Bharatanatyam | Kathak | Kathakali | Kuchupudi | Mohiniyattam | Odissi Dance

Carnatic Music | Hindustani

Art in India | Paintings | Architecture | Modern Indian Painting | Dr Anis Farooqui

Durga Puja | Saraswati Puja | Ganesh Puja | Shiva Puja | Kali Puja | Lakshmi Puja | Satyanarayana Puja | Shivaratri Puja | Wedding Puja | Visakha Puja | Guru Puja | Namaz Guide | Ancient India Culture | Culture of Delhi | Culture of Mumbai | Culture of Chennai | Culture of Hyderabad | Culture of Bangalore | Culture of Kolkata | Bihari Wedding | Traditional State Sikkim

Bollywood | Bengali Cinema | Kannad Cinema | Kollywood | Malayalam Cinema | Tollywood | Film Reviews | Indian Film Stars | Hindi Film News