Navarathri Festival in India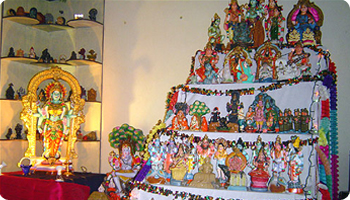 The nine-day Navratri festival held in Ashwin month (September - October) coincides with the Durga Puja festival held during the same period. Therefore the festival is also known as Durga Puja Navratri.
Durga Puja is mainly held in eastern parts of India and Goddess Durga worship is also performed in North India. In North, West and Southern parts of India, Navratri is held during the period.
The nine day of Navratri is dedicated to Goddess Durga, Lakshmi and Saraswathi. The first three days of Navratri is dedicated to Goddess Durga, next three days to Goddess Lakshmi and the last three days to Goddess Saraswati.
The ninth day is observed as Ayudha Puja. This method of celebrating Navratri is more popular in South India, especially in Karnataka, Andhra Pradesh and Tamil Nadu. t the end of the festive night the flowers are distributed as Prasad for the devotees.
The Dasha Maitrikas (the 10 sisters of Goa) of the Saraswat Brahmins are taken out to worship - namely, Shantadurga, Aryadurga, Mahalasa, Katyayani, Mahamaya, Kamakshi, Vijayadurga, Bhumika, Mahalakshmi and Navadurga.In South India, people set up steps and place idols on them. This is known as golu.