Culture of Mumbai
Mumabi is the economic hub of India. It is one of the busiest and most populated cities in India. Mumbai has an assortment of people from various communities. Since the metropolitan is observing modern trends, here people enjoy participating in all festivals irrespective of caste, creed and color. The cultural heritage of Bombay presents a combination of old and new. Marathi is recognized as the official language of the Mumbai city of India. Apart from Marathi, there are many other languages like Hindi and English are widely spoken and understood in Bombay.
Being the land of opportunities, lot of people come to Mumabi in search of jobs. Hence finding accommodation is a very expensive affair compared to the other places in India. Hence its common for people to traveling large distance in order to get to their workplace. And with Mumabi being a very fast paced city you can many times see people hurriedly going about their business. The city is collected well by train and is the most widely used form of transport. In fact rail system is so busy it is actually closed only for a few hours in a day.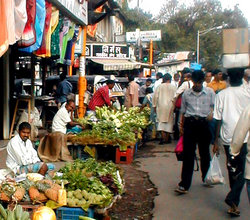 Mumbai being a perfect example of a multicultural city celebrated festivals of all religions. One of the most popular festivals in Mumbai is Ganesh Chathurthi. It was popularized by freedom fighter Bal Gangadhar Thilak and ever since then the festival is celebrated with great pomp and splendour. There are huge processions with big deities of Lord Ganesha accompanied by singing, dancing and chanting of the famous Ganesha slogan 'Ganapathi Bappa Moriya'
Music is another very wide cultural fusion here in Bombay. You can be exposed to Indian classical music or marathi folk songs. Then there also other choices that range from jazz, hip hop, pop to the famous music of Bollwood or the Bombay film industry which is the largest film industry in India.
Bollwood is Indias famous film Industry. Bollwood films are characterized by exotic and colourful song and dance routines. Bollywood has always produced many films with high production values and now the films have even started getting noticed globally. Films like Sholay, Hum Apke Hain Kaun, Dilwale Dulhania Le Jayenge and many more are some over the evergreen Bollwood classics. Some of the famous Bollwood icons are Amithab Bachan, Sharukh Khan, Rajes Khanna, Aamir Khan Hema Malini, Madhuri Dixit, Aishwarya Rai etc.
Bombay food offers the tourist a lot of choices. Being a fast city, fast food stalls are very popular in Mumbai. One of the most famous take away food items is Vada Pav which is basically a battata sandwiched bread. Other famous items include dabeli , pani puri and bhel puri etc. there are alsomany restaurants that offer a variety of cuisine sand cater to a wide clientele. The tea stalls of the city are very famous where people converge for a cup of tea and conversation with friends. Many of these cafes have been around for many decades and have their own history attached to them.
Telangana History | kerala History | Chhattisgarh History | Gujarat History | Himachal Pradesh History | Jharkhand History | Madhya Pradesh History | Manipur History | Karnataka History | orissa History | Punjab History | Rajasthan History | Sikkim History | Tamil Nadu History | Uttarakhand History | Uttarpradesh History | Tripura History | Meghalaya History | West Bengal History
Mumbai News | Hospitals in Mumbai | Mumbai Administration| Mumbai Climate| Mumbai Culture| Mumbai Demographics| Mumbai Economy| Mumbai Education| Mumbai Geography| Mumbai History| Mumbai Media| Mumbai Sports| Mumbai Transport| Mumbai Utility| Restaurants In Mumbai | Mumbai Classifieds |More About Mumbai