Dr Anis Farooqui Painting
Dr Anis Farooqui is a very well known and a well respected name in the field of fine arts in India. He was the recipient of the National award for his paintings in the year 1989. Dr Anis Farooqui was the Director of National Gallery of Modern Art for 13 years and expired in 1994 while still in office.
Dr Anis Farooqui was also a well known academic scholar and an art historian. He did his diploma in Drawing and Painting from Sir J.J School of Art, Mumbai in 1959. After completing MA in Drawing and Painting from Agra University in 1962, he obtained PhD in History of Indian Art from Agra University under the guidance of late Prof .Nirharanjan Ray. During the span of his career as an art painter he participated in several group and solo exhibitions.
Some of them are
UP State Lalit Kala Akademi,Lucknow 1963 and 1966
Indian Students Fair ,Boston 1963
All India Fine Arts and Crafts Society Annual Exhibitions New Delhi and Ernakulam 1965
National Exhibition of Art,Lalit Kala Akademi-1965,1967,1968,1981,1982 & 1989 as invitee artist
Exposition of Lalit Kala Akademi,New Delhi collection ,New Delhi collection 1970
The Changing Image-Exhibition of Painting ,Sculpture and Multicolour Reproductions ,Lalit Kala Akademi,New Delhi 1973
Protest Show against Triennale India III New Delhi 1975
Exhibition of New Acquisitions, National Art Exhibition New Delhi ,1980
Andhra Pradesh Council of Artists ,1981
Art Biennale ,Dacca ,Bangladesh ,1982
Invitee artist for the exhibition Nature and Environment 1989,Lalit Kala Akademi,New Delhi & Czechoslovakia
Invitee artist for the silver Jubilee Annual Exhibition of UP State Lalit Kala Academy
Awards:
Silver Medal ,All India Exhibition Punjab,1961
Gold medal,Inter University Youth Festival UP 1961
First Prize in Graphic and Drawing Section, Sahitya Kala Parishad Delhi, 1980-81.
National Award ,Lalit Kala Akademi ,1989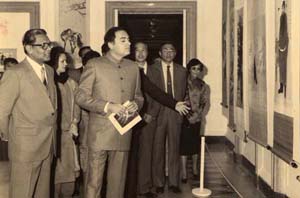 His works of art are in the collection of all major art collectors and galleries in India and abroad. His paintings are in the collection of Sahitya Kala Parishad, Delhi, Lalit Kala Akademi, New Delhi, National Gallery of Modern Art, New Delhi, Punjab Government Museum, Chandigarh, Punjab University Museum, Chandigarh, British India Corportion, Kanpur, Ghalib Academy, New Delhi, Institute of Medicine and Medical Research, New Delhi, Doordarshan, New Delhi.
Dr Farooqui authored two books- Art of India and Persia, 1979 and Hindostani Musavviri-Ek Khaka 1981.He published several articles and papers in Research Journals and art magazines.






| | |
| --- | --- |
| | |
| With Mr.Vekataraman and Mrs.PupulJaykar | with RajivGandhi and Sonia Gandhi |
Architecture | Art | Paintings | Modern Indian Paintings | Dr Anis Farooqui Paintings
Pongal | Makara Sankranthi | Thaipusam | Maha Shivratri | Holi | Ugadi | Ram Navami | Onam | Sri Krishna Jayanti / Janmashtami | Ganesh Chaturthi | Vijayadasami | Durga Puja | Navarathri | Diwali | Rakhi | Eid ul-Fitr | Eid ul-Adha (Bakrid) | Ramadan | Christmas | Good Friday | Easter | Mahavir Jayanti

Bharatanatyam | Kathak | Kathakali | Kuchupudi | Mohiniyattam | Odissi Dance

Carnatic Music | Hindustani

Art in India | Paintings | Architecture | Modern Indian Painting | Dr Anis Farooqui

Durga Puja | Saraswati Puja | Ganesh Puja | Shiva Puja | Kali Puja | Lakshmi Puja | Satyanarayana Puja | Shivaratri Puja | Wedding Puja | Visakha Puja | Guru Puja | Namaz Guide | Ancient India Culture | Culture of Delhi | Culture of Mumbai | Culture of Chennai | Culture of Hyderabad | Culture of Bangalore | Culture of Kolkata | Bihari Wedding | Traditional State Sikkim

Bollywood | Bengali Cinema | Kannad Cinema | Kollywood | Malayalam Cinema | Tollywood | Film Reviews | Indian Film Stars | Hindi Film News