Good Friday Festival in India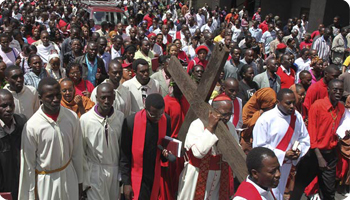 Good Friday is observed on the Friday before Easter Sunday. Many Christians spend this day in fasting, prayer, repentance, and meditation on the agony and suffering of Christ on the cross.
The celebration of Good Friday is ancient, and some of the practices associated with Good Friday are attested to by Egeria in the 4th century. The day gradually became a time of penance and fasting as the anniversary of the death of Christ.
The name "Good Friday" possibly comes from "God's Friday," although the exact reason for the current name is unclear. The custom of venerating the cross on Good Friday probably originated in Jerusalem in the 7th or 8th century, and continues to this day in many Western Churches. Pre-sanctified Masses are referenced in the documents of the Quinisext Council, which was held in AD 692, which means the practice pre-dates the seventh century.
The Council mentions pre-sanctified liturgies as occurring primarily during Lent. Various churches observe Good Friday in addition to Catholics and Eastern Christians. Anglicans, Methodists, and Lutherans all observe Good Friday to varying degrees.
Many Christians in India attend special church services or pray on Good Friday. Some people also fast or abstain from meat on this day. Many Christians hold parades or open air plays to portray the last days and hours of Jesus' life in some areas of India.
Good Friday is a day of sadness, in which churches are empty and dark. Services are held in the afternoon. Many churches have a bitter drink prepared from leaves, vinegar, and other ingredients. This drink is for everyone to taste after the service.
Pongal | Makara Sankranthi | Thaipusam | Maha Shivratri | Holi | Ugadi | Ram Navami | Onam | Sri Krishna Jayanti / Janmashtami | Ganesh Chaturthi | Vijayadasami | Durga Puja | Navarathri | Diwali | Rakhi | Eid ul-Fitr | Eid ul-Adha (Bakrid) | Ramadan | Christmas | Good Friday | Easter | Mahavir Jayanti

Bharatanatyam | Kathak | Kathakali | Kuchupudi | Mohiniyattam | Odissi Dance

Carnatic Music | Hindustani

Art in India | Paintings | Architecture | Modern Indian Painting | Dr Anis Farooqui

Durga Puja | Saraswati Puja | Ganesh Puja | Shiva Puja | Kali Puja | Lakshmi Puja | Satyanarayana Puja | Shivaratri Puja | Wedding Puja | Visakha Puja | Guru Puja | Namaz Guide | Ancient India Culture | Culture of Delhi | Culture of Mumbai | Culture of Chennai | Culture of Hyderabad | Culture of Bangalore | Culture of Kolkata | Bihari Wedding | Traditional State Sikkim

Bollywood | Bengali Cinema | Kannad Cinema | Kollywood | Malayalam Cinema | Tollywood | Film Reviews | Indian Film Stars | Hindi Film News