History of Carnatic Music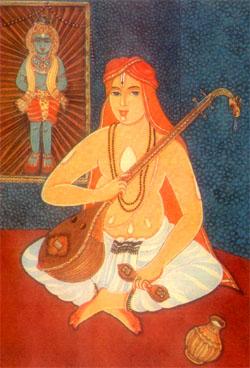 Carnatic music is a classical form of music which is very popular in India. There are 72 basic scales on the octave, and a rich variety of melodic motion. Both melodic and rhythmic structures are varied and compelling. This is one of the world's oldest & richest musical traditions.
It a style that has continuously developed over thousandths of years and has today evolved into a deeply embedded and rich art form. It's ardently followed by the music lovers of mainly the four Southern States of Andhra Pradesh, Karnataka, Kerala and Tamil Nadu.
It is one of the two sub genres of Indian Classical music with the other sub genre being Hindustani music. Hindustani music has emerged distinct over the years with Persian and Islamic influences of North India.
The roots of Indian Carnatic music can be traced back to the Vedas, particularly the Sama Veda. The Carnatic music has also been considerably influenced by the ancient Tamil music from the Dravidian culture of the southern parts of India. Thus it is an amalgamation of the wonders of Sanskrit and Tamil cultures that underlie all of Indian civilisation.
The history of South Indian music can be divided into 3 periods. They are :
The Ancient Period (20th Century B.C. to 3rd Century A.D.)
The Medieval Period (7th century A.D to 15th century A.D.)
The Modern Period (16th century A.D. to today)
Carnatic music is usually performed by a small ensemble of musicians, consisting of a principal performer (usually a vocalist), a melodic accompaniment (usually a violin), a rhythm accompaniment (usually a mridangam), and a tambura, which acts as a drone throughout the performance. Other accompanying instruments include ganjeera, gatam, veena and flute.
Structure of Carnatic Music
Carnatic music has two main elements :

Raga (Ragam) and Tala (Thalam).
Raga is the mode and Tala is the rhythmic cycles. There are a numerous ragas and talas and with their combination you can sing varied songs. Further more all the Ragas are based on Swaras and Carnatic music has seven basic swaras.
They are :
Sa(Do)
Ri(Re)
Ga(Mi)
Ma(Fa)
Pa(So)
Da(La)
Ni(Ti)
There are two basic elements for a raga; the Aarohanam (the ascending notes of raga on scale) and the Avarohanam (the descending notes of raga on scale)
Sruthi is another important aspect of Carnatic music. It's similar to the "key" concept in Western music. It is like the soul of Carnatic music. It is the note from which all the others are derived. It is also used in the sense of graded pitches in an octave. It helps in learning the different combinations in Swaras that are possible.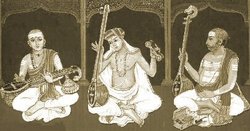 Then we have the Kirthana (Krithi). This is basically a song which is composed with the help of swaras and ragas. It consists of Pallavi, Anupallavi and charanam which are sung in the given same order. Pallavi and Anupallavi are generally two lines whereas charanam has more lines and stresses on the purpose of the song that is the raga and the tala.
Carnatic music has seen some great icons over many centuries. These personalities have added so much of depth and layers to the art form and their contributions are invaluable. Personalities like Purandaradasa, Tyagaraja, Muthuswami Dikshitar and Shyama Sastri are still celebrated in the music world for their contributions to Carnatic Music. Other famous personalities of today include Balamurali Krishna, MS Subhalaskmi, Pattammal and many others.
Pongal | Makara Sankranthi | Thaipusam | Maha Shivratri | Holi | Ugadi | Ram Navami | Onam | Sri Krishna Jayanti / Janmashtami | Ganesh Chaturthi | Vijayadasami | Durga Puja | Navarathri | Diwali | Rakhi | Eid ul-Fitr | Eid ul-Adha (Bakrid) | Ramadan | Christmas | Good Friday | Easter | Mahavir Jayanti

Bharatanatyam | Kathak | Kathakali | Kuchupudi | Mohiniyattam | Odissi Dance

Carnatic Music | Hindustani

Art in India | Paintings | Architecture | Modern Indian Painting | Dr Anis Farooqui

Durga Puja | Saraswati Puja | Ganesh Puja | Shiva Puja | Kali Puja | Lakshmi Puja | Satyanarayana Puja | Shivaratri Puja | Wedding Puja | Visakha Puja | Guru Puja | Namaz Guide | Ancient India Culture | Culture of Delhi | Culture of Mumbai | Culture of Chennai | Culture of Hyderabad | Culture of Bangalore | Culture of Kolkata | Bihari Wedding | Traditional State Sikkim

Bollywood | Bengali Cinema | Kannad Cinema | Kollywood | Malayalam Cinema | Tollywood | Film Reviews | Indian Film Stars | Hindi Film News