Indian Art
Art is an integral component of any progressive society. Art defines expression, thought, creativity, freedom and symbolizes the cultural heritage of the people. India with its rich and varied cultural history has had a deep and evolving tryst with art.
It can be dated back to as far as 500,000 years through the rock painting in caves. But major themes of Indian Art started emerging around 2500 BC during the Indus Valley Civilization. And over the years various themes have had influences over how art has evolved in India.
Architecture | Art | Paintings | Modern Indian Paintings | Dr Anis Farooqui Paintings
Indian Paintings
The Indian paintings are vast, diverse, historic and unique. Be it the murals of Ajanta, Ellora, the Buddhist palm leaf manuscripts, the Jain texts or the Mughal, Deccan and Kangra discipline of miniature painting.
Indian painting has evolved from the hinterlands and has remained immortal in the annals of history. The rock painting that was discovered in Bhimbetka and other places are known to exist from pre-historic times.
The vast scope of the art of India intertwines with the cultural history, religions and philosophies which place art production and patronage in social and cultural contexts.
Indian Arts in Various Periods
Indian art can be classified into specific periods each reflecting certain religious, political and cultural developments.
Hinduism and Buddhism of the ancient period (300 BC- 1700 AD)
Islamic ascendancy (712-1757 AD)
The colonial period (1757-1947)
Independence and the postcolonial period (Post-1947)
Modern and Postmodern art in India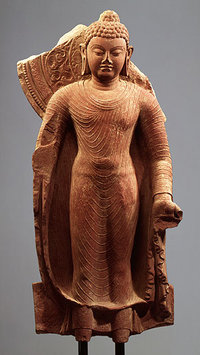 Each period is unique in its art, literature and architecture. Indian art is constantly challenged as it has undergone many changes over many hundreds of years. With the fall and rise of every kingdom there may be a cultural revolution that is brought along, which results in the germination of a new kind of art with different parameters, new technologies, varying aesthetics, different religious and cultural implications.
Religion plays a key role in promoting art, style and composition. Each religion and philosophical system provided its own nuances, principles, boundaries, inspirations, stories, beliefs, metaphors and similes, characterization of people, the single purpose and ideal of life to be interpreted in art.
One of the most famous painters ever produced by India is Raja Ravi Verma. He was known for his technical prowess and his ability to depict Indian culture through stunning pieces of art. Many of his paintings are excerpts from Indian mythology.
Even today art continues to evolve. With the birth of modern art new styles and techniques have arisen. Indian artists like MF Hussain and Anjolie Menon are popular world over for their works.
Pongal | Makara Sankranthi | Thaipusam | Maha Shivratri | Holi | Ugadi | Ram Navami | Onam | Sri Krishna Jayanti / Janmashtami | Ganesh Chaturthi | Vijayadasami | Durga Puja | Navarathri | Diwali | Rakhi | Eid ul-Fitr | Eid ul-Adha (Bakrid) | Ramadan | Christmas | Good Friday | Easter | Mahavir Jayanti

Bharatanatyam | Kathak | Kathakali | Kuchupudi | Mohiniyattam | Odissi Dance

Carnatic Music | Hindustani

Art in India | Paintings | Architecture | Modern Indian Painting | Dr Anis Farooqui

Durga Puja | Saraswati Puja | Ganesh Puja | Shiva Puja | Kali Puja | Lakshmi Puja | Satyanarayana Puja | Shivaratri Puja | Wedding Puja | Visakha Puja | Guru Puja | Namaz Guide | Ancient India Culture | Culture of Delhi | Culture of Mumbai | Culture of Chennai | Culture of Hyderabad | Culture of Bangalore | Culture of Kolkata | Bihari Wedding | Traditional State Sikkim

Bollywood | Bengali Cinema | Kannad Cinema | Kollywood | Malayalam Cinema | Tollywood | Film Reviews | Indian Film Stars | Hindi Film News