Durga Puja Festival in India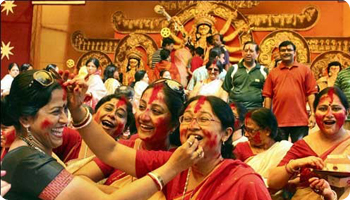 Durga Puja is an important Hindu festival which is marked by worshipping Goddess Durga during a period lasting 9 days. Celebrations of Durga Puja are visible throughout the country especially in the state of West Bengal where it is very grand. Durga Puja festival is known and celebrated with different names in various parts of India.
Durga pooja is worshipped in elaborate pandals, durga temples for nine days, and on the tenth day, these are carried out in procession for immersion in river.
The festivities start with the first day called Mahalaya. It is also the day of the beginning of the countdown to the Durga Puja. The face of the goddess remains covered until the bodhon (unveiling) ritual is performed on Sasthi - the sixth day of the moon. Fast is observed on this day by women for the well being of their families.
The Goddess is worshipped as a kumari or young girl, and reveals herself in her true form Mahasaptami (the seventh day of the moon). On Mahastami (eighth day) and Mahanavami (ninth day) the celebrations reach a fever pitch. New shining clothes, smiling faces, dancing devotees, chantings of Mantras, spectacular display of lights and the rhythmic beat of dhak (drums) adds excitement to the festive Occasions.
On Vijay Dashami (tenth day) the idol of Durga is immersed in water after performing customary rituals. The ten-armed goddess dazzles the devotees with her splendour and appearance of fiery valour during her short stay every year.
Pongal | Makara Sankranthi | Thaipusam | Maha Shivratri | Holi | Ugadi | Ram Navami | Onam | Sri Krishna Jayanti / Janmashtami | Ganesh Chaturthi | Vijayadasami | Durga Puja | Navarathri | Diwali | Rakhi | Eid ul-Fitr | Eid ul-Adha (Bakrid) | Ramadan | Christmas | Good Friday | Easter | Mahavir Jayanti

Bharatanatyam | Kathak | Kathakali | Kuchupudi | Mohiniyattam | Odissi Dance

Carnatic Music | Hindustani

Art in India | Paintings | Architecture | Modern Indian Painting | Dr Anis Farooqui

Durga Puja | Saraswati Puja | Ganesh Puja | Shiva Puja | Kali Puja | Lakshmi Puja | Satyanarayana Puja | Shivaratri Puja | Wedding Puja | Visakha Puja | Guru Puja | Namaz Guide | Ancient India Culture | Culture of Delhi | Culture of Mumbai | Culture of Chennai | Culture of Hyderabad | Culture of Bangalore | Culture of Kolkata | Bihari Wedding | Traditional State Sikkim

Bollywood | Bengali Cinema | Kannad Cinema | Kollywood | Malayalam Cinema | Tollywood | Film Reviews | Indian Film Stars | Hindi Film News