Mahavir Jayanti Festival in India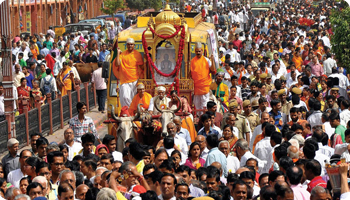 Mahavir Jayanti, as the term suggests, marks the birth of the revered Jain saint, Mahavir. He was born in 540 B.C. as Vardhamana, in a small town called Vaishali. He was destined to be either an emperor or a teerthankara (saint). History tells us that he was the 24th teerthankara. He is the founder of Jainism, the religion practiced till date.
The devout followers of this religion do not even harm a fly. Some followers cover their mouths with a tiny cloth, so that it negates even the slightest possibility of killing germs while breathing. It was this doctrine of non-violence (Ahimsa) that was adopted and popularized by Mahatma Gandhi during the freedom struggle.
Mahavir Jayanti is observed on the 13th day of the month of Chaitra as per the Hindu calendar. This day is commemorated, not with pomp and festivities, but with silent prayers and worship, in accordance with Saint Mahavir's teachings of austerity and renunciation.
Pongal | Makara Sankranthi | Thaipusam | Maha Shivratri | Holi | Ugadi | Ram Navami | Onam | Sri Krishna Jayanti / Janmashtami | Ganesh Chaturthi | Vijayadasami | Durga Puja | Navarathri | Diwali | Rakhi | Eid ul-Fitr | Eid ul-Adha (Bakrid) | Ramadan | Christmas | Good Friday | Easter | Mahavir Jayanti

Bharatanatyam | Kathak | Kathakali | Kuchupudi | Mohiniyattam | Odissi Dance

Carnatic Music | Hindustani

Art in India | Paintings | Architecture | Modern Indian Painting | Dr Anis Farooqui

Durga Puja | Saraswati Puja | Ganesh Puja | Shiva Puja | Kali Puja | Lakshmi Puja | Satyanarayana Puja | Shivaratri Puja | Wedding Puja | Visakha Puja | Guru Puja | Namaz Guide | Ancient India Culture | Culture of Delhi | Culture of Mumbai | Culture of Chennai | Culture of Hyderabad | Culture of Bangalore | Culture of Kolkata | Bihari Wedding | Traditional State Sikkim

Bollywood | Bengali Cinema | Kannad Cinema | Kollywood | Malayalam Cinema | Tollywood | Film Reviews | Indian Film Stars | Hindi Film News