Mohiniattam Dance in India
History of Mohiniyattam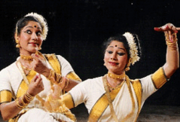 Mohiniattam is feminine dance form from State of Kerala. Mohiniattam means Mohini's dance. Mohini, according to Indian mythology, is a very beautiful woman and she is regarded as an enchantress making Mohiniattam the dance of the enchantress.
Mohiniattam dates back to 16th century where it was mentioned in Vyavahaamala composed by Mazhamangalam Naryanam Namboodiri. Most scholars agree that it was during Maharaj Swathi Thirunals rule that Mohiniattam evolved and achieved its refined form.
Bharatanatyam | Kathak | Kathakali | Kuchupudi | Mohiniyattam | Odissi Dance
Mohiniattam is also known as the `Dance of the Celestial Female magicians`. It is essentially a solo dance, performed by female dancers.
Mohiniyattam Theme & Technique
The theme of Mohiniattam is love and devotion to god. The dance of the enchantress brings about destruction of evil and brings pleasure and happiness to the good. Mohiniattam draws inspirations from Hindu mythological texts.
The dancer, with the slow and medium tempos, is able to find adequate space for improvisations and suggestive bhavas. Mohiniattam, like many other dance forms, follows the Hastha Lakshandeepika, which is a textbook for Mudras or hand gestures.
Mohiniattam has a distinct style compared to other dances. Here the footwork is gentle and soft. The movements too are never abrupt, in fact they are always gentle and easy while the vertical line of the body too is never broken. The music also accentuates these movements by being extremely lyrical and concentrating more on bhava than trying to articulate the swara patterns. This mode of singing is called Sopanam.
Mohiniyattam Costume
Mohiniattam is characterized by minimal makeup and simple dressing. The women wear white saris with gold borders and look very attractive and calm full of elegance. The hair will be neatly tied into a bun and will be decorated with flowers.
Mohiniyattam Music
The style of vocal music for Mohiniattam has generally been seen as classical Carnatic. The lyrics are in Manipravala (a mixture of Sanskrit and Malayalam). The main musical instrument used in Mohiniattam is Edakka. Even the instruments such as violin, veena and mridangam provide musical accompaniment to the dancers.
Noted Mohiniattam dancers include kalyaniamm, Krishna Paniker and Madhavi Amma.
Pongal | Makara Sankranthi | Thaipusam | Maha Shivratri | Holi | Ugadi | Ram Navami | Onam | Sri Krishna Jayanti / Janmashtami | Ganesh Chaturthi | Vijayadasami | Durga Puja | Navarathri | Diwali | Rakhi | Eid ul-Fitr | Eid ul-Adha (Bakrid) | Ramadan | Christmas | Good Friday | Easter | Mahavir Jayanti

Bharatanatyam | Kathak | Kathakali | Kuchupudi | Mohiniyattam | Odissi Dance

Carnatic Music | Hindustani

Art in India | Paintings | Architecture | Modern Indian Painting | Dr Anis Farooqui

Durga Puja | Saraswati Puja | Ganesh Puja | Shiva Puja | Kali Puja | Lakshmi Puja | Satyanarayana Puja | Shivaratri Puja | Wedding Puja | Visakha Puja | Guru Puja | Namaz Guide | Ancient India Culture | Culture of Delhi | Culture of Mumbai | Culture of Chennai | Culture of Hyderabad | Culture of Bangalore | Culture of Kolkata | Bihari Wedding | Traditional State Sikkim

Bollywood | Bengali Cinema | Kannad Cinema | Kollywood | Malayalam Cinema | Tollywood | Film Reviews | Indian Film Stars | Hindi Film News