Holi Festival in India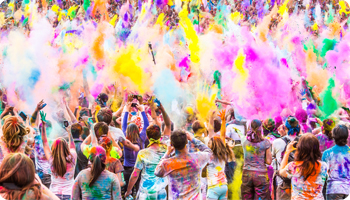 The colorful festival of Holi is celebrated on Phalgun Purnima which comes in February end or early March. Holi festival has an ancient origin and celebrates the triumph of 'good' over 'bad'. It is commemorates Lord Vishnu who destroys the demoness Holika. Holi also gets its name as the "Festival of Colors" from Lord Krishna, a re-incarnation of Lord Vishnu, who liked to play pranks on the village girls by drenching them in water and colors.
Importance of Holi Festival
Holi is celebrated at the end of the winter season on the last full moon day of the lunar month Phalguna (February/March), (Phalgun Purnima), which usually falls in the later part of February or March.
It involves the playful throwing of natural coloured powders at one another and it is a very spirited and lively festival with all kinds of colours and water dyes being hurled by people across the streets to one another. A special drink called thandai is prepared (commonly made of almonds, pistachios, rose petals, etc.
The colors or 'gulal' used on Holi traditionally are dry powder hues of red, pink, green and yellow and Abharak(mica) mixed in it. The tradition is observed across various cities, towns, villages and towns. The heartening aspect of the festival is that to celebrate you don't need to be part of a group or a community. Your mere presence is enough to get drenched in all kinds of colours which is why Holi is considered one of the most joyous and free spirited festivals. Offlate Herbal Gulal has been introduced meant for safe skin and health. Holi brings brisk business to sweet vendors. People visit each other's houses with boxes of mithai or sweets like Burfi, Gulab-Jamun and Gujiya. But the delicacy of the day is Malpua, a dessert made of maida, milk, sugar and dry fruits.
Bhang (a paste made from cannabis plants) is also traditionally consumed during the celebrations.
Pongal | Makara Sankranthi | Thaipusam | Maha Shivratri | Holi | Ugadi | Ram Navami | Onam | Sri Krishna Jayanti / Janmashtami | Ganesh Chaturthi | Vijayadasami | Durga Puja | Navarathri | Diwali | Rakhi | Eid ul-Fitr | Eid ul-Adha (Bakrid) | Ramadan | Christmas | Good Friday | Easter | Mahavir Jayanti

Bharatanatyam | Kathak | Kathakali | Kuchupudi | Mohiniyattam | Odissi Dance

Carnatic Music | Hindustani

Art in India | Paintings | Architecture | Modern Indian Painting | Dr Anis Farooqui

Durga Puja | Saraswati Puja | Ganesh Puja | Shiva Puja | Kali Puja | Lakshmi Puja | Satyanarayana Puja | Shivaratri Puja | Wedding Puja | Visakha Puja | Guru Puja | Namaz Guide | Ancient India Culture | Culture of Delhi | Culture of Mumbai | Culture of Chennai | Culture of Hyderabad | Culture of Bangalore | Culture of Kolkata | Bihari Wedding | Traditional State Sikkim

Bollywood | Bengali Cinema | Kannad Cinema | Kollywood | Malayalam Cinema | Tollywood | Film Reviews | Indian Film Stars | Hindi Film News