History of Hindustani Music

Hindustani Music is one of the classical art forms in India. Hindustani music includes the music of central and northern India and parts of Pakistan It's one of the oldest art forms and dates back to thousandths of years. According to Hindu mythology divine sage Narada introduced music to Earth from heaven. This is how music is said to have commenced on earth.
The earliest evidence can be traced back to the Vedic ages, over 2000 years back. All organized music traces its origins back to the Sama Veda. In fact we can say the earliest raga owes its origin to the Sama Veda. With the beginnings of Islamic rule, the musicians required to find patrons in the royal court. As a result, the music took on aspects of Muslim ideals, in the process helping to create a fusion of Hindu and Muslim musical concepts and styles.
Structure of Hindustani Music
There are a lot of similarities with Carnatic music. Here too basic melodic principle on which the entire structure of Hindustani Music is based are the 'Raga' and the 'Tala'.
The rhythmic organization is based on rhythmic patterns called Taal. The melodic foundations are "melodic modes", or "Parent Scales", known as Thaats, under which most ragas can be classified based on the notes they use.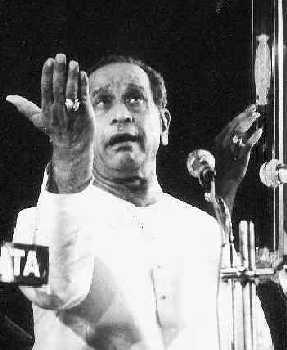 Thaats may consist of up to seven scale degrees, or swara. Hindustani musicians name these pitches using a system called Sargam,
Sa (Shadaj) = Sa
Re (Rishab) = Re
Ga (Gandhar) = Mi
Ma (Madhyam) = Fa
Pa (Pancham) = So
Dha (Dhaiwat) = La
Ni (Nishad) = Ti
Sa (Shadaj) = Do
Types of Compositions
The major vocal forms-cum-styles associated with Hindustani classical music are Dhrupad, Khayal, and Tarana. Other forms include Dhamar, Trivat, Chaiti, Kajari, Tappa, Tap-Khayal, Ashtapadis, Thumri, Dadra, Ghazal and Bhajan.
Dhrupad
Dhrupad is an old style of singing, traditionally performed by male singers. It is performed with a tanpura and a Pakhawaj as instrumental accompaniments. The lyrics, which sometimes were in Sanskrit centuries ago, are presently often sung in Brajbhasha, a medieval form of Hindi that was spoken in the Mathura area. The Rudra Veena, an ancient string instrument, is used in instrumental music in the style of Dhrupad.
Dhrupad music is primarily devotional in theme and content. It contains recitals in praise of particular deities. Dhrupad compositions begin with a relatively long and acyclic Alap, where the syllables of the following mantra is recited:
Khayal
Khayal is a form of vocal music in Hindustani music, Khayal, literally meaning "thought" or "imagination" in Hindi/Urdu originally from Arabic, Khyal, is special as it is based on improvising and expressing emotion. A Khayal is a 2 to 8 lined lyric set to tune. The lyric is of an emotional account possibly from poetic observation.
Tappa
Tappa is a form of Indian semi-classical vocal music whose specialty is its rolling pace based on fast, subtle, knotty construction.
Tarana
Taranas are medium-to-fast paced songs where the purpose to convey a mood of elation and are quite usually performed towards the end of a concert. They consist of a few lines of poetry with rhythmic syllables or bols set to a tune.
Thumri is a semi classical vocal form. There are three types of thumri: Punjabi, Lucknavi and Poorab ang thumri. The lyrics are typically in a proto-Hindi language called Braj bhasha and are usually romantic.
Ghazal
Ghazal is an originally Persian form of poetry. In the Indian sub-continent, Ghazal became the most common form of poetry in the Urdu language.
Hindustani is a very rich and layered art form that survived and enthralled millions for thousandths of years. Hindustani music has produced so many icons whose work stand testimony to their acheienment. Some of the notable exponents of the art form are Tansen, Ustad Ali Khan, Mallikarjun Mansoor, Gangubhai Hangal, Bhimsen Joshi, Ravi Shankar and many more.
Pongal | Makara Sankranthi | Thaipusam | Maha Shivratri | Holi | Ugadi | Ram Navami | Onam | Sri Krishna Jayanti / Janmashtami | Ganesh Chaturthi | Vijayadasami | Durga Puja | Navarathri | Diwali | Rakhi | Eid ul-Fitr | Eid ul-Adha (Bakrid) | Ramadan | Christmas | Good Friday | Easter | Mahavir Jayanti

Bharatanatyam | Kathak | Kathakali | Kuchupudi | Mohiniyattam | Odissi Dance

Carnatic Music | Hindustani

Art in India | Paintings | Architecture | Modern Indian Painting | Dr Anis Farooqui

Durga Puja | Saraswati Puja | Ganesh Puja | Shiva Puja | Kali Puja | Lakshmi Puja | Satyanarayana Puja | Shivaratri Puja | Wedding Puja | Visakha Puja | Guru Puja | Namaz Guide | Ancient India Culture | Culture of Delhi | Culture of Mumbai | Culture of Chennai | Culture of Hyderabad | Culture of Bangalore | Culture of Kolkata | Bihari Wedding | Traditional State Sikkim

Bollywood | Bengali Cinema | Kannad Cinema | Kollywood | Malayalam Cinema | Tollywood | Film Reviews | Indian Film Stars | Hindi Film News