Kathakali Dance in India
History of Kathakali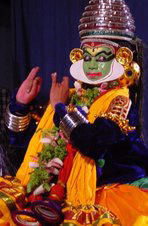 Kathakali is a highly stylized classical Indian dance drama which originated in Kerala. Kathakali means 'Story Dance' and it emanated in the 16 th century being inspired from Koodiyattam. Since then it has evolved and improved continuously. Kathakali is very different from other classical dance forms. Music, dance, drama, poetry, story all blend in a unique way and has became central part of the Kerala culture.
Bharatanatyam | Kathak | Kathakali | Kuchupudi | Mohiniyattam | Odissi Dance
The dance form is a very demanding one and the artist undergoes many years of training before he can become a competent kathakali exponent. A Kathakali artist uses immense concentration, skill and physical stamina, gained from years and years of training.
Kathakali Theme & Technique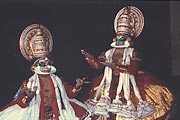 Kathakali draws inspirations from the vast chapters of Hindu mythology like Mahabharatha, Ramayan and other Vedic literature. Some of the popular stories are t Nala Charitam, Duryodhana Vadham, Karna, Shapadam and Kalyanasowgandhikam. Off late attempts are being made to draw inspirations from other religious texts like Bible to reach more audiences.
The art form comprises of hand movements otherwise known as Mudras, facial expressions also called Rasas and then bodily movements.
Kathakali is comprises of the following five elements:
Natyam, Syle that promotes emphasis on facial expressions
Nritham, the component of dance with emphasis on rhythm and movement of hands, legs and body
Nrithyam, Aspect of drama with emphasis on mudras, which are hand gestures. Each mudra has a meaning of its own
Song/vocal - Staged as an accompaniment (Geetha)
Instrument - Staged as an accompaniment (Vadyam)
Another important aspect is the eye movements of the artist. The dancers make intense eye movements that signify various emotions thereby helping them to take the story forward. Dancers undergo special training sessions to understand and learnt the art of eye movement
The facial expressions of a Kathakali artist are called Navarasas. They are the following:
Fear (Bhayanakam)
Humour (Hasyam)
Pathos (Karunam)
Anger (Roudram)
Disgust (Beebatsam)
Wonder (Adbhutam)
Peace (Shantam)
Valour (Veeram)
Amour (Sringaram)
Kathakali Costume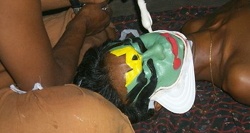 The most distinct part of the Kathakali dance form are the makeup and costumes. Its a very elaborate and detailed procedure where the artists take several hours to get ready for a single performance. The costumes are heavy and are available in many kinds.
These are the basic types of costumes
Sathwika (the hero)
Kathi (the villain)
Minukku (females)
Thatti.
There are further subdivisions within each category where each character is recognized through the makeup and costume. Kathakalli is an artform that is practiced only by men. Even when there are female characters that need to be portrayed men slip into female costumes and portray them.
Kathakali Music
The performances are done with accompaniment of Carnatic music. But then the danceform gets its own distinct flavour by use of local instruments like chendda, shudda madalam and iddaka.
The dance is further accompanied by two vocalists and has a distinctive style of singing called sopana. This kind of style provides the platform for the artists to make the full use of their facial expressions.
Some of the famous kathakalli artists are Guru Thakazhi Kunju kurup, Kalamandalam Vasupisharady, Mathur Govindan kutty and Kottakkal Chandrasekharan.
Pongal | Makara Sankranthi | Thaipusam | Maha Shivratri | Holi | Ugadi | Ram Navami | Onam | Sri Krishna Jayanti / Janmashtami | Ganesh Chaturthi | Vijayadasami | Durga Puja | Navarathri | Diwali | Rakhi | Eid ul-Fitr | Eid ul-Adha (Bakrid) | Ramadan | Christmas | Good Friday | Easter | Mahavir Jayanti

Bharatanatyam | Kathak | Kathakali | Kuchupudi | Mohiniyattam | Odissi Dance

Carnatic Music | Hindustani

Art in India | Paintings | Architecture | Modern Indian Painting | Dr Anis Farooqui

Durga Puja | Saraswati Puja | Ganesh Puja | Shiva Puja | Kali Puja | Lakshmi Puja | Satyanarayana Puja | Shivaratri Puja | Wedding Puja | Visakha Puja | Guru Puja | Namaz Guide | Ancient India Culture | Culture of Delhi | Culture of Mumbai | Culture of Chennai | Culture of Hyderabad | Culture of Bangalore | Culture of Kolkata | Bihari Wedding | Traditional State Sikkim

Bollywood | Bengali Cinema | Kannad Cinema | Kollywood | Malayalam Cinema | Tollywood | Film Reviews | Indian Film Stars | Hindi Film News