Kayastha Wedding
An authentic Bihari Wedding celeberation is usually a month long affair. But due to the paucity of time these days, people have cut it down to a minimum of five days affair.
Any BIHARI auspicious accassion starts with performing the Satyanarayan Katha, to start any auspicious occasion with the blessings of the Gods. Hence,
Day I- rasm # 1
Satyanarayan Katha :The parents of the groom perform this pooja along with the groom under the guidance of punditji,if the grooms parent is a single, that is to say that if either of them has widowed, then, immediate guardian married couple perform this pooja with other family members joining this yagya.
Members participating in this pooja need to be in fasting mode.the "hawan", though is not given on this first day.
It is given on the last day , after the 'vivah yagya ' has been completed.After the puja is over, 'charnamrit'-the holy water of the God, a liquid made of milk,dahi,ghee,honey,and tulsi leaves is given out to all attending as prasad. Besides this, the prasad also consists of fruits and sweets and 'panjiri'. Panjiri is made out of wheat flour roasted dry in ghee and then sugar is added to it.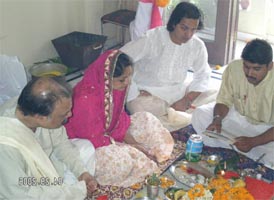 The attire worn on this occasion is : for ladies,saree with seedha pallu and for gents , it is kurta-dhoti and chadar, irrespective of any season- be it winter or summer.the mother of the groom puts on her wedding chunri covering her head . Wearing 'nath and teeka' is a must.
Also a 'must' is placing her 'Sindora',a wooden box containing special orange vermillion or sindoor on the sthal(place) of this puja. The groom's father puts on the 'chadar' over his shoulders , the corner of which is tied in a knot to the chunri of his wife.This tying of the knot is known as 'Gaththbandhan'-signifying ,the eternity of partnership as a couple.
The groom is attired in dhoti and kurta usually which is brought by his nana-nani.
The Food served on this day is strictly vegetarian.karhi-bari,dulpoori,pulao,tamatar ki meethi chutney,bari, tilori, papad, achar,bathua ka saag, baigan bari,kohra are some of the delicacies.for dessets,apart from the sweets, kheer and 'dahi boondi' are considered 'shubh'.
Pongal | Makara Sankranthi | Thaipusam | Maha Shivratri | Holi | Ugadi | Ram Navami | Onam | Sri Krishna Jayanti / Janmashtami | Ganesh Chaturthi | Vijayadasami | Durga Puja | Navarathri | Diwali | Rakhi | Eid ul-Fitr | Eid ul-Adha (Bakrid) | Ramadan | Christmas | Good Friday | Easter | Mahavir Jayanti

Bharatanatyam | Kathak | Kathakali | Kuchupudi | Mohiniyattam | Odissi Dance

Carnatic Music | Hindustani

Art in India | Paintings | Architecture | Modern Indian Painting | Dr Anis Farooqui

Durga Puja | Saraswati Puja | Ganesh Puja | Shiva Puja | Kali Puja | Lakshmi Puja | Satyanarayana Puja | Shivaratri Puja | Wedding Puja | Visakha Puja | Guru Puja | Namaz Guide | Ancient India Culture | Culture of Delhi | Culture of Mumbai | Culture of Chennai | Culture of Hyderabad | Culture of Bangalore | Culture of Kolkata | Bihari Wedding | Traditional State Sikkim

Bollywood | Bengali Cinema | Kannad Cinema | Kollywood | Malayalam Cinema | Tollywood | Film Reviews | Indian Film Stars | Hindi Film News