Kayastha Wedding
Day-I : rasm # 2
Haldi Kutai : the mother of the groom , along with the other suhagans (ladies have not been widowed) in the family,perform this ritual.A.ll the ladies giving her company in this ritual, wear their 'chunri , nath and teeka'.'haldi' (turmeric-whole) is ground to a paste in the 'okhal'(a iron longish container with a thick and heavy iron rod, almost a feet long for grinding).the ladies sing folk songs as they grind, giving the environment a festive ambience.This haldi is later sent for the bride for "ubtan".
rasm # 3
TILAK : The bride's brother comes to the groom's house to perform this ritual. 'tilak' means 'teeka' on the fore head which is applied by the bridegroom's brother on the forehead of the groom. This ritual signifies that the family of the bride has accepted the groom to wed their daughter and as a token of good wishes, the bride's brother brings a lot of pleasantaries- consisting of silverwares, copper and brass vessels, utensils, clothes for the groom's entire family,sweets, fruits ;and jewelleries for the groom's immediate family especially the mother and sisters of the groom.'Shadi ka Joda' for the groom is specially brought.
In many of the families even commodities like refridgerator, air conditioners,car, house or land are also given, depending on the financial and social standing of the family.Haldi paste made by the bride's mother is also brought in a silver bowl as a blessing from her ,to be applied on the groom.
Tilak also represents a silent request i.e." please see that our sister, whom we are giving in your family, always remains fulfilled, as we are fulfilling you now and keep her in the best of luxury that you can".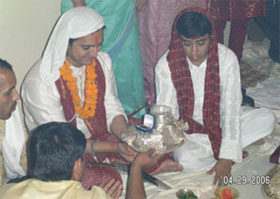 Tilak is considered the biggest ritual in the groom's side and this is celeberated very lavishly almost akin to the marriage reception.The pleasantaries brought as "TILAK" by the bride's brother, is displayed with a lot of pomp and show for all to see and applaude at the khandan's social strength.
The brother/brothers of the bride is usually accompanied by the family's munshi, barber, dhobi and household servants,but since now-a-days, families rarely have such retained staff (in the age of beauty salons, drycleaners etc.) the brothers go about all this all by themselves.A special dinner is thrown in the honor of the bride's brother by the groom's family.The bride's and the groom's family get familiar with each other.
After the dinner, the bride's brother and his entourage is given a respectful Vidai with lots of fruits, speciality sweets of the groom's khandaan and clothes (and sometimes cash).'Shadi- ka - joda', nath and teeka are sent for the bride-to-be.
Pongal | Makara Sankranthi | Thaipusam | Maha Shivratri | Holi | Ugadi | Ram Navami | Onam | Sri Krishna Jayanti / Janmashtami | Ganesh Chaturthi | Vijayadasami | Durga Puja | Navarathri | Diwali | Rakhi | Eid ul-Fitr | Eid ul-Adha (Bakrid) | Ramadan | Christmas | Good Friday | Easter | Mahavir Jayanti

Bharatanatyam | Kathak | Kathakali | Kuchupudi | Mohiniyattam | Odissi Dance

Carnatic Music | Hindustani

Art in India | Paintings | Architecture | Modern Indian Painting | Dr Anis Farooqui

Durga Puja | Saraswati Puja | Ganesh Puja | Shiva Puja | Kali Puja | Lakshmi Puja | Satyanarayana Puja | Shivaratri Puja | Wedding Puja | Visakha Puja | Guru Puja | Namaz Guide | Ancient India Culture | Culture of Delhi | Culture of Mumbai | Culture of Chennai | Culture of Hyderabad | Culture of Bangalore | Culture of Kolkata | Bihari Wedding | Traditional State Sikkim

Bollywood | Bengali Cinema | Kannad Cinema | Kollywood | Malayalam Cinema | Tollywood | Film Reviews | Indian Film Stars | Hindi Film News