Diwali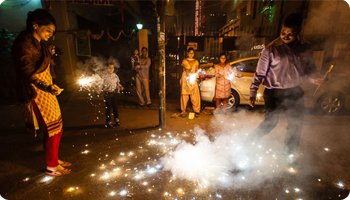 Diwali is also called the festival of lights and is one Indias most popular festivals. The festival is celebrated by lighting diyas and candles to drive away the darkness of Amavasya.
It commemorates the return of Lord Rama, Sita and Laxman from their fourteen year long exile in the forests and also after having slayed demon king Ravan. Its actually a five day festival. People get up early morning and have oil baths.
Wear new clothes and children and adults burst crackers and fireworks. Infact people start bursting fire crackers early in the morning and it goes on till the night. Some of the many crackers varieties really look beautiful in the night when they are lit and explode in the night sky.
Then its also tradition to be going out and meeting relatives and offering sweets and gifts to loved and dear ones.
Diwali Celebration in India
The celebration of the five-day long festival, Diwali, begins on Aswayuja Bahula Chaturdashi and concludes on Kartika Shudha Vijaya. The first day of this festival begins with 'Dhan Trayodashi' or 'Dhanteras'. After the Dhanvantari Trayodashi the second day of Diwali is 'Narak Chaturdashi', which is popular as 'Chhoti Diwali'.
The third day of Diwali, which is also called 'Badi Diwali' is the main day of celebrations of the festival of Diwali. People perform Lakshmi Pujan (worship of divine Goddess Lakshmi) on this day and offer prayers to her to bless them with wealth and prosperity.
The fourth day of Diwali is devoted to Govardhan Pooja (worship of Lord Govardhan Parvat). The fifth day of the Diwali is Bhai Dooj, the time to honor the brother-sister relationship. Falls usually during October or November.
Pongal | Makara Sankranthi | Thaipusam | Maha Shivratri | Holi | Ugadi | Ram Navami | Onam | Sri Krishna Jayanti / Janmashtami | Ganesh Chaturthi | Vijayadasami | Durga Puja | Navarathri | Diwali | Rakhi | Eid ul-Fitr | Eid ul-Adha (Bakrid) | Ramadan | Christmas | Good Friday | Easter | Mahavir Jayanti

Bharatanatyam | Kathak | Kathakali | Kuchupudi | Mohiniyattam | Odissi Dance

Carnatic Music | Hindustani

Art in India | Paintings | Architecture | Modern Indian Painting | Dr Anis Farooqui

Durga Puja | Saraswati Puja | Ganesh Puja | Shiva Puja | Kali Puja | Lakshmi Puja | Satyanarayana Puja | Shivaratri Puja | Wedding Puja | Visakha Puja | Guru Puja | Namaz Guide | Ancient India Culture | Culture of Delhi | Culture of Mumbai | Culture of Chennai | Culture of Hyderabad | Culture of Bangalore | Culture of Kolkata | Bihari Wedding | Traditional State Sikkim

Bollywood | Bengali Cinema | Kannad Cinema | Kollywood | Malayalam Cinema | Tollywood | Film Reviews | Indian Film Stars | Hindi Film News