Makara Sankranthi Festival in India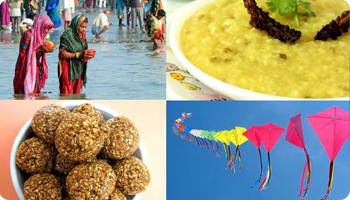 Makara Sankranthi is also a harvest festival and falls around the same time. The festival is celebrated with a lot of fervor all over India. According to the lunar calendar when the Sun moves from the tropic of Cancer to the Tropic of Capricorn it can be identified as the beginning of the harvest festival and also the end of the north east monsoon.
While the movement of the earth from one zodiac sign to another is called Sankranti and with the Sun moving into the Capricorn (or Makara in Hindi) it is called Makara Sankranti. Hence the name. It is a festival where they pay homage to the Sun God whom they consider as a symbol of wisdom, purity and divinity.
Importance of Makar Sankranti Festival
Many legends are prevalent regarding Sankranthi festival. Some of them are
According to the Hindu mythological text Mahabharata, Bhishma Pitamaha had chosen this day to end his life. Another legend says that Lord Vishnu buried the demons beneath the Mandara Mountain, which is said to be an indicator of good triumphing over evil. According to another legend, Lord Shani is visited by his father, the Sun God on Sankranthi day irrespective of their difference of opinions.
On Sankranthi day people wear beautiful dresses and visit their relatives and friends, and exchange greetings and gifts in many states across India. The exchange of gifts include a mixture of fried sesame seeds, pieces of dry coconuts, molasses, fried peanuts and grams etc.
Exchange of freshly harvested sugarcane pieces is the most popular tradition of Makara Sankranthi. Domestic cows and bulls are honored with garlands on Makara Sankranthi as a part of celebrations. Their horns are painted with beautiful colors.
In the western Indian state of Gujarat, the celebrations are even bigger. People offer thousands of their colorful hommages to the Sun in the form of beautiful kites. The kite flying festival in Gujrat is very popular and famous.
The act stands as a metaphor for reaching to their beloved God, the one who represents the best. In the rural and coastal areas, cock fights are held and is a prominent event of the festival.
Makara Sankranti is also to honour, worship and to pay respect to Saraswati (Goddess of Knowledge). At the start of this significant event, there is also worship for the departed ancestors.
Pongal | Makara Sankranthi | Thaipusam | Maha Shivratri | Holi | Ugadi | Ram Navami | Onam | Sri Krishna Jayanti / Janmashtami | Ganesh Chaturthi | Vijayadasami | Durga Puja | Navarathri | Diwali | Rakhi | Eid ul-Fitr | Eid ul-Adha (Bakrid) | Ramadan | Christmas | Good Friday | Easter | Mahavir Jayanti

Bharatanatyam | Kathak | Kathakali | Kuchupudi | Mohiniyattam | Odissi Dance

Carnatic Music | Hindustani

Art in India | Paintings | Architecture | Modern Indian Painting | Dr Anis Farooqui

Durga Puja | Saraswati Puja | Ganesh Puja | Shiva Puja | Kali Puja | Lakshmi Puja | Satyanarayana Puja | Shivaratri Puja | Wedding Puja | Visakha Puja | Guru Puja | Namaz Guide | Ancient India Culture | Culture of Delhi | Culture of Mumbai | Culture of Chennai | Culture of Hyderabad | Culture of Bangalore | Culture of Kolkata | Bihari Wedding | Traditional State Sikkim

Bollywood | Bengali Cinema | Kannad Cinema | Kollywood | Malayalam Cinema | Tollywood | Film Reviews | Indian Film Stars | Hindi Film News