Kayastha Wedding
Day V : Rasm # 1
Chauthari : The bride wears the ' chundri- saree', given by her mother-in-law, which is generally of red cotton with golden gota (golden ribbon)border.Her head covered with her 'chunri', she sits down with her husband and parents in law to do the 'samapan of the 'satyanarayan- katha'. Today the 'punahuti'- the havan will be done. So as to say to thank the gods and ancestors for the blessings showered for such a pious yagya and to allow everything to happen without any obstacles.
The holy thread tied to the wrist of the bride at the 'satyanarayan katha held at her place for the commencement of the wedding events, is now opened and dropped in the havan fire, signifying , that whatever was there of her 'peehar' is now a thing of the past . the punitji now ties her a new dhaga signifying, that now on wards, everything of this house now shall carry her bearings.
'Prasad' is distributed and vegetarian lunch is served.
Rasm # 2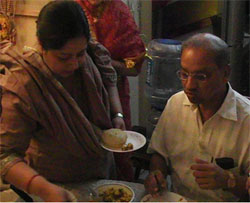 Chauka-Cchulai: is basically conducted for two main reasons- One being that, that the groom's mother hands over the 'Bhandar-ki-chabhi' (keys of the grocery room) to the bahu and second- to test her cooking skills.
The bride is made to cook five dishes , which are simple yet difficult to give the perfect texture and consistency. These five dishes consist of 'karhi-bari', boiled rice, kheer, poori and one dish of the bride's discretion and choice.If the bride pleases the family members with her presentation, then the elders in the family bless her with gifts or cash and if she doesn't, then she is bullied and booed.The parents-in-law mostly give another set of gold jewellery set.
Pongal | Makara Sankranthi | Thaipusam | Maha Shivratri | Holi | Ugadi | Ram Navami | Onam | Sri Krishna Jayanti / Janmashtami | Ganesh Chaturthi | Vijayadasami | Durga Puja | Navarathri | Diwali | Rakhi | Eid ul-Fitr | Eid ul-Adha (Bakrid) | Ramadan | Christmas | Good Friday | Easter | Mahavir Jayanti

Bharatanatyam | Kathak | Kathakali | Kuchupudi | Mohiniyattam | Odissi Dance

Carnatic Music | Hindustani

Art in India | Paintings | Architecture | Modern Indian Painting | Dr Anis Farooqui

Durga Puja | Saraswati Puja | Ganesh Puja | Shiva Puja | Kali Puja | Lakshmi Puja | Satyanarayana Puja | Shivaratri Puja | Wedding Puja | Visakha Puja | Guru Puja | Namaz Guide | Ancient India Culture | Culture of Delhi | Culture of Mumbai | Culture of Chennai | Culture of Hyderabad | Culture of Bangalore | Culture of Kolkata | Bihari Wedding | Traditional State Sikkim

Bollywood | Bengali Cinema | Kannad Cinema | Kollywood | Malayalam Cinema | Tollywood | Film Reviews | Indian Film Stars | Hindi Film News