Healthcare Infrastructure in India
Hospital Infrastructure in India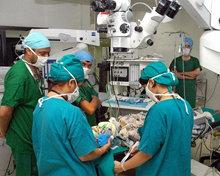 Unlike in top cities having a well linked chain of private hospitals (besides GHs and community clinics), the rural and semi-urban areas suffer from abysmal facilities in healthcare.
The overall Indian healthcare market is valued at $65 billion out of which drug supplies and medical equipment segment is believed to be only $4.5-5 million, says an estimate. While hospitals, nursing homes and diagnostics centres, and pharmaceuticals combine together to form 65 per cent of the overall healthcare market.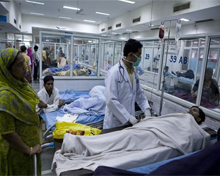 India is in need of 6-7 lakh additional hospital beds over the next 5-6 years which translates into a market value of more than $25-30 billion and opening up more opportunities for employment and revenues.
Given the growth potential, the existing hospitals will look to expand their capacities, even as a whole new range of medical facilities will come up to cater to the surge in demand, especially in rural areas.
While the United States has one bed for every 350 patients, for Japan it is one for 85. In sharp contrast, India has one bed for every 1,050 patients which speaks volumes of the state of infrastructure in this country.
According to experts, the government must allow weighted tax deduction for infrastructure spending in rural (semi-urban) areas meant for healthcare delivery.
Indian companies and foreign investors are eyeing the healthcare space as the number of transactions is poised for a quantum jump in the decades ahead. Already, the average investment by private equities in the healthcare segment has risen to $20-30 million which was around $5-15 million a few years earlier.
Medical Tourism India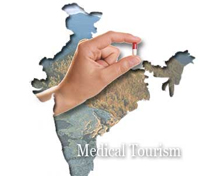 To cash in on quality services being provided by the corporate hospitals in cities, foreign patients have found an affordable and trustworthy medical service provider in these high-tech luxury chains. The medical tourism sector which is pegged at $1 billion per annum is expected to grow at $18% to touch $2 billion by 2015.
As per the Union government's universal health plan, it aims to offer 'guaranteed benefits' to its population through an efficient system of healthcare costing Rs 1.6 trillion over the next four years.
Telemedicine is another nascent market in India. In 2012, the telemedicine market was valued at $ 7.5 million and is expected to grow at % to $18.7 million by 2017.
The opportunity for investment and growth in healthcare system is so huge that the government has to facilitate the entry of MNCs and local corporate for a win-win situation to all stakeholders.
Just the estimates alone are staggering: Indian hospitals need at least 1.8 million beds by the end of 2025. And 1.54 million additional doctors and 2.4 million nurses are required to service the healthcare market in decade ahead.
Articles on Health