Indian States Health Statistics
Health Statistics of India
Based on budget allocations and the ground results on capital spending, southern states followed by Maharashtra, Punjab, Haryana and Himachal take the top rankings in terms of some of the best indicators for healthcare delivery.
Overall, the Indian states are spending 4-6% of their total expenditure on healthcare. But this figure varies depending on the size of a state. However, Delhi is an exception as being a national capital it sets aside 12% of its expenditure on health and hence can't be compared with other states.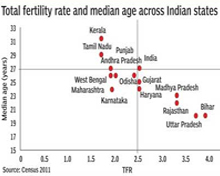 Delhi has a large number of secondary and tertiary care hospitals which consume most of the funds and as a result, the primary healthcare is neglected at the national capital which can be seen from the fact that Delhi has the highest IMR (infant mortality rate) among metros in India. Also, the immunization coverage is just 72% in Delhi.
As Delhi need not look after policing, it has got enough funds as buffer that can be used across disciplines if the need arises.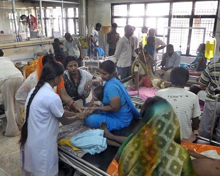 While the Hindi-speaking states have the worst health indicators, the middle ranking is occupied by Gujarat, Bengal and Odisha. On the immunisation front, while Uttar Pradesh and Bihar (49% and 40% coverage) fare the worst, there are other states like Assam, Chhattisgarh, Gujarat, Jharkhand and Rajasthan which don't come up to the national average of 61%.
Kerala, Tamil Nadu and Andhra have achieved over 90% in terms of institutional deliveries. On the total fertility rate (TFR) front -- an indicator of how many children on average a woman has – apart from Bihar and UP with TFR of over 3, even progressive states have a poor record.
Even Gujarat and Haryana with 2.3 are over the replacement level TFR of 2.1 -- the level at which the population would remain constant. Only nine of the 21 large states have a TFR of 2.1 or less.
National Rural Health Mission (NRHM)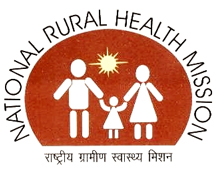 The grim shortfall in sub-centres, PHCs and community health centres in worst performers like Bihar, Uttar Pradesh and Madhya Pradesh is one of the biggest challenges to National Rural Health Mission (NRHM) which had in fact given a big push to rural spending in healthcare.
The shortage of skilled manpower in rural hospitals is glaring for in states like Haryana, Gujarat, Himachal and Rajasthan it was well over 90%
Child and maternal deaths are the basic indicators of healthcare systems in the states. While tackling diseases and chronic ailments, states have to bear high expenses on medicines which account for 75% of non-plan outlay. Except Tamil Nadu, Rajasthan and Kerala, the free drug distribution scheme of most states are mired in red tape and hassles.
In 2010, Tamil Nadu and Kerala spent the highest of over 12% of their health budget on medicines. Most of the states lag far behind in health indicators and have to be coerced to do well in future in order to deliver quality services to rural people on par with those living in urban clusters.