About Bihar
Bihar is one of India's richest states in the perspective of its culture and history, even as economically it is one of the poorest states in India.

Bihar is the birth place of two great religions, Buddhism and Jainism. It has been the land from where the universal message of "ahimsa" or non-violence came - not only towards fellow human beings but also towards animals, which lead to the propagation of vegetarianism. This spiritual land is associated with Sikhism (Guru Govind Singh - Patna Sahib) and Hinduism as it houses one of the chardhams - Deogarh.

Patna, Bihar's capital city, was also capital of great empires that ruled over much of the Indian - Subcontinent and extended as far as Iran and Afghanistan. It was called Patliputra in those times.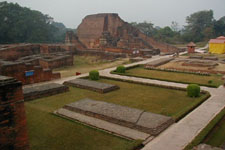 Bihar has a lot of things to be associated with. Mahatama Gandhi started his Satyagraha movement from this land when he took a stand against the British on Indigo farming. Bihar gave the nation the first President of the Indian Republic, Dr Rajendra Prasad. We owe the Ashok Chakra on the Indian National flag and the lion head that serves as India's National Emblem to this land.

Bihar has always been a great learning center. It housed the Nalanda and the Vaishali Universities. Even now students of Bihar top in every kind of competitive exams and therefore own a large share of the intelligentsia.

In the field of art Bihar is the land of Madhubani Paintings and scores of local handicrafts very unique to Bihar. It is the land where the sturdiest and finest of silk is manufactured. Muzaffarpur is famous for its luscious Lichis.


Bihar Floods Pictures | Economy in Bihar | Education in Bihar | Elections in Bihar |Elections Results in Bihar
| Geography in Bihar | History of Bihar | Map of Bihar India | News in Bihar | NGO in Bihar |
Tourist Places in Bihar India | Tourist Spots in Patna Bihar | Bihari Wedding