Infrastructure of Uttar Pradesh
An efficient connectivity through roads, railways, ports and airports is indispensable for speedy development of Uttar Pradesh. But due to a host of factors, neither UP is unable to attract private investments nor is the state government able to mobilise resources for the development of some critical infrastructure.
Unlike the lethargy of the past, CM Akhilesh Yadav is keen to ramp up infrastructure with a view to attract major investments from the private sector. Akhilesh has taken bold steps after having been voted to power in 2012 to create a well-networked highways and industrial clusters across UP.
Uttar Pradesh has good connectivity through 48 national highways, six airports and rail links to all major cities.
The state has witnessed a high rate of infrastructure growth from 2012 with a considerable rise in the number of industrial clusters (or hubs) and PPP projects across domains.
Road connectivity
The state is well-connected to its 9 neighbouring states and other parts of India through 48 national highways. The length of national highways running through the state accounts for about 8.5% of the total National Highway (NH) length in India.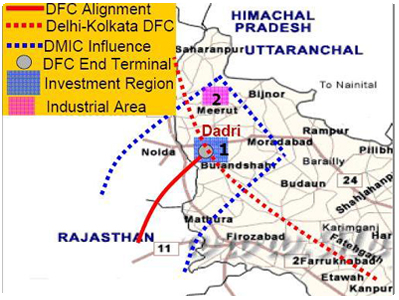 Uttar Pradesh State Road Transport Corporation (UPSRTC) was set up in 1972 to provide an economical, reliable and comfortable transport with connecting services to adjoining states. Yamuna Expressway has six lanes and is 165-km long with controlled-access which connects Greater Noida with Agra.
In the 2015-16 Budget, state government has announced plans to invest $497.5 million for the construction of the Lucknow-Agra expressway. In order to expand the metro network in Ghaziabad, the state government has sanctioned $304.91 million in the 2015-16 Budget.
| | |
| --- | --- |
| Road type | Road length (km) (as of Jan. 2015) |
| National highways | 7,863 |
| State highways | 8,432 |
| Other district roads | 1,69,153 |
| Rural roads | 86,827 |
| Total road length | 3,90,256 |
Railways network
Uttar Pradesh has the biggest railway network in the country with a railway density of 40 km which is double the rail density of the India (20 km) per 1,000 sq. km of area. By the end of 2014-15, the state had the world's largest railway network containing 1,15,000 km of tracks over a route of 65,000 km with 7,500 railway stations.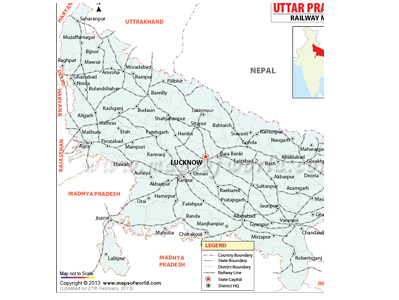 Agriculture, cement, fertilisers, coal and manufacturing are the major sectors among the industries being served by the railways. Various parts of the state are catered to by five of the 17 railway zones in India. These are Northern Railways, North Eastern Railways, East Central Railways, North Central Railways and West Central Railways.
The Northern and North Eastern Railways have Lucknow as their main junction. Intra-state rail network is well-developed, connecting the towns and the districtheadquarters of Uttar Pradesh. The Delhi Metro rail links Noida and Ghaziabad with Delhi.
A metro rail project connecting Agra, Kanpur and Varanasi is in progress under Lucknow Metro Rail Corporation (LMRC) to which an additional $70.8 million was allocated in the budget for 2014-15.
Airports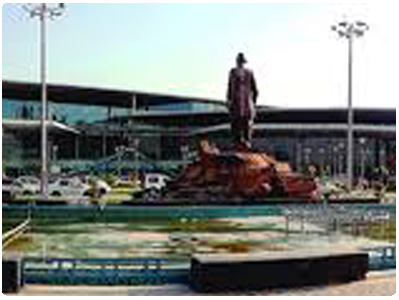 Uttar Pradesh has six domestic airports located in Agra, Allahabad, Gorakhpur, Kanpur, Lucknow and Varanasi. International flights operate from Chaudhary Charan Singh International Airport in Lucknow and Lal Bahadur Shastri Airport in Varanasi. The passenger traffic of Varanasi airport has increased from 8,26,282 in 2013-14 to 10,19,973 in 2014-15.
For the same period, aircraft movement has increased from 8,040 to 8,801 in Varanasi airport. The passenger traffic of Lucknow airport has increased from 23,12,291 in 2013-14 to 25,41,241 in 2014-15. For the same period, aircraft movement has increased from 19,682 to 19,749 in Lucknow airport. Cargo handled by the Varanasi and Lucknow airports reached 662 tonnes and 4,860 tonnes respectively in 2014-15.
Power generation
As of June 2015, UP had a total installed power generation capacity of 15,721.8 MW. The installed generation capacity in the state increased to 15,721.8 MW in 2014-15 from 9,246.7 MW in 2008-09. The state is in the process of implementing and testing the public–private partnership model in the power sector with an input-based franchisee system.
Multiple power projects are being proposed in the state so as to enable the effective utilisation of electricity in the state. Dopaha (3x660 MW) in the Sonebhadra district and Jawaharpur (2x660 MW) in the Etah district are the key considerations for the PPP model in the power sector.The other thermal projects under construction are Bara, Karchana and Yamuna Expressway Power projects.
There are 10 hydro power generation plans being taken on at different places in Uttar Pradesh. As of 2014, a thermal power project of 2x250 MW capacity has been proposed to set up at Gonda with an investment of $500 million which is anticipated to be commissioned by the end of 2016. Out of Sasan ultra mega power project's 3,960 MW, 12.5% has been installed in Uttar Pradesh till 2015.
As per Budget 2015-16, the electricity generation capacity is aimed to be increased by 2,100 MW. In 2014-15 budget, investments of about $6.3 million, $11 million and $5.67 million have been allocated for solar lights, grid connected solar power projects with 20 MW capacity and for solar power distribution for various purposes respectively. Under the Infrastructure and Industrial Investment Policy 2012, apart from the micro hydro-electric power generation through non-conventional energy, various other power generation sectors like solar, biogas, biomass, and garbage will be promoted.
Telecom penetration
Uttar Pradesh circle has good telecom infrastructure, with all the major players providing services in the state. According to Telecom Regulatory Authority of India (TRAI), UP has nearly 137.67 million wireless subscribers and 0.97 million wire-line subscribers with a tele-density of 59.3% as of May 2015.
The state has a huge postal circle (17,667 post offices) divided into six regions: Allahabad, Agra, Bareilly, Gorakhpur, Kanpur and Lucknow. UP had 2,451 telephone exchanges as of May 2015. As of 2015, various investments by large telecom companies are anticipated to come up at the 100 acre electronic manufacturing cluster (EMC) in Noida.
IT major Samsung India is in a process of plant expansion and planned to spent $96 million towards the expansion of its manufacturing unit in Noida.
Urban infrastructure
Under the Jawaharlal Nehru National Urban Renewal Mission (JNNURM), 33 projects costing $921.4 million have been sanctioned for various cities in Uttar Pradesh, of which six have been completed as of 31 March 2015.
Most of these projects are approved for Kanpur, Lucknow, Varanasi, Allahabad and Agra. Some of the key areas of development are water supply, solid-waste management, sewerage and drainage/storm water. All the cities are fully covered by a piped water supply system. The UP government has approved $99.53 million for urban development in the state.
In order to provide an alternative treatment option for the generated municipal solid waste (MSW), the Kanpur Integrated Waste Processing Complex has been developed and includes processing waste to produce compost and refuse derived fuel (RDF).