Business in Uttar Pradesh
Can I start business in Uttar Pradesh?
Udyog Bandhu is an organisation of the UP government focused on facilitating investment in the industrial and service sectors along with providing solutions to various problems of existing and upcoming enterprises.
The organisation has emerged as a chief interaction centre for entrepreneurs in UP. It has also been organising various seminars and workshops on industry related issues. In addition, Udyog Bandhu is proactive in taking part in many national and global conferences, exhibitions and expositions.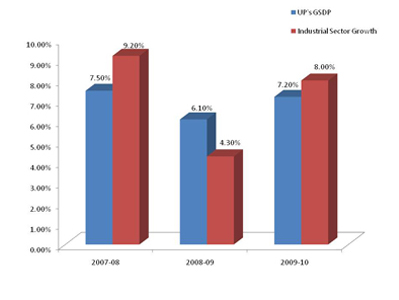 Udyog Bandhu has a three-tier structure as follows:
District-level UB operates under the leadership of the District Magistrate.
Divisional-level UB operates under the leadership of the Divisional Commissioner.
The meetings of state-level UB are held under the leadership of the Chief Minister.
Single-table clearance system
A web-based 'single-table system' for the entrepreneurs who are willing to invest and set up industries in the state is under operation. The system was formed with a primary objective of facilitating the entrepreneurs to access, fill and print the forms from the website and submit along with enclosures like required fee, etc., to the District Industries Centres and state Udyog Bandhu.
The following are the key highlights of the single-table system:
Timely grant of NOC (no objection certificates), approvals, registrations and licences.
Monitoring the status of applications online, for the officials of the concerned departments along with the entrepreneurs
This system provides a single resource for registration, progress appraisal and review of the status of the applications among others.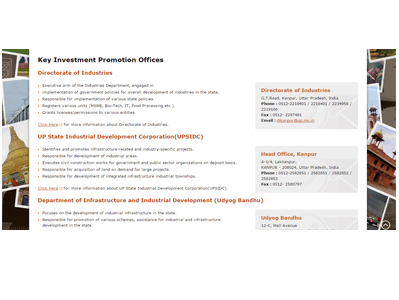 Key investment promotion offices
There are a few departments (or agencies) that are directly engaged in the promotion of industries through grant of permissions and approvals. Here are these agencies in UP that play a critical role in the economic development:
Directorate of Industries: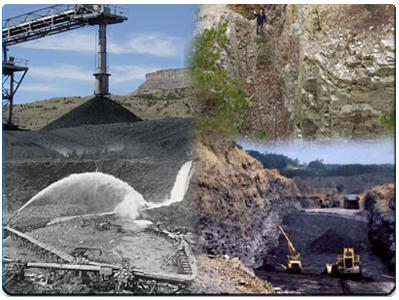 Policymaking arm of the Industries Department, involved in the implementation ofgovernment policies for all-round development of industries in the state.
Responsible for implementation of various state policies.
Registers various units (small scale industries, biotechnology units, IT parks, etc.).
Grants licences/permissions to various entities.
UP State Industrial Development Corporation (UPSIDC):
Accountable for overall development of industrial areas.
Ascertain and stimulates infrastructure related specific projects.
Executes civil construction works for government and public sector organisations on deposit basis.
Responsible for acquisition of land on demand for large projects.
Responsible for development of integrated infrastructure and industrial townships.
Department of Infrastructure and Industrial Development:
Focuses on the development of industrial infrastructure in the state.
Responsible for promotion of various grants, assistance for industrial and infrastructure development in the state.
Cost of doing business in UP
Cost parameter
Cost estimate
Industrial land (per sq. m)
$63 to $168
$80 (farm land allotment in Greater Noida)
Office space rent (per sq. ft per month)
$0.30 to $1.50
Power cost (per kwh)
Commercial: 11.11 cents
Industrial: 9.60 cents

Labour cost (wages per day)
$3.5