Transportation in UttarPradesh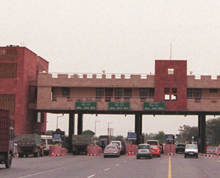 The state has excellent facilities for transportation. There are daily flights to all the major cities from Delhi. There is an excellent rail net work connecting the several parts of the state. People in Uttar Pradesh mostly are familiar with English, Hindi and Urdu language.
Usually people travel in trains. Almost all the major as well as minor towns in Utter Pradesh are linked through railways. Many Express and Super Fast trains ply between these stations. There are Intercity and Passenger trains too that are basically short distance trains whose routes are generally confined to 200 to 200 kilometers.
Buses are also used as a mode of transportation. Uttar Pradesh State Transport Corporation has a number off buses that run between different cities. The buses range from common coaches for short distance to the Luxury coaches for the longer ones. There are luxury coaches run by private operators too.
The fare of these coaches is comparatively high but passengers feel comfort in comparison to the ones owned and operated by government. Several Matadors, Mini-Buses and Diesel-run Autos are also available for relatively short distances such as between 50 to 100 kilometers. Flights also operate between major cities such as Lucknow, Varanasi, Agra, Jhansi and Kanpur.