Sikkim Tourism
Showcasing Himalayan beauty
A medley of snow-capped peaks, rushing streams and green meadows welcome visitors to Sikkim, which is considered one of the last Shangri Las of the Himalayas.
Because of its strategic location close to Tibet, foreigners need permits to visit Sikkim.
For Indians, it is enough if they disclose their ID proofs to enter this beautiful state.
An eerie feeling of deep calmness and tranquil beauty of Buddhist sites in Sikkim make travelling here a unique experience.
While Sikkim is small, the steep vertical terrain makes travelling difficult as it take long hours to cover even a short distance.
Here are some of the top tourist places in Sikkim.
Capital city Gangtok
The capital sits on a cloudy ridge 5,500 feet above sea level.
In a clear sky, it is possible to get a fine view of the world's third highest mountain Khangchendzonga and is silvery peaks.
Gangtok is very clean and well organised city with tourists spending a few days to make travel arrangements to explore the beautiful spots of the state.
The city is a popular base for those heading for long treks towards north Sikkim.
Sikkim doesn't have an airport. But one is under construction in Pakyong near Gangtok and is slated to open in 2016.
A 4-hour drive from Siliguri, up to where the railways have network, in West Bengal will take one to reach Gangtok.
The nearest airport is at Bagdogra, 45 km from Siliguri.
Monasteries
Buddhism is most venerated in Sikkim and over 200 monasteries are present on the hilly terrains of the Himalayan region.
The most visited monasteries are Rumtek overlooking Gangtok, Pemayangtse near Pelling in West Sikkim and Tashiding, also in West Sikkim.
Other monasteries that attract the devout and tourists alike are the Karma Kagyu with its 200 year old murals in Phodong in North Sikkim, the Enchey monastery in Gangtok, and the old Sanga-Choeling monastery, accessible on foot from Pelling.
The monasteries hold gala events during festivals particularly around Losar in February-March.
Tse Chu, in July, features Buddhist dancing at Rumtek. Enchey also hosts a Chaarm festival in December-January.
Nathu La border post
Nathu La, three hours east of Gangtok on the Chinese border, was a major transit point on the Old Silk Route between India and Tibet before it was closed in 1962.
The border consists of a lone barbed wire fence that separates India from China.
One can see Chinese troops guarding the border from the other side.
However, foreigners are not allowed to reach the Nathu La post.
Even Indians can get to the end of the Nathu La only on select days.
A special permit needs to be obtained from a registered travel agency in Gangtok to visit Nathu La.
The foreigners with permit are allowed to go up to Tsomgo Lake (Changu Lake) which is 27 km behind Nathu La.
This high-altitude (12,400 feet) glacier lake remains frozen until May.
Exotic plants, animals
Nearly 450 species of birds, 400 species of butterflies, 450 varieties of orchids, and 40 species of rhododendron are present in Sikkim.
Varsey Rhododendron Sanctuary in the Singalila Range in the southwest corner of West Sikkim is a delight to nature lovers, especially during late spring.
Maenam wildlife sanctuary near Ravangla (south Sikkim), Shingba Rhododendron sanctuary near Lachung, Deorali orchid sanctuary (south Gangtok), Fambong Lho sanctuary (west Gangtok) and Kyongnosla Alpine sanctuary (east Gangtok, on the way to Nathu La) are some of the natural hotspots that witness a steady stream of visitors.
Yuksom, Dzongri
Yuksom is the ancient capital of Sikkim and is the gateway for trekkers aiming Mount Khangchendzonga.
The exhilarating trek from Yuksom to Dzongri Peak and Rathong Glacier is quite common among tourists.
Further, they reach Goecha Peak which tests the skills of trekkers in the far-end of Sikkim.
The journey passes through virgin forests, lush meadows and river currents flowing from Khangchendzonga National Park.
At least 7-10 days are needed for trekking from Yuksom to Goecha Peak and return to the base camp.
The period from March to May is the right time to embark on trekking.
But foreigners need additional permits to reach Yuksom and then do trekking.
Lachung, Lachen and Yumthang Valley
In far North Sikkim, 6-hour-drive from Gangtok and 9,000 feet above sea level near the Tibetan border, Lachung and the Yumthang Valley greet visitors with their spell-bound scenery.
Lachung was a trading post between Sikkim and Tibet before the latter was annexed by China.
Now, it's the base camp for the renowned Rhododendron Valley trek from Yumthang Valley to Lachen Valley.
Other attractions on this scenic route are Lachung monastery, Yumesamdong and the high-altitude Gurudongmar Lake.
North Sikkim is a restricted area and it's necessary to obtain a special permit to visit it.
Yumthang Valley is closed from December and March due to heavy snow.
The foreigners are only permitted as far as the Chopta Valley and they cannot visit Gurudongmar Lake.
Pelling
Pelling, 3-4 hours drive west of Gangtok, is a small town but it offers some breath-taking views of Mount Khangchendzonga at dawn.
The monasteries are the main attraction, along with the ruins in Rabdentse village.
Once the royal capital of Sikkim from 1670 to 1814, not much remains of Rabdentse these days. However, the ancient site is located on a ridge offering spectacular views.
A day tour departs from Pelling by jeep for major sightseeing in and around the locality.
A three-day combination of jeep and hiking trip from Pelling to Tashiding (monastery on a hilltop) via Khecheopalri Lake is also a possibility.
One can take the jeep service from Pelling to Yuksom via Khecheopalri Lake and then trek from Yuksom to Tashiding in a day.
Ravangla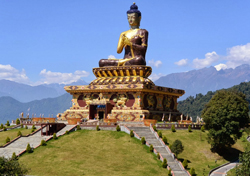 During the journey from Gangtok to Pelling, one will pass through Ravangla which is notable for its Buddha Park with a towering 130 foot golden Buddha statue in the midst of gardens.
Palchen Choeling Monastic Institute (also known as the new RalongMonastery) in nearby Ralong houses another statue of golden Buddha.
The monastic institute is home to more than 100 monks. They regularly chant hymns in the early morning and mid-afternoon.
There are number of other monasteries surrounding the institute.
Sikkim's only tea garden Temi estates is located between Ravangla and Namchi. The peaceful Cherry Resort is in the middle of Temi estates.
Namchi
This place is famous for its giant statutes.
At present, Namchi has two of them -- one Buddhist and one Hindu -- and a third one is under planning stage.
The Buddhist statue of Guru Padmasambhava who introduced Buddhism to Sikkimese is nearly 140-feet tall and is perched on SamdruptseHill, 7,000 feet above sea level.
Not as tall, but more impressive is the white 108 feet high Lord Shiva statue at Solophuk Hill, 5 km south of Namchi.
The Hindu complex around the statue contains guest houses and temples, including replicas of the holy Char Dham.
Teesta river rafting
Youths and foreigners take to rafting on the fast flowing Teesta River in Sikkim.
The major water route is Makha-Sirwani-Bardang-Rongpo.
While the fast flowing current offers excitement to rafters, there is plenty of sandy beaches for camping overnight.
Tall cliffs, craggy rocks and deep gorges along with boulder-strewn river beds offer a range of excitement to water adventurers.
Rangeet River opens up more in water sports with high-speed rafting from the Sikip-Jorethang-Majitar-Melli passage.
Sikkim offers two best periods for water sports -- from March to May and from October to December.
Zuluk village
Zuluk is a small village 10,000 feet above sea level in East Sikkim.
It was once part of the Old Silk Route for traders who travel fromKalimpong in West Bengal to Tibet.
The village has an exotic landscape that varies depending on the season.
The meadows are full of wildflowers from August to September.
But it is soon covered by deep snow from January till April.
Once the snow clears, there is abundance of birds and thick vegetation.
The main attraction is the sight of Mount Khangchendzonga from Lungthung and Thambi viewpoints.
While domestic tourists require an inner line permit to reach Zuluk, this village is not accessible to foreigners.
Tour packages
A number of travel agencies in Gangtok offer tour packages to visitors depending on their interests and budget.
Tourists usually stay put in the capital city for a few days to work on their travel itinerary.
A leisurely visit to local monasteries, wildlife parks and beautiful spots in and around Gangtok will further vet the appetite to explore the world beyond.