Education of Sikkim
From 2010, Sikkim has improved leaps and bounds in the education sector thanks to a new wave of awareness among its people on the need to have a sound formal learning for a prosperous life.
The literacy rate in Sikkim has seen a phenomenal rise from only 68.81% in the 2001 census to more than 82.2% as recorded in the 2011 census.
The performance on the literacy front is noteworthy as the tiny state on the lap of the Himalayan range of mountains has only 6 lakh people, mostly settlers from the neighbourhood.
With more than 1,500 government schools, 471 private schools and 12 colleges that impart professional courses, the education sector is being expanded with a host of infrastructure being incorporated to it.
School hierarchy
Following the norm in the mainland, the school education in Sikkim is divided into following categories:
Primary school (I to V)
Middle school (VI to VIII)
High school (XI to X)
Pre-University or higher secondary (XI, Plus-Two)
University (or college)
Diploma/degree/ certificate professional courses
The medium of instruction in the schools and colleges is English. However, Nepali and Tibetan are widely spoken on the campus.
Primary, Secondary Education
The admission to Sikkim schools begins for children who have attained the age of five.
While a student progresses from primary to secondary school, he or she has to complete 12 years before attending college.
Two board examinations are held in Sikkim. One at the end of class X and the other at the end of class XII (Plus-Two). There are 1,545 public schools and 471 private schools in Sikkim.
Both the central and state government officials have introduced the 'Sarva Siksha Abhiyan' to encourage the education of every child in Sikkim, especially the children living in the interiors of the mountainous state.
Every school in Sikkim is either affiliated to the ICSE or the CBSE board.
Higher education in Sikkim
The demand for higher education has gone up in Sikkim over the last couple of years.
In order to cater to the growing demand for college education, the Sikkim government has set up centres of higher studies that offer a range of technical courses for the youth of Sikkim.
Most the higher institutes in Sikkim are equipped with modern facilities and skilled faculty who are adept in teaching the latest concepts and technologies to the students.
Top colleges, varsities in Sikkim
Sikkim Government College

Located in Gangtok. Courses offered – Bachelors degree in English, Nepali, Education, Geography, Political Science, Economics and Sociology

Loyola College of Education

Located in Namchi. Courses offered – Degree courses in Humanities and Science, B.Ed. programmes

Damber Singh Degree College

Situated in Tadong. Courses offered – Pass courses in Sociology, Political Science, English and Education

Pakim Paletine College

Present in Pakyong. Courses offered – Bachelor and pass course degrees in Humanities, Commerce and Science

Government College

Situated in Rhenock. Courses offered – Bachelor degree courses in Humanities
Most of the colleges in Sikkim are affiliated to the University of North Bengal.
Professional courses in Sikkim
Sikkim has earned a name for professional study courses than for its general study courses.
Twelve colleges and other private institutions in Sikkim offer higher education.
The largest institution is the Sikkim Manipal University of Technological Sciences which offers higher education in engineering, medicine and management.
It also runs a host of distance education programmes in diverse fields.
There are two state-run polytechnic schools – the Advanced Technical Training Centre (ATTC) and the Centre for Computers and Communication Technology (CCCT), which offer diploma courses in various branches of engineering.
ATTC is situated at Bardang, Singtam, and CCCT at Chisopani, Namchi.
Sikkim University began operating in 2008 at Yangang, which is situated about 28 km from Singtam.
There are a number of colleges in Sikkim which offer world class professional degrees, giving students practical knowledge and preparing the students to take on the job market in India and abroad.
These professional courses also attract a number of foreign students and non-residents of Sikkim.
The Sikkim Manipal University has become one of the most popular study centres offering distance educational packages to students across the country.
Many students, however, migrate to Siliguri, Kolkata, Bangalore and other Indian cities for their higher education.
Top technical colleges in Sikkim
Sikkim Manipal Institute of Technology, Industrial Technical Institute --- BE / B.Tech, M.Tech, MCA

Sikkim Government Law College, Veena Memorial Law College --- LLB

Sikkim Manipal Institute of Medical Sciences --- MBBS

Institute of Hotel Management, Catering Technology and Applied Nutrition --- B.Sc, Diploma

Sikkim Manipal Institute of Technology --- MBA
Education for NRIs in Sikkim
Sikkim is a favourite place of study for students from the north-eastern region who want to pursue a degree in professional courses.
The Sikkim Manipal Institute of Technology is one of the best places to acquire a professional degree.
There is a placement cell in the institute which offers the students lucrative jobs in India and abroad after the completion of study.
This is the reason why many NRIs flock to Sikkim for higher studies.
A NRI can seek admission to the professional colleges of Sikkim either on the basis of marks secured in a common entrance test or based on the marks secured in the school board exams.
Hostels in Sikkim
A large number of NRIs and students from other countries visit Sikkim every year to pursue higher studies.
Hence, the higher institutes in Sikkim are equipped with state-of-the-art hostels for their accommodation.
The hostels serve quality food at affordable cost, besides extending a healthy environment for the pleasant stay of the students.
Apart from facilities like library and indoor stadiums, the hostels even have laboratory which help students in a big way.
The security of the hostellers is taken care of through special arrangements being made by the state government that extends up to the interior parts of Sikkim.
Any student can opt to stay in the hostels with a proper identification card (or other valid proof).
Generally, hostels in Sikkim charge annual fee in the range of Rs 5,000 to Rs 10,000 per student.
Free education up to college level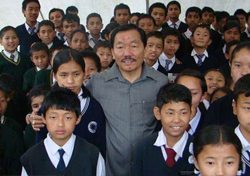 Sikkim government has waived tuition fees for education up to college level following a students' agitation demanding roll-back of fee hike announced in 2014.
The Government is providing free education up to college level and for those who have already paid, the fees were refunded.
It has been clarified that colleges won't charge any amount in the name of caution deposit, admission fee or any other fee from the students joining the higher institutions.
The college fee hike was rolled back on the very first day of the protest on July 14, 2014 and the complete waiver of fees was announced thereafter.