Infrastructure of Sikkim
The tiny state nestled in the Himalayas does not have any operational airport or railhead because of its mountainous terrain.
Most of the roads (winding, narrow lanes on the rugged terrains)in Sikkim are maintained by the Border Roads Organisation (BRO), an offshoot of the Indian Army.
The roads in southern Sikkim are in relatively good condition as landslides are less frequent in this region.
The state government maintains 1,857 km of roadways that do not fall under the BRO's jurisdiction.
Sikkim receives most of its electricity from 19 hydroelectric power stations.
Power is also obtained from the National Thermal Power Corporation (NTPC) and Power Grid Corporation of India.
By 2006, the state had achieved 100% rural electrification.
However, the voltage remains unstable and stabilisers are needed.
Per capita consumption of electricity in Sikkim was nearly 182 Kwh in 2006.
The state government has promoted biogas and solar power for cooking, but these had received a poor response and are used mostly for lighting purposes.
In 2005, 73.2% of Sikkim's households were reported to have access to safe drinking water largely due to mountain streams that offers perennial supply.
On 8 December 2008, Sikkim became the first state in India to achieve 100% sanitation coverage, becoming completely free of public defecation, thus attaining the status of "Nirmal State".
Air connectivity in Sikkim
Sikkim does not have any airport or railhead due to its difficult topography.
However, the state's first airport at Pakyong located 30 km from Gangtok, is expected to become operational in March 2016.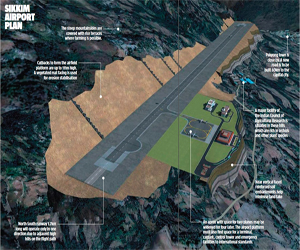 The new airport is being constructed by the Airports Authority of India on 200 acres of land.
At an altitude of 4,700 feet above sea level, it will be one of the five highest airports in India.
To begin with, the Pakyong airport will be capable of operating ATR aircraft.
As of 2015, the closest operational airport to Sikkim is Bagdogra airport, near the town of Siliguri in West Bengal.
The airport is located about 124 km from Gangtok, and frequent buses connect the two places.
A daily helicopter service run by the Sikkim Helicopter Service connects Gangtok to Bagdogra.
The chopper flight is 30 minutes long, operates only once a day, and can carry four people.
The Gangtok helipad is the only civilian helipad in the state.
Road network in Sikkim
National Highway 31A and National Highway 31 link Siliguri to Gangtok.
Sikkim National Transport runs bus and truck services to other places in the state.
Private buses, tourist taxis and jeep services operate throughout Sikkim, and also connect it to Siliguri.
A branch of the highway from Melli connects western Sikkim.
Towns in southern and western Sikkim are connected to the hill stations of Kalimpong and Darjeeling in northern West Bengal.
The state is furthermore connected to Tibet by the mountain passes of Nathu La.
Railways in Sikkim
Sikkim lacks the railway infrastructure.
The closest major railway stations are Siliguri and New Jalpaiguriin neighbouring West Bengal.
However, the New Sikkim Railway Project has been kicked off to connect the town of Rangpo in Sikkim with Sevoke on the West Bengal border.
The five-station railway line is intended to support both economic growth of Sikkim and Indian Army operations.
The railway line was initially planned to be completed by 2015.But the railway project in Sikkim is getting delayed.
In addition, the railways ministry has drawn up plans to link Darjeeling tourist spot Mirik with Ranipool, a small town 12 km from Gangtok in East Sikkim.