Quality level of Sikkim
A brief stay in Gangtok, the capital of Sikkim, will shake you up on many notable features of this lovely city.
Clean, green, no litter or garbage, well paved roads, warm and friendly people and a laidback lifestyle where there is no hurry to reach offices competing with rush hour traffic.
Life gets back its inner harmony in Gangtok as people follow a well-disciplined life that has got a pleasant symphony about it.
While the locals go about their routine with meticulous calmness, the city dotted with scenic parks, monasteries, wildlife sanctuaries and high mountains offer tourists a visual treat beyond their wildest imagination.
One is pleasantly surprised by the active night life in Gangtok as there is good patronage for its pubs, discotheques, casinos and private clubs that do brisk business till late hours.
The people in Gangtok enjoy watching movies in theatres and like to have a sumptuous dinner along with their friends and relatives in local restaurants before retiring to bed.
Moreover, night clubs offers an ambience to chill out, drink, have fun while having food and do all these by listening to soulful music.
Unique culture of Gangtok
Located on the eastern slopes of the Himalayas, Gangtok is inhabited by three main communities -- Nepalis, Bhutias and Lepchas.
However, Nepalis are more in numbers and wield considerable influence in the power corridors.
The unique culture of Gangtok has to be experienced during festivals which are most awaited for their music and dance spectacle.
Moreover, Sikkim is much influenced by Tibetan Buddhism and its culture as many of its monasteries strictly follow the religious practices being adopted in Lhasa.
Diverse festivals, ethnicity
Religious festivals are an integral part of culture in Gangtok.
Important occasions like Dashain, Tihar, Diwali, Holi and Christmas are also observed with enthusiasm.
For Buddhists, Saga Dawa is an important festival.
Phang Lhabsol is a colourful event in honour of Mount Khangchendzonga.
Dsdain is a special occasion in September-October celebrated with pomp by Hindus and Buddhists.
While Bhutias and Lepchas celebrate the New Year in January, the Tibetans observe Losar (New Year) with a typical 'devil dance'.
Nepalis come together in Gangtok to celebrate Maghe Sankranti and Ram Navami.
Other Buddhist festivals are Buddha Jayanti, Chotrul Duchen (the birthday of Dalai Lama), Bhumchu, Lhabab Duechen and Drupka Teshi.
Gangtok Food and Cultural Festival held in December is the right time to visit Sikkim and taste the multicultural cuisines being showcased at the exhibition.
Different stalls and shops are erected at Titanic Park in MG Marg which are visited by thousands of locals and tourists alike.
A 5-day Sikkim Summer Carnival exemplifies the lifestyle of the people with cultural shows, flower expo, dance and music programmes offering much enjoyment to the locals.
Moreover, adventurous sports like river rafting and yak safariare the highlights of the summer carnival in Gangtok.
People-friendly governance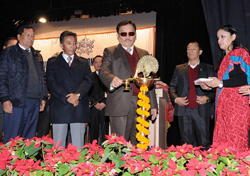 Staying connected with people has been a central principle guiding governance in Sikkim.
The top political leadership in Sikkim has found innovative ways of staying in touch with people.
On 17 May 2011, the Chief Minister embarked on a unique experiment in the form of a village-to-village tour of the entire state.
The idea is to institutionalise a system in which the people are supreme and the government is generally subservient to the people.
He took along with him elected representatives and senior bureaucrats to the doorsteps of the people to understand their problems first-hand and evolve measures to solve them more responsively.
This direct civic engagement has helped the government to better understand the diverse regional issues, capture the grassroots voices, and empower people from all walks of life.
The 42-day marathon village trip was carried out in four phases.
That people are reasonably satisfied with the public delivery of basic amenities is evident from an analysis of the petitions received by the chief minister during the 42-day walking tour of rural Sikkim.
Quick action on schemes in Sikkim
Around 7,000 petitions were received during the marathon tour of villages which have been documented and acted upon.
A small number of petitions pertained to basic amenities such as food, shelter, drinking water, electrification and sanitation.
On the other hand a majority of the requests were for the construction of community halls and playgrounds, development of eco-friendly tourism by encouraging home-stays and creating new trekking routes, and improvement of internet and road connectivity.
The CM expressed his dissatisfaction over the non-completion of certain schemes and projects of the government, which had been sanctioned and tendered long ago.
He instructed the officials to look into the pending schemes and take quick action against the defaulters and complete the delayed projects.
All the suggestions from the people were incorporated into the Twelfth Five Year Plan (2012-17).
The required financial outlays have been earmarked for respondingto the needs of communities.